Holly Holm vs. Germaine De Randamie, live round-by-round coverage
UFC was struggling to come up with a main event for this card in Brooklyn, so they created a women's featherweight title to have a title match main event. Holly Holm is probably the most popular active women's fighter but is coming off consecutive losses at bantamweight. De Randamie is 6-3 with few notable wins. The hook of the fight is that Holm is a world champion boxer and De Randamie a world class muay thai kickboxer.
Round 1. Holm throws plenty of kicks early, peppering De Randamie's legs regularly. De Randamie, by contrast, walks Holm down, looking to land power shots. De Randamie lands a hard straight right hand. Holm continues to throw low kicks. Holm moves in and gets caught with a hard counter punch. Moments later, Holm takes two more stiff punches as she moves in. De Randamie nails Holm with another looping right hand soon thereafter. Holm goes for a takedown and they grapple for position. 10-9 De Randamie.
Round 2. Holm starts off with another of those low kicks that lands well to De Randamie's leg. Moving in, Holm gets countered with another strong punch. De Randamie connects with a vicious right hand as Holm comes in again. Holm clinches and looks for a takedown by the cage. Neither fighter is able to accomplish much in the clinch. De Randamie knees Holm repeatedly to the body as the round concludes. De Randamie lands a hard right hand after the bell. That was unsportsmanlike. 10-9 De Randamie.
Round 3. Holm comes in and she gets countered with a hard punch again. That scenario repeats itself again a minute later. Holm is really struggling when she moves in on De Randamie. De Randamie, knowing that, is moving forward more on Holm. Holm clinches and goes for a takedown late. De Randamie prevents that and hammers Holm with hard punches. De Randamie is pulling away as the fight progresses. Holm rocks De Randamie with a head kick late. De Randamie fires back and there is a wild battle late. Again, De Randamie throws a shot after the bell. 10-9 De Randamie.
Round 4. Holm clinches again, hoping for a takedown. She can't get it. Holm continues to put in work, throwing a lot of kicks in particular. De Randamie lands much harder when she connects. Holm goes for a takedown late but De Randamie blocks it. They trade knees to the body by the cage. 10-9 Holm.
Round 5. The fighters exchange low kicks early. De Randamie lands another of her hard punches. Holm hurts De Randamie with a punch and goes for the takedown again. De Randamie defends once more. De Randamie connects with a couple hard right hands upon separation. Holm clinches and they trade knees by the cage. 10-9 Holm, 48-47 De Randamie.
Winner: Germaine De Randamie, unanimous decision (48-47, 48-47, 48-47).
De Randamie deserved to win the decision. She landed the harder shots throughout the fight and got the better of the exchanges. For the UFC, this is something of a debacle. They created a division that has little interest and little depth. The hope was that Holm's star power could carry the division but now they don't have that either. UFC was building up a fight between De Randamie and Cris "Cyborg" Justino but Justino is unlikely to be able to fight any time soon following a drug test failure.
Anderson Silva vs. Derek Brunson live round-by-round coverage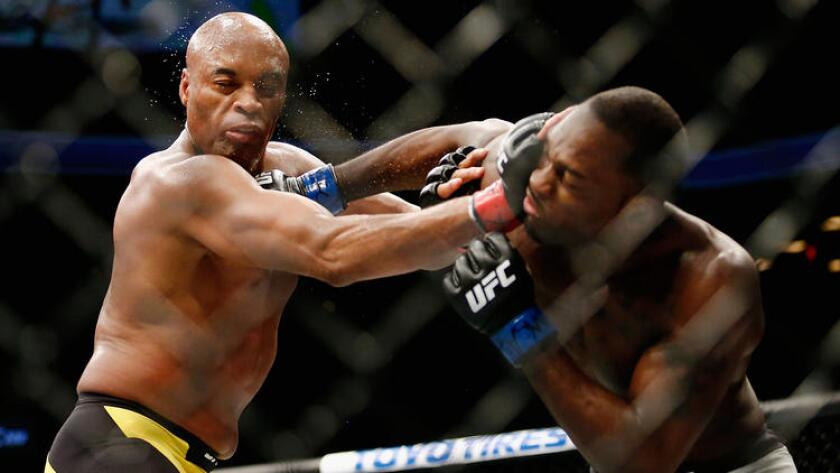 Anderson Silva is considered by many to be the greatest mixed martial artist of all time. Silva held the UFC middleweight title for nearly seven years, dominating the opposition with his otherworldly striking. Now 41, Silva doesn't have a win officially on his record since losing his title to Chris Weidman. Derek Brunson is looking to establish himself as a top middleweight star today and this is his most high profile opportunity. He has won four of his last five via knockout in less than three minutes, although his most recent bout was a loss to Robert Whittaker. He is extremely aggressive, which could play into Silva's hands.
Round 1. Brunson comes out carefully, showing respect for Silva's skills. Silva and Brunson mostly just stand there early, getting a feel for each other. Silva connects with the first significant blow of the fight, a right hook. Silva moves forward with a couple punches. Brunson clinches and lands a few punches before separating. Brunson hits Silva with some solid punches while Silva looks to set up the Thai plum. Brunson lands a few low kicks on Silva. Silva throws a spinning kick but eats a series of heavy punches from close range by Brunson. Silva misses a knee late and ends up on the bottom on the ground. 10-9 Brunson.
Round 2. Brunson shoots for a takedown but Silva sprawls and blocks it. Silva presses the attack but Brunson takes advantage of his aggression to secure a takedown. Silva gets up quickly. Brunson attempts a takedown again but Silva blocks it with ease. Silva dances a bit and opens up with a couple of punches. However, overall he just isn't doing enough. 10-9 Brunson.
Round 3. Silva starts with a jab and a Brunson high kick flies by his head. Brunson goes for a takedown but has it stuffed. Brunson tries again and it's blocked again. Brunson nails Silva with a hard knee to the head but Silva is fine. Silva begins to attack more and in particular keeps trying to secure the Thai plum that he has used in devastating fashion earlier in his career. Brunson gets a takedown late and Silva controls him in full guard. 10-9 Brunson, 30-27 Brunson.
Winner: Anderson Silva, unanimous decision (29-28, 29-28, 30-27).
That was a bad decision by the judges. It's easy to understand how it could happen because it was a relatively uneventful fight, Silva is so well respected and the crowd was reacting bigger to his shots. However, Brunson was landing the better shots throughout the fight and deserved to pick up the win. Silva after the fight says he knows he's too old to fight but fighting is in his heart.
Ronaldo "Jacare" Souza vs. Tim Boetsch live round-by-round coverage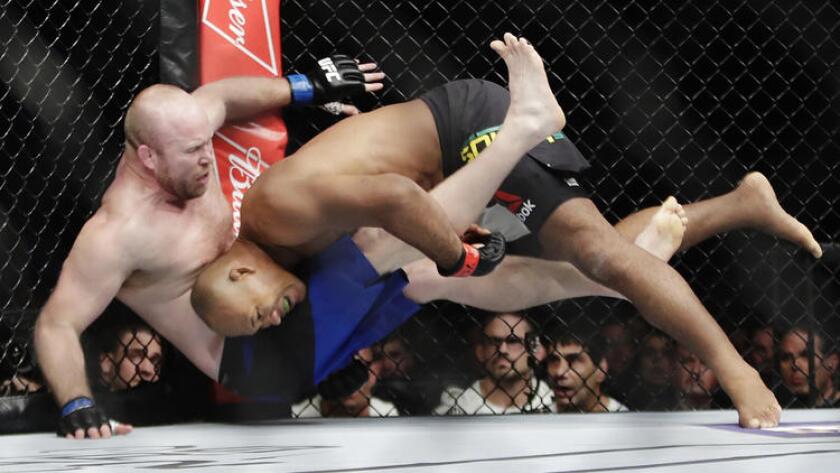 Ronaldo "Jacare" Souza is one of the very best fighters in the middleweight division. He is one of the best jiu jitsu artists in all of MMA and has become a dangerous striker as well. He is deserving of a title shot already but there is a lot of talent at the top of his division. Tim Boetsch is a big underdog in this fight. He's powerful and experienced but is only 4-6 in his last 10 fights. If he can't connect with one big punch this is likely to be a long night for him.
Round 1. Jacare shoots for a takedown. Boetsch defends well. Jacare lands a right hand and separates. Jacare connects with a few significant punches but eats a hard counter in the process. Jacare ducks down and gets the takedown. He gains side control position quickly. Jacare then works into mount. Jacare grabs a kimura and really cranks it, forcing Boetsch to submit.
Winner: Ronaldo "Jacare" Souza, submission, round 1.
That was exactly what everyone expected. Jacare's submissions were way too much for Boetsch. Now the question is simply which of the other top middleweights Jacare will fight next.
Glover Teixeira vs. Jared Cannonier live round-by-round coverage
The UFC's light heavyweight division is in a transition stage. Long the UFC's marquee division, it is now quite thin and lacking in rising young stars. This is the sort of fight that could give the division new identity. Glover Teixeira is a longtime top fighter with wins over the likes of Quinton Jackson, Rashad Evans and Ryan Bader. Here, he takes on a relatively unproven rising prospect. Jared Cannonier is 9-1 and coming off an impressive win over Ion Cutelaba. This is his opportunity to establish himself as a factor at 205.
Round 1. Cannonier is showing off his footwork early, dancing around while Teixeira looks to land a power shot. Teixeira lands a couple hard punches and then takes Cannonier down. Teixeira works from the top landing punches. In a transition, Teixeira attempts a guillotine choke but he gives it up and ends up back on top. Teixeira utilizes some elbows and secures full mount position. He quickly loses that but continues to be active. Cannonier gets up and wobbles Teixeira at the close with a few heavy punches by the cage. 10-8 Teixeira.
Round 2. Cannonier starts off with a few nice jabs, but Teixeira easily takes him down. Cannonier's takedown defense has not been good in this fight. His ground game hasn't been much better as he largely just uses his guard while Teixeira lands punches from the top. The fighters are stood up with a minute and a half left. The fight is pretty even on the feet, with Teixeira connecting on a couple hard punches late. 10-9 Teixeira.
Round 3. Teixeira gets another easy takedown at the start of the third. Teixeira punishes Cannonier with punches and elbows from the top. Cannonier has no answers on the ground. Teixeira gets full mount, but Cannonier then attains half guard. Teixeira just keeps working. Teixeira continues to land punches from the top as the round progresses. Cannonier looks to get up late and finally does. The crowd boos at the fight's conclusion. 10-8 Teixeira, 30-25 Teixeira.
Winner: Glover Teixeira, unanimous decision (30-26, 30-26, 30-26).
Teixeira dominated Cannonier in that bout. It wasn't exciting but it sent a statement about where Teixeira stands relative to Cannonier. For Cannonier, it was an emphatic statement that he has vulnerabilities in his game that need to be addressed if he wants to move up in the weight class.
Dustin Poirier vs. Jim Miller live round-by-round coverage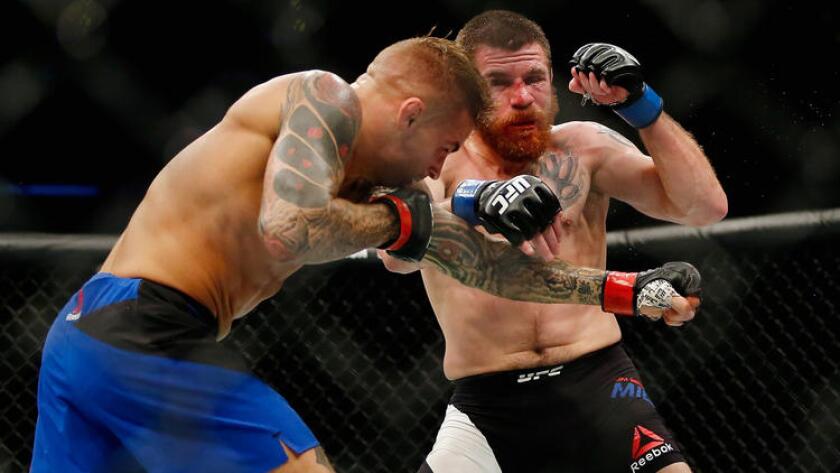 Dustin Poirier is an exciting fighter to watch, an aggressive knockout striker with 7 of his last 8 UFC fights ending via KO/TKO. He is coming off a quick loss to Michael Johnson so this is a crucial fight for him. Jim Miller is one of the most experienced fighters in UFC history. He has been fighting in the UFC since 2008 and has taken on a who's who of the lightweight division. He has three straight wins over name opposition: Takanori Gomi, Joe Lauzon and Thiago Alves.
Round 1. The standup is very even early, with both fighters mixing in punches and kicks from different angles. Miller shoots in for a takedown two minutes in but Poirier defends. Poirier lands some hard punches from close range. Poirier catches a kick and goes for a takedown but Miller quickly counters and gets the takedown himself. Poirier tries to stand up and Miller takes his back. Poirier rolls out and takes top position. Miller gets up and they start swinging wild looping punches. Miller lands the best punch of the exchange, a left that dazes Poirier. Close round. 10-9 Miller.
Round 2. The fighters continue to throw a lot of kicks while also mixing in hard punches. Poirier opens up with big punches by the cage and has Miller in trouble. Poirier backs Miller up and really opens up to the head. Poirier is punishing Miller with repeated hard hooks to the head. Miller occasionally answers back but Poirier is definitely getting the best of the striking in the second. Miller shoots for a despearation takedown and eats some elbows in the process. Poirier is the one to get the takedown. They return to the feet late. 10-8 Poirier.
Round 3. Miller lands a stiff uppercut early and follows with a few leg kicks. Miller knocks Poirier down with a leg kick and it appears Poirier's leg is injured. Miller lands another leg kick and Poirier has to switch stances. Poirier catches a kick and gets a takedown. That could be key as Poirier looked in big trouble on the feet. Miller looks to stand up and Poirier scrambles to keep him down. Poirier successfully keeps Miller down and lands some punches there. Miller gets up and immediately starts throwing punches. Poirier appears in significant pain as their knees collide. Poirier gets Miller back down. Miller looks for a kimura but loses it and Poirier lands a series of punches from the top at the close. 10-9 Poirier, 29-27 Poirier.
Winner: Dustin Poirier, majority decision (28-28, 30-27, 29-28).
Poirier really gutted that one out. He is having trouble standing but survived a dangerous predicament in the third round and earned the decision against a respected veteran. Poirier is trying to transition into a more safe style of fighting and there are some growing pains given how aggressive he has always been.
Slide show: Photos from UFC 208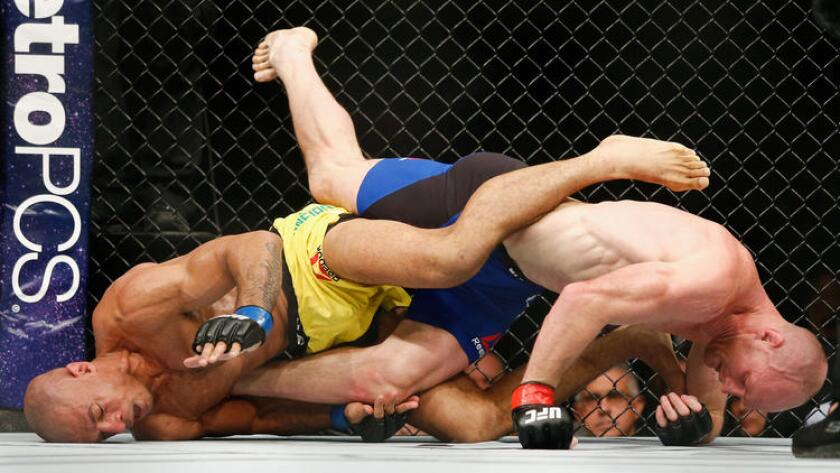 Randy Brown vs. Belal Muhammad live round-by-round coverage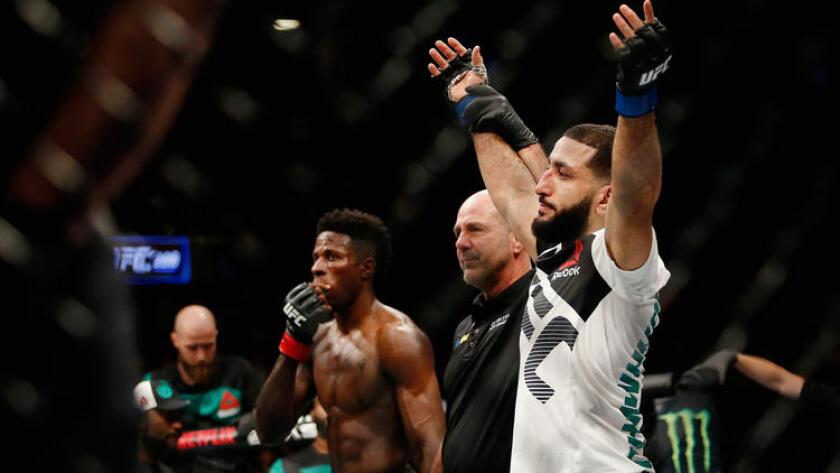 Randy Brown has received some spotlight from Dana White's reality TV show and is 3-1 in the UFC thus far. This fight will be a step up in competition as Belal Muhammad is a dangerous opponent. Muhammad is coming off a disappointing setback at UFC 205 from Madison Square Garden.
Round 1. Muhammad opens with a series of hard leg kicks. Brown attempts a couple of front kicks while Muhammad continues to work on the legs. Brown lands a high kick of his own and a few nice punches. Brown connects with a spinning back kick to the body. Muhammad continues to work the leg while mixing in punches. Muhammad keeps kicking Brown's leg over and over again. They exchange stiff punches late. 10-9 Muhammad.
Round 2. Muhammad goes back to work with the leg kicks. Brown answers with a body kick. Muhammad throws a few haymakers and then attempts a takedown. He doesn't get it and Brown lands a few quality punches. Muhammad answers with a couple punches of his own. Brown continues to lead with his fingers, an illegal tactic under the most recently revised rules. He has poked Muhammad a couple times, leading to complaints. Muhammad gets a takedown late and takes Brown's back. He lands some punches at the close. 10-9 Muhammad.
Round 3. Muhammad lands a couple punches and a leg kick. Brown hits Muhammad with a left hand. Muhammad clinches and looks for a takedown. Muhammad gets it. Brown looks to set up an armbar or triangle while Muhammad lands a few elbows from the top. Muhammad again attempts to set up an armbar and Muhammad avoids that. Muhammad takes Brown's back and lands punches while controlling the back. Brown gets out and takes top position late. He opens up with punches at the close. 10-9 Muhammad, 30-27 Muhammad.
Winner: Belal Muhammad, unanimous decision (30-27, 30-27, 29-28).
That was an impressive win by Muhammad. He used a smart game plan on the feet to strike well with a longer opponent and then got the better of the ground game as well to score the upset and rebound from a disappointing loss.
Wilson Reis vs. Ulka Sasaki live round-by-round coverage
Wilson Reis is one of the best flyweights in the world, a veteran of the UFC, Bellator and EliteXC and winner of 9 of his last 11. Ulka Sasaki made his way to the UFC after competing for Shooto and Deep in Japan but is only 2-2 in the UFC thus far.
Round 1. Sasaki is very long for the division but he fights in a crouching stance that doesn't utilize it. Sasaki is aggressive with his boxing early before Reis scores a takedown. Reis immediately looks to posture up for hard punches. Sasaki threatens with a kimura and uses that to stand back up. He immediately opens back up with his punches and taunts Reis. Sasaki lands a series of jabs but eats a straight punch from Reis. Reis gets another takedown. He is conservative on top, landing some punches and controlling Sasaki. Sasaki did get the best of the standup, but it's hard to score for him when Reis had control for so long on the ground. 10-9 Reis.
Round 2. Reis gets another takedown. He takes Sasaki's back but Sasaki works his way out and takes top position. In what may prove to be a tactical mistake, Sasaki then stands back up rather than exploiting that position. Sasaki goes for a takedown shortly thereafter. Reis blocks it and takes top position. Reis gets Sasaki's back again and then transitions into an arm triangle choke attempt. He gives that up and moves back into back control. Reis uses a neck crank from there but Sasaki withstands. 10-8 Reis.
Round 3. Reis moves in confidently with his punches, knowing he has the takedown to fall back on. Reis goes for it but Sasaki defends. Reis attempts another takedown and Sasaki stops it with ease. Reis lands a nice overhand right moving in and goes for the takedown again. Sasaki blocks it again but Reis finally gets the takedown with a diving double leg after they separate. Sasaki squirms out and takes Reis' back. Sasaki lands some punches and looks to sink in a rear naked choke. Sasaki connects with some hard elbows and punches as the round concludes. 10-9 Sasaki, 29-27 Reis.
Winner: Wilson Reis, unanimous decision (29-28, 29-28, 29-28).
That wasn't the most scintillating win for Reis but his skill level was evident. He benefits from being one of the few major fighters in his division without a loss already to Demetrious Johnson, which could set him up for a title shot at some point.
Islam Makhachev vs. Nik Lentz live round-by-round coverage
Islam Makhachev is another in the growing ranks of tough MMA competitors from Dagestan. He has a sambo background and sports an impressive 13-1 MMA record. Nik Lentz is the prototypical grinder, a tough grappler who isn't exciting to watch but is hard to defeat. He is coming off consecutive wins.
Round 1. The fighters waste no time clinching and they grapple for position up against the cage. Makhachev scores a trip takedown a minute in. Lentz grabs a guillotine choke but Makhachev fights his way out. Makhachev grinds on Lentz from top position but doesn't land a lot. Lentz stands up with 90 seconds left but Makhachev uses another trip to take him back down moments later. Lentz threatens with the guillotine again late. Makhachev was in control most of the round but Lentz did a sound job avoiding any jeopardy. 10-9 Makhachev.
Round 2. Makhachev throws a few kicks early and then clinches. He follows that with punches. Lentz wades in looking to land something but doesn't connect with much. They clinch and Makhachev gets another takedown. Makhachev looks to move into mount but Lentz narrowly avoids that. Lentz grabs a guillotine again but loses it. Makhachev moves into side control then full mount but Lentz gets out of that quickly. Makhachev again controlled Lentz on the ground but did precious little damage and didn't threaten with submissions either. 10-9 Makhachev.
Round 3. Lentz lands a few kicks early. Lentz loads up looking for something big but doesn't come close. Makhachev hits Lentz with a hard body kick and Lentz looks for a takedown. Makhachev counters and gets the takedown himself. Makhachev moves to set up a kimura but Lentz prevents that. Makhachev transitions into an attempt to get full mount but Lentz blocks that as well. Makhachev finally opens up with some punches and begins hammering Lentz with hard punches. He has Lentz's back and looks for a rear naked choke. Lentz gets out and returns to his feet. Makhachev gets a final takedown at the end. 10-8 Makhachev, 30-26 Makhachev.
Winner: Islam Makhachev, unanimous decision (30-25, 30-25, 30-27).
That was a dominant victory for Makhachev, whose grappling and control is difficult to deal with. However, it wasn't a terribly exciting fight, meaning Makhachev is likely to get another tough but non-marquee opponent in the prelims next time out.
Phillipe Nover vs. Rick Glenn live round-by-round coverage
Phillipe Nover is a Brooklyn native and now will have the opportunity to fight in a major event at home. Once billed "the next Anderson Silva" by UFC president Dana White, Nover hasn't lived up to that hype but worked his way back to the UFC after falling out of the promotion back in 2010. Rick Glenn worked his way into the UFC but drew an extremely tough first opponent in Evan Dunham on short notice. After a setback in that fight, he gets a second chance tonight.
Round 1. Neither man has a distinct advantage early as they exchange blows. Nover lands a hard kick to the head but Glenn seems perfectly fine. Glenn has never been knocked out and it's easy to understand why after that. Nover is bleeding from the eye, presumably from a punch. Nover lands a solid left hook as Glenn is moving in. Nover looks to have the better standup but Glenn seems content to stand with him. Glenn lands a two punch combination late and looks for a takedown. It's not enough to negate what came before, however. 10-9 Nover.
Round 2. Glenn has the reach advantage but Nover continues to land the better blows on balance. Nover goes for a takedown and has it stuffed. Glenn lands a combination of punches and follows with a few leg kicks. Glenn grabs a double leg and briefly has Nover down but Nover is back up in a hurry. They continue to clinch and Glenn uses a hard knee to the body before separation. Glenn is increasingly relying on low kicks to establish range. Glenn moves in with a straight left hand and adds some knees to the body. Glenn came on as the round progressed; it will be interesting to see the respective energy levels in the third. 10-9 Glenn.
Round 3. Nover comes out looking to establish his jab while Glenn goes back to his low kicks. Glenn's greater diversity of strikes has paid dividends as the fight has progressed. Nover connects with two impressive shots: a head kick followed by a spinning backfist. Glenn clinches and looks for a takedown. He isn't getting anywhere but he is at least slowing down Nover's early round momentum. They break and Glenn presses forward with straight punches and knees to the body. Nover has more power behind his strikes but Glenn is landing more. The fighters both land knees in the clinch late and Glenn closes with an elbow late. That's a tough fight to score. First two rounds were clearer while the third was a tossup. 10-9 Glenn, 29-28 Glenn.
Winner: Rick Glenn, split decision (27-30, 29-28, 29-28).
Glenn pulled out the win by coming on late in a fight that could have gone either way. It will earn him another opportunity in the UFC. Unfortunately for Nover, he falls to 1-6 in UFC and that additional opportunity may not come for him.
Ryan LaFlare vs. Roan Carneiro live round-by-round coverage
The UFC 208 card kicks off with the return of welterweight contender Ryan LaFlare. LaFlare is 5-1 in the UFC and 12-1 overall, with his only loss to elite contender Demian Maia. He hasn't fought since 2015 due to injuries. LaFlare takes on Roan Carneiro, who has won 7 of his last 8 in a late career surge.
Round 1. LaFlare is the aggressor early, moving forward and throwing a number of kicks from distance. LaFlare clinches near the cage briefly but breaks away. Carneiro lands a nice right hand. They grapple for position and end up on the mat briefly before LaFlare pulls away and returns to his feet. The fighters exchange kicks late. LaFlare takes the round based on activity. Neither fighter looked great. 10-9 LaFlare.
Round 2. LaFlare connects with a low kick and then a stiff kick to the body. LaFlare drops Carneiro with a straight left hand and follows Carneiro to the ground. Carneiro doesn't appear to be hurt. Carneiro has full guard while LaFlare lands punches from the top. The fighters return to the feet. LaFlare threatens another takedown moments later but gives it up when Carneiro attempts a guillotine. LaFlare then drops Carneiro again with a punch. This time he did much more damage with the knockdown blow. LaFlare is in half guard while Carneiro just holds on. Carneiro sweeps LaFlare to return to his feet. Very clear round for LaFlare, although not enough for a 10-8. 10-9 LaFlare.
Round 3. LaFlare again looks to have more energy and he's getting the better of the standup just like in the first two rounds. Carneiro gets knocked back into a television camera in a unique moment. The referee responds by pushing the camera back. LaFlare continues to have success with kicks at different levels while Carneiro just isn't as active. Carneiro lands a nice right hand. Carneiro catches a knee and looks for a takedown but doesn't come close. Carneiro does maintain the clinch and moments later he does get the takedown. LaFlare threatens with a kimura from the bottom but Carneiro defends well. Carneiro works his way into full mount late in the round and lands a series of punches as the round concludes. Carneiro made a nice run at the end but it was on balance LaFlare's fight. 10-9 LaFalre, 30-27 LaFlare.
Winner: Ryan LaFlare, unanimous decision (30-26, 30-27, 29-28).
LaFlare visibly looked disappointed about the conclusion to the fight but overall he was impressive after a year long hiatus. LaFlare doesn't have a big name in the sport but he's a difficult challenge for most anyone at 170 pounds.
Weight is no problem for these UFC 208 combatants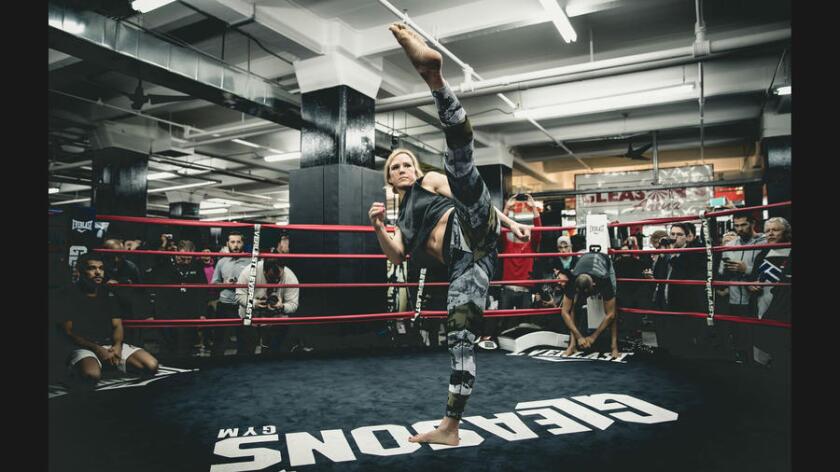 There was still weight to gain for Holly Holm and Germaine De Randamie on Friday when they each came in under the 145-pound weight limit for the UFC's newly created women's featherweight division.
Holm, the former bantamweight champion, weighed in Friday morning at 144.4 pounds and former pro kick boxer De Randamie weighed 143.6 pounds on the Brooklyn Bridge Marriott scale.
Also Friday, former middleweight champion Anderson Silva exactly met the 185-pound weight limit for his UFC 208 co-main event bout at Brooklyn's Barclays Center against No. 8-rated middleweight Derek Brunson, who weighed 186 pounds. One extra pound is allowed in non-title fights.
Middleweights Jacare Souza and Tim Boetsch also used that cushion, weighing 185.8 pounds.
Holly Holm, Germaine De Randamie are set for shot at new UFC title
Holly Holm appreciated the gesture from a UFC publicist who placed a public workout this week at famed boxing gym Gleason's in Brooklyn.
When Holm was a professional boxer in 2008, she successfully defended a minor world-title belt by defeating Gleason's-trained fighter Belinda Laracuerte at Pechanga Resort and Casino in Temecula.
Any reminder of victory is especially appreciated by Holm (10-2) as she seeks to end a two-fight losing streak in Saturday night's UFC 208 main event at Barclays Center, where she'll meet fellow contender Germaine De Randamie (6-3).
The bout is for the UFC's newly created women's featherweight division, and if Holm wins, she'll join storied company in B.J. Penn, Randy Couture and Conor McGregor as the only multidivision champions in organization history.
"This is nerves in a whole different way," Holm said when asked to compare her prefight feelings before knocking out then-unbeaten bantamweight champion Ronda Rousey by a head kick in 2015 and now.
"It's the first time for the 145-pound division. I have the opportunity to get world titles in two different weight classes. And I'm also coming off two consecutive losses, so she might be thinking, 'I've got her while she's down.' "