Lakers' young core not worried about who might, or might not, be joining them
When they talked about the prospect of their team adding superstar free agents to push their roster to the level of one that could contend for a championship, the Lakers' young core bore no ill will or animosity about the idea. They didn't treat it like a distraction or something for which they desperately hoped.
They believe they are attractive teammates because of how hard they work. They believe this is an attractive destination. But they aren't concerning themselves with how others feel.
"The way I play is to help my team win. I'm not really worried about who is not here," Lakers point guard Lonzo Ball said Thursday after holding his exit interview with Lakers executives Magic Johnson and Rob Pelinka. "I'm worried about the guys that are here and I tried to do what I could and help my team out.
"So, LeBron, Paul George or whoever, if they liked it, they liked it. If they didn't, they didn't."
Brandon Ingram was the only player last summer to whom the Lakers felt so attached they refused to consider trading him. Upon drafting Ball, he became another. After a hot early start to the season, Kyle Kuzma joined the list. In the second half of the season, Josh Hart, the 30th pick in the draft, became another player talked about as part of the Lakers' "young core."
Julius Randle began the season as someone looked upon as expendable, but he played so well for the final two-thirds of the year that he became another young priority for the Lakers. Randle becomes a restricted free agent this summer, and the salary-cap implications of his free agency will make it difficult for the Lakers to keep him if they want to sign two players to maximum contracts.
"This is the place that drafted me, so obviously I have those ties," said Randle, who said he did not discuss the summer much with Pelinka and Johnson. "I love it here. … It'll be amazing to be here and hopefully both sides can come to something."
The Lakers plan to add at least one star player this summer who will garner a maximum contract. Even as the Lakers' likable young group endeared themselves to fans, there was an undercurrent of their status as recruiters.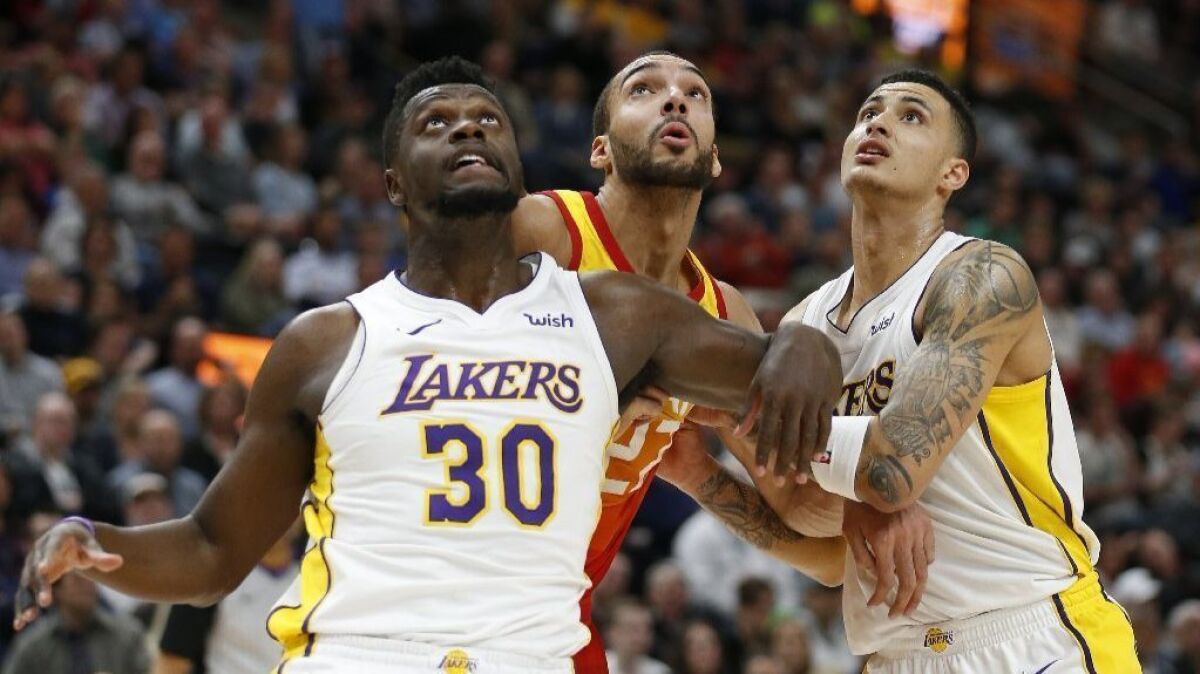 Kuzma said it didn't offend him. He's more focused on big dreams for himself. Johnson and Pelinka told him in his exit interview that they didn't want him to be average.
"If guys want to come here they come," said Kuzma, who averaged 16 points and six rebounds. "If not we're not per se depending on that. We want to be those great players. We want to be those max-level guys. For us, we just think about, how can we make the team better?"
Hart noted that the Lakers players couldn't control whether free agents choose to join them, but they could control the direction of the franchise nonetheless.
"Our job as players is to work as if nobody's going to come here in free agency," Hart said.
He admitted that, like many others, he's excited to see what the Lakers do this summer. And they all know much of the burden of making it work will fall on one of them in particular: Lonzo Ball.
"For us to be great, no matter who comes here, everything is going to fall on his head no matter if it's a superstar or not," Kuzma said. "That's just the reality we live in. For him and us, we all know he has to bring it next year and we know he will, for sure."
Follow Tania Ganguli on Twitter @taniaganguli
---
All things Lakers, all the time.
Get all the Lakers news you need in Dan Woike's weekly newsletter.
You may occasionally receive promotional content from the Los Angeles Times.