Lakers coming together under LeBron James, but Kentavious Caldwell-Pope could be on the move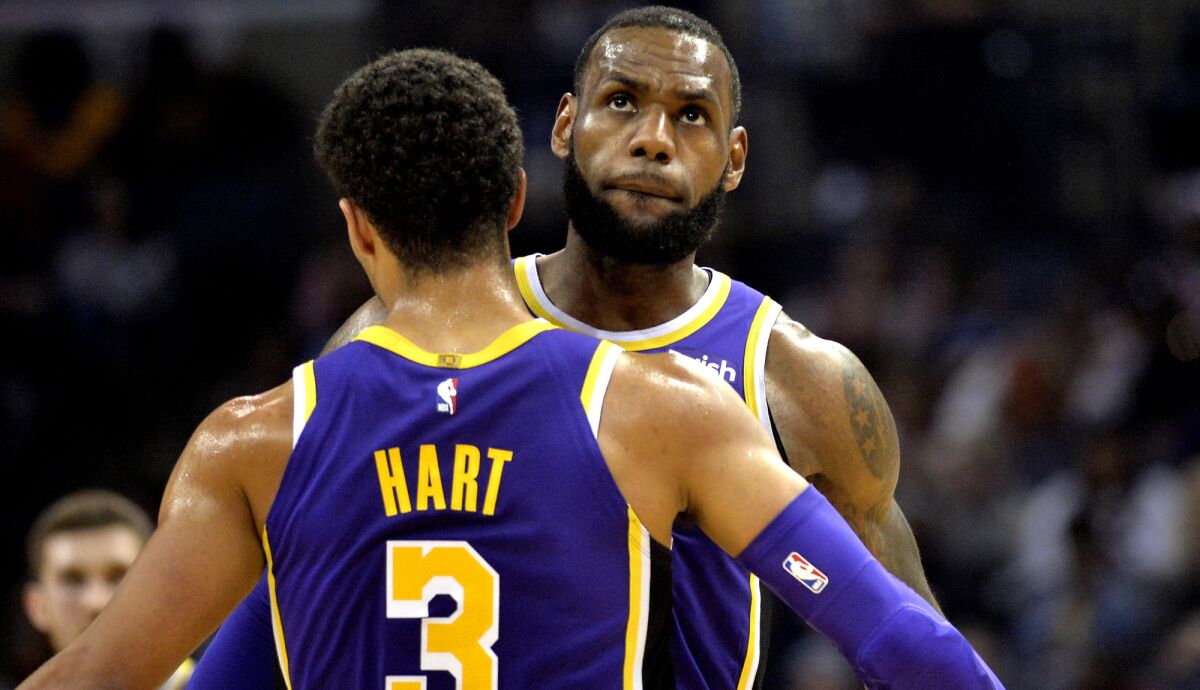 Reporting from Memphis —
Tyson Chandler sat at his locker trying to conduct a postgame interview when LeBron James' voice boomed over his, noting the Lakers' two wins over Chandler's former team, the Phoenix Suns.
Amid their back and forth, Chandler yelled across the room at Lance Stephenson about a dunk off the backboard the Lakers forward threw down on him in one of those games.
"I still ain't forgot!" Chandler said, laughing. "I might flagrant your ass in practice."
"You got me twice, yo," Stephenson said. "You got me when I was on the Pacers."
"Yeah, I remember, I was with the Knicks," Chandler said.
"Oh my god," Stephenson said, smiling. "I was mad at you."
It was Saturday night in Memphis and the Lakers were enjoying a hard-fought win against the Grizzlies. No interview lasted long before devolving into laughter or a side conversation with inside jokes and cutting banter. They were having fun.
Twenty-six games into the season, the Lakers still are working to develop an identity and figure out how they best work together. Their chemistry is developing on and off the court as the players jell and James and his teammates gain experience playing together.
"We got this one guy in free agency that kind of made the expectations a lot higher than last year," guard Josh Hart said. "So that kind of comes with the territory, but I think we're all ready to take that next step."
Against this backdrop, an ESPN report surfaced Sunday afternoon: The Lakers were pursuing Suns forward Trevor Ariza, who played for L.A. from 2007-09, through a three-team deal. The report said the teams have been in talks to find a trade partner that would take Lakers guard Kentavious Caldwell-Pope.
While sources confirmed that there have been discussions about trading Caldwell-Pope, the legwork is being done on Caldwell-Pope's side to find him a better situation. Caldwell-Pope's minutes have decreased sharply since last season, as has his role in the offense. The Philadelphia 76ers could be a landing spot.
Like his teammates, Caldwell-Pope had to learn how to play with James, with whom he shares an agent.
"That was probably the biggest adjustment for a lot of people," Caldwell-Pope said. "… You have a ball-dominant guy like LeBron that makes plays for everybody. You gotta just be ready at any point because you might not get a shot the first 15 minutes and you might get three or four after that."
Caldwell-Pope said James tells teammates to speak up if they haven't gotten the ball in a while, so he can look for opportunities to get them shots. Before breaking his right hand, point guard Rajon Rondo told teammates the same thing.
"If they see someone's in a little bit of a slump, they'll definitely try to go to get those guys open shots," Hart said. "Bron told me a lot of times, certain things to do today to kind of keep getting shots."
He declined to share what those things were, taking a page from James, who keeps close to the vest most of his conversations with other players.
James has been learning to temper his game so he can accomplish two goals: winning and the development of younger teammates.
Off the court, the latter is easy. James will offer pointers on things he sees. He'll approach his teammates on the bench or in the locker room. He'll even make sure they're properly dressed to enter games, as he did with Isaac Bonga, the Lakers' 19-year-old rookie. Bonga nearly entered Saturday's game with his jersey untucked.
Within the confines of the game, that's not as easy.
"I always tell you the best teacher in life is experience. For those guys to go out and make plays down the stretch, it's key," James said. "We want to win ballgames as well. We're in the business of winning ballgames so there's a fine line, but I think our young guys are learning as well."
Hart has spoken glowingly about the way James has taken over fourth quarters. That's also a balancing act for him.
"Definitely at times you can kind of admire it," Hart said. "But you definitely don't want to lose who you are or be complacent."
As Hart said that, teammate Lonzo Ball appeared next to him, standing just inches away.
"Come on, spit it out," Ball said as Hart tried to recover.
"I'm trying to take this question seriously but he's got two towels on," Hart said, laughing.
"It's a great answer," Ball said, before turning toward Kyle Kuzma, who was wearing a highlighter-green hat. "What's on his head? Answer that question for me."
Hearing them, James checked around to see if anyone else approved of Kuzma's hat.
The time to be serious had passed.
Follow Tania Ganguli on Twitter @taniaganguli
All things Lakers, all the time.
Get all the Lakers news you need in Dan Woike's weekly newsletter.
You may occasionally receive promotional content from the Los Angeles Times.