A look behind the scenes as the Lakers prepared to draft Lonzo Ball
Lakers first-round draft pick Lonzo Ball addresses the media during his introductory news conference at the team's training facility in El Segundo.
(Wally Skalij / Los Angeles Times)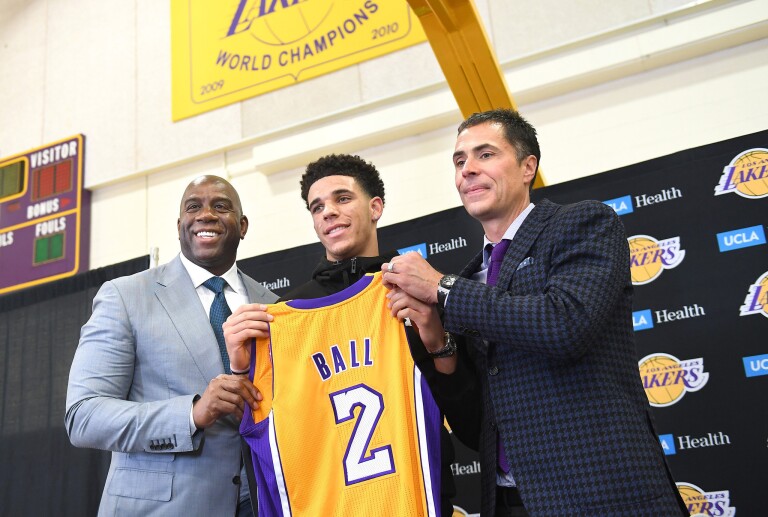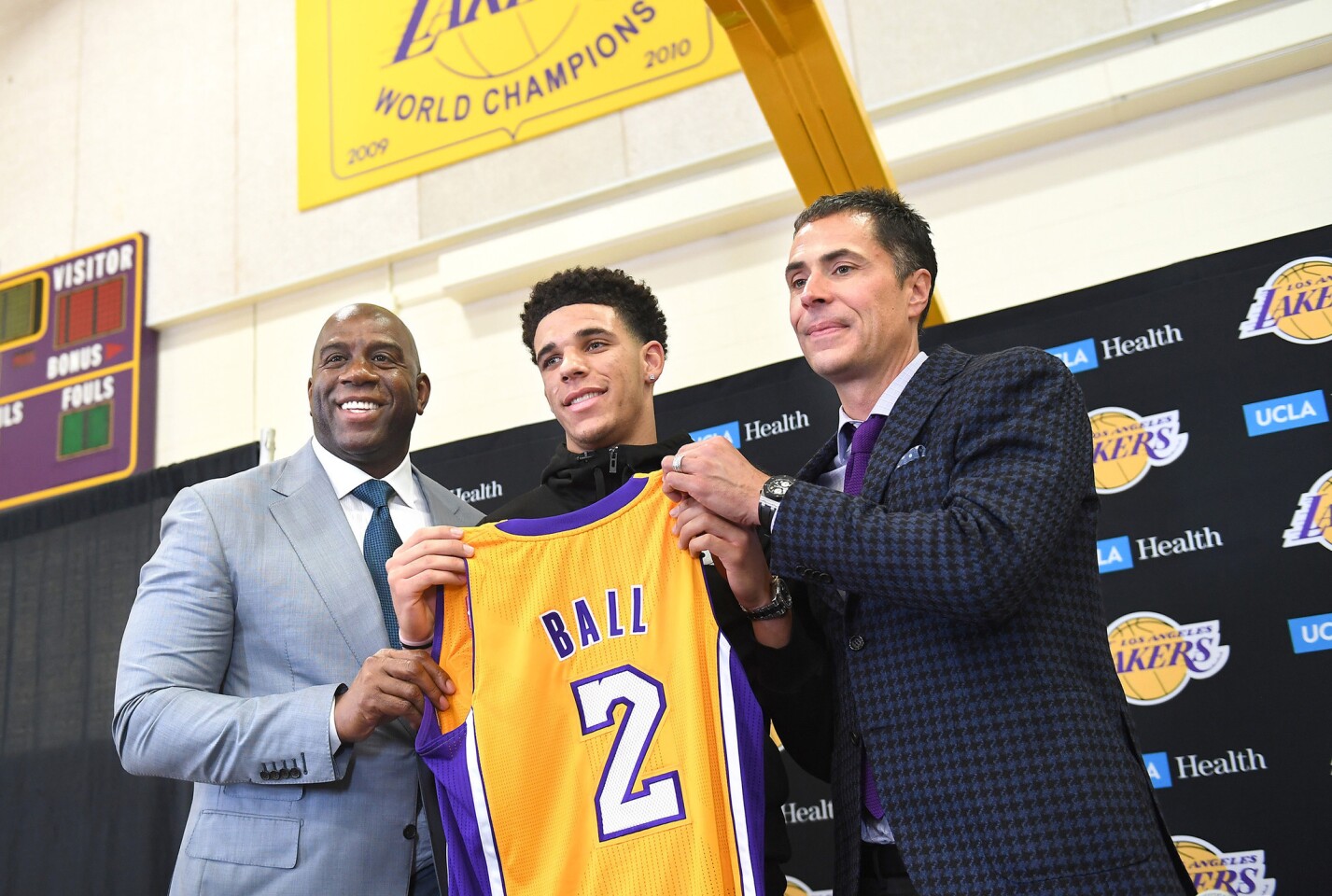 Lonzo Ball is flanked by Lakers legend and team executive Magic Johnson and GM Rob Pelinka as he's presented his jersey.
(Wally Skalij / Los Angeles Times)
Lonzo Ball's father, LaVar Ball, sits with his other sons, LaMelo, left, and LiAngelo, center, at the Lakers' news conference.
(Wally Skalij / Los Angeles Times)
Magic Johnson, Lonzo Ball and Rob Pelinka get ready for the Lakers' introductory news conference for their first-round draft pick.
(Wally Skalij / Los Angeles Times)
LaVar Ball sports his Big Baller Brand sandals and socks during his son's news conference in El Segundo.
(Wally Skalij / Los Angeles Times)
Magic Johnson, the Lakers' president of basketball operations, congratulates Lonzo Ball after the introductory news conference in El Segundo.
(Wally Skalij / Los Angeles Times)
Lonzo Ball is greeted by center Ivica Zubac before an introductory news conference at the team's training facility.
(Wally Skalij / Los Angeles Times)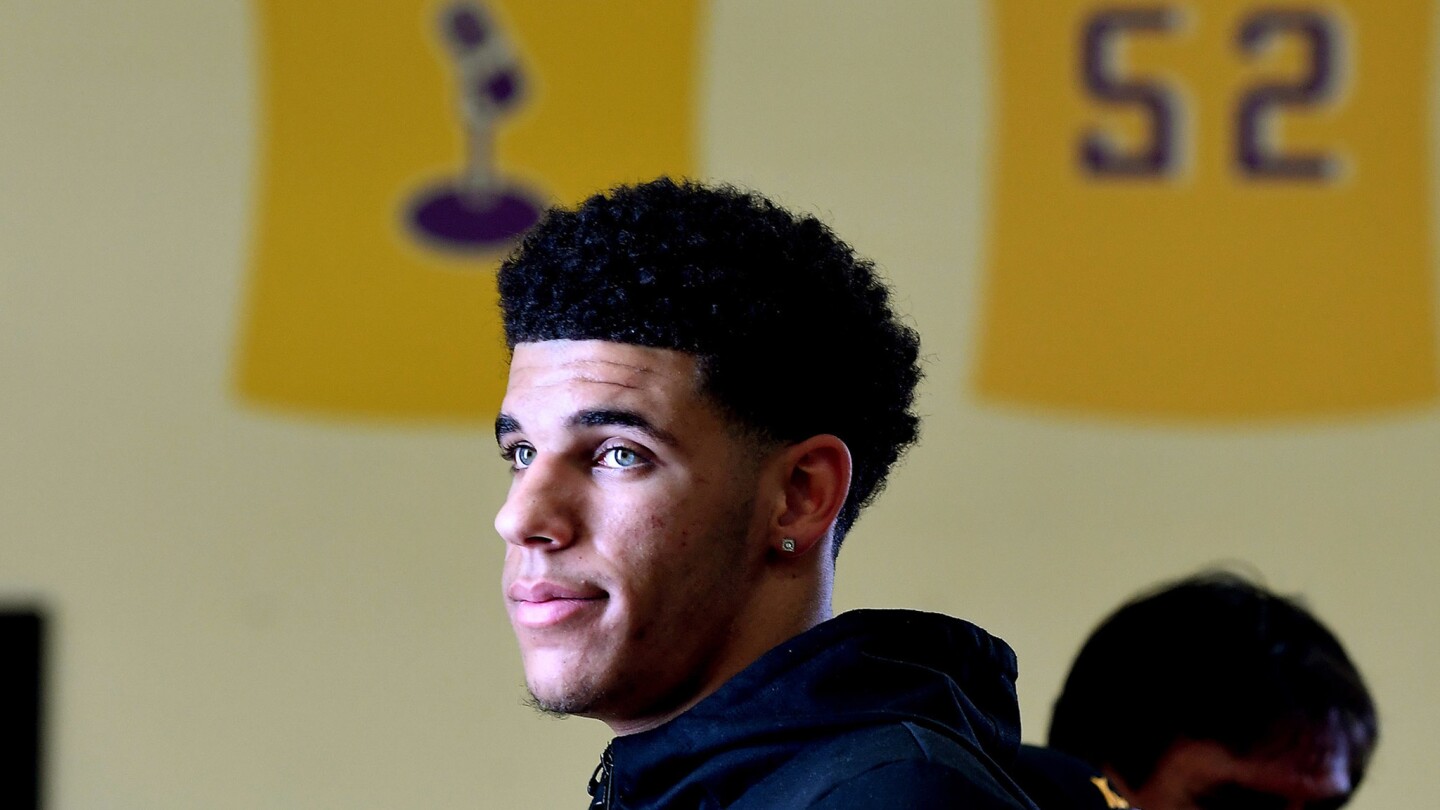 Lonzo Ball stands near a wall featuring the jerseys of Lakers greats after his introductory news conference.
(Wally Skalij / Los Angeles Times)
The famous pancakes always came with strawberries, and LaVar Ball didn't change that just because there were VIPs in his house.
So after Lakers president of basketball operations Magic Johnson and general manager Rob Pelinka watched Lonzo Ball go through a full day of his normal routine, they all sat down to taste LaVar Ball's cooking — pancakes and strawberries, sausage and eggs.
A June workout in the hills of San Bernardino County gave a glimpse of Ball's daily life. It was the day the Lakers talked about the most after they drafted Lonzo Ball second overall in Thursday night's draft. But selecting Ball had to do with so much more than that one workout.
The Lakers had been growing enamored with the former UCLA point guard for months. But that workout in Chino Hills taught them things about the Ball family, about Lonzo and about his dad, that made the Lakers that much more confident in their selection.
"I went to his high school, I talked to the principal, I talked to four teachers, they all said, at different times, everybody is attracted to this guy," Johnson said. "I said, 'That's all I needed to hear.' … He was a leader, he treated people the right way. I said, 'OK, we got our man now.'"
The Lakers' infatuation with Ball started even before Johnson took over in his new job with the Lakers. On Feb. 9, just after owner Jeanie Buss named Johnson as an advisor, he attended UCLA's game in Oregon and saw Ball lead the Bruins in a comeback bid against a top-10 team. Ball made a deep three-pointer to make it a five-point game with 34 seconds left in the game.
"They were behind and he made every winning play to close them out," Johnson said. "That was beautiful."
It wasn't quite as pretty when UCLA faced Kentucky in the Sweet 16 and Johnson and Pelinka saw in person when Wildcats point guard De'Aaron Fox outscored Ball 39-10.
The film, though, made clear to Johnson that this was a guy who had what it took on the basketball court.
"We knew the talent was transcendent, the way he passes the ball," Pelinka said. "You look at quarterbacks like Tom Brady and Aaron Rodgers that just have a gift. There's clearly a gift with what he's been blessed with. We knew on a basketball standpoint there were no questions. The process for us became about the person."
Lonzo Ball, the second overall pick in the 2017 NBA draft, is introduced as the newest member of the Los Angeles Lakers.
As they went into the draft process, the Lakers sought players who could overcome adversity. They weren't especially adept at doing that during the season, when they went 26-56.
Individual workouts can't tell you how well a player understands the game of basketball. They can't tell you about a player's competitive fire. They can't reveal what kind of teammate a player is. And because none of the top players in the draft participated in group workouts, that much had to be gleaned from film and references.
Ball's film showed an unusual understanding of the game.
"Some people can pass, but very few people can lead to a scoring pass," Johnson said. "He's unbelievable. He has a great feel for the game. He understands angles. That's also difficult. That's what we saw. Watching so much tape of him you see yourself. You see Jason Kidd. You see guys who can see the floor and make the correct pass. Not just making the pass, but making the correct pass. I was blown away by that."
They had Ball in for a workout June 7, and that went fine, not spectacularly. It didn't blow them away, but it didn't need to. They worked out Josh Jackson too, the forward from Kansas, whose shooting wasn't great, and who measured a little smaller than expected. Fox and Washington's Markelle Fultz also worked out for the Lakers.
There were those who felt rumors of the Lakers' concerns about Ball were simply smokescreens determined to misdirect other teams from the truth — that the Lakers were still most interested in Ball — and keep their options open for potential trades.
Nonetheless, rumors emanated from the building that the Lakers were impressed with various players. There were whispers they liked Fox better. There were whispers that Fultz had impressed them tremendously, and indeed the Lakers did talk to Boston about that first pick. There were also rumors about the Lakers' interest in Jackson.
Amid the perceived uncertainty, the Lakers and Ball's agent, Harrison Gaines, set a workout for Friday, June 16.
They invited the Lakers to Chino Hills.
"Not a lot of people from Chino Hills," Ball said. "It's not a big city. I'm proud to be from there."
The day began early.
"We arrived in the morning around 7:30," Pelinka said. "Immediately, the SUV brought us to some hills. These steep running hills. Lonzo and his brothers and about 17 neighborhood kids were being coached by LaVar."
The Times' Bill Plaschke, Tania Ganguli and Lindsey Thiry report from El Segundo where the Lakers introduced No. 2 overall pick Lonzo Ball. Plus, who are the Lakers trying to land next? 
They'd been doing this for years. Since the Ball kids were in single digits, LaVar had been training the neighborhood kids.
"That was me," said Darren Moore, Lonzo's trainer and manager who is now 28 but has been training with Lonzo since he was in high school. "I've been doing that for a long time. The only difference is he's running on pavement and I was running on dirt."
They do this every day, but they never have such unique spectators. Johnson, one of the greatest Lakers of all time, watched all these kids, as did Pelinka.
"I had a basketball dad who recently passed," Pelinka said. "I remember one thing he said to me. He said, 'Son, it's not always about how you treat the most important person in the room, it's about how you treat the least important person in the room.' I was amazed at the commitment from coach LaVar with every single kid he was training. It wasn't about just Lonzo and his brothers. It was about the 12-year-old, the eighth grader. Every name of every person, he knew."
Said LaVar Ball: "I didn't want him to know anything, I just wanted him to go on his own feelings and come out with his own perception. We don't have to fake or try to do nothing. It's genuine. It's just organic. That was the feeling we tried to have. It wasn't no cameras, 'Well, I'll try to act this way to try to sway you this way.' [It was], 'You know what. I'm going to let you take your own opinion.'"
They ran the hills. They came back home for situps. They worked out in the Ball family gym (their garage). They did on-court workouts — some Lonzo had done during their first workout. Some they wanted to add from that day.
"Floaters, one foot, two foot," Moore said. "It wasn't anything over the top. For Zo it was all about just murdering the workout. Just laying it all out on the floor, that was it."
Said Lonzo: "It was a comfortable setting. I've been doing that for as long as I could remember, so it was kind of normal for me."
Lakers General Manager Rob Pelinka explains the organization's decision to select former Chino Hills standout and UCLA point guard Lonzo Ball with the No. 2 pick in the NBA draft.
Then they sat down for breakfast, cooked by LaVar.
"You can't stay this big and not know how to cook," LaVar said.
And they saw the way all three Ball children, Lonzo, LiAngelo and LaMelo, interacted with their father and their mother, Tina.
Tina had a stroke recently. She still can't speak.
"She can understand what people say to her," LaVar said. "[She's like] 'I want to say something but I can't.' [I say], 'Just slow down and try to get it out.' Sometimes she gets frustrated. I'll be like, 'Take your time. It's not even a big deal.'"
She met Johnson and Pelinka.
"The way the family rallied around her with love and strength was an awesome feeling," Pelinka said.
Adversity matters to the Lakers. During the course of a basketball season, the players go through adversity. During the course of a game, they do too. Through all of that, they have to find a way to push through.
In Ball, they saw a player who has been able to focus despite the devastating condition that struck his mother. They saw a player whose transcendent talent wasn't diminished by the expectations placed on him by an outspoken father who never shied away from putting pressure on his son.
Lonzo could handle all of it.
And they believed Lonzo could handle what came next.
"The guy loves two things, his family and basketball," Johnson said. "[Opposing] players already saying they want him, they wanna do this and that to him … Well, let me up the ante.
"He has greatness written all over him."
Follow Tania Ganguli on Twitter @taniaganguli
---
All things Lakers, all the time.
Get all the Lakers news you need in Dan Woike's weekly newsletter.
You may occasionally receive promotional content from the Los Angeles Times.