Column: Inability to finish might mean the end to Lakers' playoff chances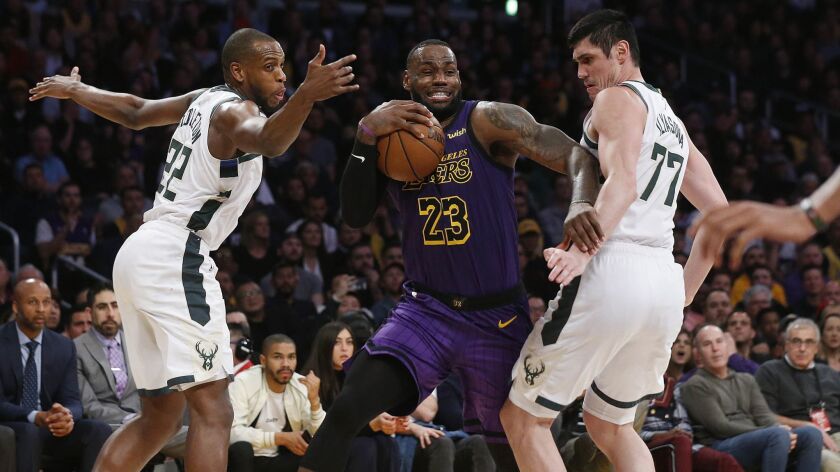 They needed this one. They had this one.
LeBron James dunked through two defenders, then nailed a three-pointer over all of them, and suddenly the Milwaukee Bucks were back on their lightning-quick heels, the Lakers leading by two with barely two minutes left.
They stumbled over this one. They blew this one.
Rajon Rondo threw a lousy pass. James backed into a charging foul. Kentavious Caldwell-Pope threw a horrible inbounds pass. The Bucks made layups. The Bucks hit free throws. The Bucks hit threes. The Bucks made them pay.
On the verge of an energizing victory over the team with the best record in the NBA, the Lakers showed again Friday night how they could finish this season as the biggest disappointment in the NBA with a 131-120 loss at Staples Center.
They ended what was once a splendid evening being outscored 15-2 in those final minutes, and when the bulldozing stopped, it felt not just like the end of a game, but possibly the end of a season.
The Lakers have 20 games remaining, and they are 3 ½ games out of the Western Conference's eighth and final playoff spot, and they have to jump over two teams to get there, and do you think they can pull it off?
At this point, it appears not. After a perfect chance for a stolen moment was handed away Friday night, it appears this mountain might finally be too high. The light at the end of that 30-32 tunnel might finally be too distant.
How many wins is it going to take to make the playoffs? In the last five years, the eighth seed in the Western Conference has averaged 44 wins. That means the Lakers, with their 30 wins, are going to have to reasonably go 14-6 to get there.
That's 14 wins. In five weeks. With a team whose most recent 14 wins required three months.
Do they have 14 wins in them? From here, it doesn't look like it. At the end of Friday night, it didn't feel like it.
Looking at their schedule, if they beat teams they should beat with James being James and the rest of the guys playing decently, they can get 11 wins. That's if everything goes right.
That means they need to pull three extraordinary wins out of their pocket and can they do that? Those three wins would have come in places like Toronto, Utah or Oklahoma City, or at home against the likes of Golden State, Utah, Denver or Boston.
One of those wins could have been Friday night, but in the end, it wasn't, and that hurt.
It hurt because Brandon Ingram had another brilliant game with 31 points, giving him an average of 29 points per game in the five games since the All-Star break.
It hurt because James put on his usual fourth-quarter push to also finish with 31 points, and Rondo was occasionally spectacular with 20 points and nine assists.
And, yeah, it hurt because the Bucks' most-valuable-player favorite, Giannis Antetokounmpo, was held to 16 points with a pressing Lakers defense that finally worked. Except it didn't work on everybody, as Eric Bledsoe scored 31 and Malcolm Brogdon added 21 and they pretty much went to the rim at will.
These Lakers just don't have the connectivity to play clutch defense, or the focus to put together 48 powerful minutes, or the manpower to finish.
This space has previously placed most of the blame for this messy season on James and his lack of personal investment in everything from the Lakers' game plan to their locker room culture. But Friday night's disappointment was on everybody, from James to coach Luke Walton to the front office, which constructed a roster that just can't consistently compete at a playoff level.
To be exact, three turnovers and at least that many defensive breakdowns, all in those final minutes.
But there are not a lot of games left, and maybe none of them will offer the Lakers the shining opportunity of Friday night.
The collapse began with Rondo's miscommunication with James that led to a pass that flew out of bounds with 2:36 remaining and the Lakers leading by two. Bledsoe responded with a driving layup against a fouling Kyle Kuzma that became a three-point play.
"The one thing defensively, we did a poor job of was Bledsoe and Brogdon,'' said Walton. "We couldn't keep them in front of us.''
Sure enough, moments later, after James was called for an offensive foul after moving some bodies under the basket, Brogdon got back to the rim and converted two free throws after being fouled by Rondo.
Even then, the Lakers only trailed by three, but on the ensuing in-bounds play, even after a timeout, Caldwell-Pope couldn't find an open man. His pass was stolen by Ersan llyasova, leading to a Brogdon three-pointer that was the dagger.
"I was just looking for someone to get open,'' said Caldwell-Pope. "I could've run the baseline but I didn't.''
He also could have called timeout but didn't, so it appears the heat should be on him, although Walton stepped in and took the blame.
"I'll take that responsibility,'' Walton said. "We called timeout to get a play…we took for granted to get the ball in-bounds..they came with the press and we didn't get open.''
Now it's on to Phoenix Saturday night to play the tanking Suns for a must-win game, even more desperate in the wake of Friday night's should-not-have-lost game.
Sign up for our daily sports newsletter »
Get more of Bill Plaschke's work and follow him on Twitter @BillPlaschke
---
All things Lakers, all the time.
Get all the Lakers news you need in Dan Woike's weekly newsletter.
You may occasionally receive promotional content from the Los Angeles Times.