Column: LeBron James' return might only be start of changes for Lakers as they eye Anthony Davis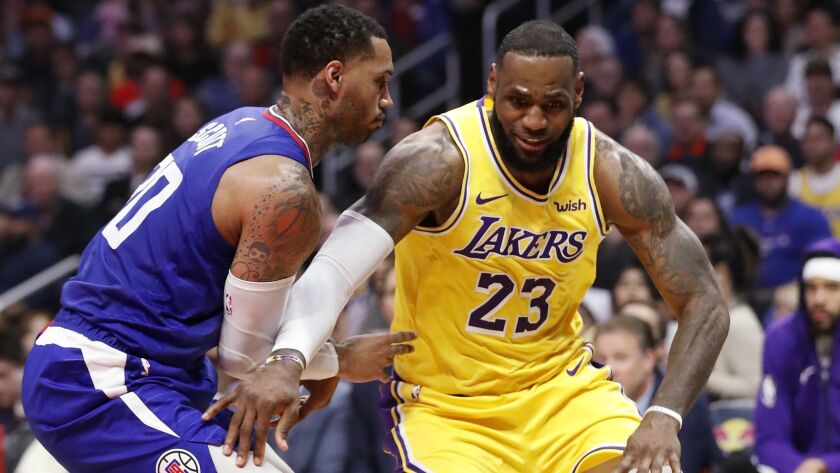 Suddenly and with eerie precision, the throng of reporters in the Lakers locker room fell silent. Conversations broke off in mid-sentence, replaced by the soft whir of video cameras. "Y'all are waiting for me?" LeBron James asked, parting the crowd as he strode to his spot along the far wall.
Yes, they were, and they weren't alone. Lakers fans and his teammates also eagerly awaited his return from the groin injury that kept him out of 17 games, the longest absence of his career. His presence in the locker room at Staples Center revived the atmosphere around a team that had lost 11 games after he was hurt on Christmas Day and fell out of the top eight in the Western Conference, a team whose lineup could easily be almost completely different next week if the Lakers' trade talks with the New Orleans Pelicans are successful and All-Star forward Anthony Davis comes to Los Angeles.
James settled in comfortably at his locker, looking happy to be back in a familiar routine. Guard Rajon Rondo, seeing James across the room for the first time after a long absence, held up his cellphone and pretended to take a picture before he made his way to his own spot. James welcomed the chance for conversation, telling Rondo he had recently had a dream in which Rondo appeared. Rondo didn't miss a beat. "Was I holding up a trophy?" Rondo asked.
No championships were at stake Thursday night, a 123-120 overtime victory for the Lakers over the Clippers. James, whose introduction drew loud cheers at what was technically a Clippers home game, had a team-high 24 points in a surprisingly hefty 40 minutes, along with a game-high 14 rebounds and nine assists. He looked rusty in the first half and made two of seven shots, which is no surprise. The Lakers, who looked awful at times without him and were booed on Tuesday while being outplayed by the Philadelphia 76ers, looked more confident with him there, and that was no surprise, either.
"I thought he was a little bit rusty but he picked it up in that second half and got back to himself," Kyle Kuzma said of James.
Josh Hart also said it felt good to have James back. "Whenever you're able to play with someone of his caliber you know you're always in good hands," Hart said.
For James, returning to the court represented his first step back to normality. For the Lakers, the game represented another step closer to the massive changes that would result if they acquire Davis before the trading deadline next Thursday.
The Lakers' pursuit of Davis makes sense for now and for their short-term future. Until his groin injury James has been remarkably durable and he has taken care of himself well; don't forget, his total of 239 playoff games is the equivalent of three additional seasons, so he has a lot of mileage. He's still in his prime but there's no telling how much longer he will be at the level he has maintained this season. Under those circumstances, going for it now is the right course.
The Lakers' goal this season has been to compete as well as possible while preparing to lure a prime free agent this summer, and it's almost irrelevant that their victory Thursday moved them within one game of the Clippers for the eighth spot in the West. Even if the Lakers get Davis and make the playoffs they won't get past the Golden State Warriors, who are healthy again and had won 11 straight games before losing at home to Philadelphia on Thursday. But the Warriors might look different after this summer, when Klay Thompson, Kevin Durant and DeMarcus Cousins can become free agents and Draymond Green becomes eligible for an extension. That changes the dynamic for the Lakers and everybody else in the West.
While it makes sense for the Lakers to acquire Davis and to give up anyone except James to do it, it also is yet another change in philosophy and strategy by management in a short time span. It wasn't so long ago that the Lakers built their hopes on lottery picks and kids and the promise of a rosy future; in February 2017, after Mitch Kupchak was fired as general manager and Magic Johnson became the Lakers' president of basketball operations, Johnson was insistent that going young was the best way to go.
"Our untouchables are our young talent right now," he said then. "We've already let everybody know that. We want to hang on to our young talent. People have been calling for it, but we've been saying no." The cover of the Lakers' 2016-17 media guide reinforced that idea by depicting the smiling faces of Larry Nance Jr., Brandon Ingram, Jordan Clarkson, D'Angelo Russell and Julius Randle, the supposed core of the future. All but Ingram are gone. Ingram, who has had 36 points and 19 points in his last two games, also could be leaving in one of the packages that The Times' Broderick Turner reported had been offered by Johnson to Pelicans general manager Dell Demps. What direction do the Lakers take if they don't get Davis or they don't get a premier free agent this summer?
At least the wait for James' return is over. Now, we wait for the next step, to see if the the Lakers will have Davis in their lineup when they return to Staples Center after the All-Star break. The future has become condensed to the next week and the next season.
Sign up for our daily sports newsletter »
---
All things Lakers, all the time.
Get all the Lakers news you need in Dan Woike's weekly newsletter.
You may occasionally receive promotional content from the Los Angeles Times.