Ivica Zubac pursues his dream far away from home
Hope keeps alive the Lakers' broadcasts that make it all the way to a little town called Citluk in wine country in Bosnia and Herzegovina.
On every game night, the Zubac family gathers around a computer — mom, dad, two teenage brothers and a teenage sister. Sometimes the game starts at 1 a.m., sometimes 4 a.m., but still they watch the live stream, hoping this will be the night their oldest child plays thousands of miles away.
He usually does not.
Ivica Zubac has played only 54 minutes for the Lakers this season. Mostly he is inactive, waits on the bench or plays for the D-Fenders, the Lakers' development league team.
One night he did.
He was 5,200 miles away in Atlanta. The Lakers' baby-faced, 7-foot-1, 19-year-old center scored six points and committed four personal fouls and the 10,000 people in Citluk celebrated the local kid who made it.
"They were so proud of him," said Dijana Zubac, his mother, through an interpreter. "Everybody watched. His family, his friends, everybody watched. It was amazing."
The game ended around 3 a.m., so his family waited until the next day to call and share in his excitement. They talk every day, before or after practice. Even though Ivica's been away from home for so long, the six months they didn't see him since he became a Laker was the longest separation they'd ever had.
There are moments when Ivica wishes he were there. He misses Croatian food. He misses the unobtrusive friendliness of the Croatian people who populate that part of Bosnia and Herzegovina. He misses hearing his own language.
There are more moments when he can't believe how lucky he is. When the Lakers take him in the second round of the NBA draft. When Kareem Abdul-Jabbar tutors him in his sky hook. When he hears his name announced at Staples Center before a preseason game and later dreamily says, "I am living a great life." When a terrified fan asks for a picture and he muses that he's no one to fear.
Los Angeles can be lonely, but he hardly has time to think much about that. This is what it takes to reach for a dream.
::
Citluk is a tiny town of between 5,000 and 10,000, depending on who compiles the numbers, whose tourism board boasts that nearly every family has some connection to the wine industry.
Zubac's family vineyards are only recreational. They make wine just for their family and friends — Zilavka and Blatina, two varietals from Herzegovina.
Citluk is so small, Dijana had to go 30 miles away to nearby Mostar to deliver her 13-pound, 24-inch baby boy because Citluk didn't have a hospital. His size was an early symptom of a future in basketball, a sport his father Ivan also played.
By age 2 the parents had outfitted him in Lakers shirts.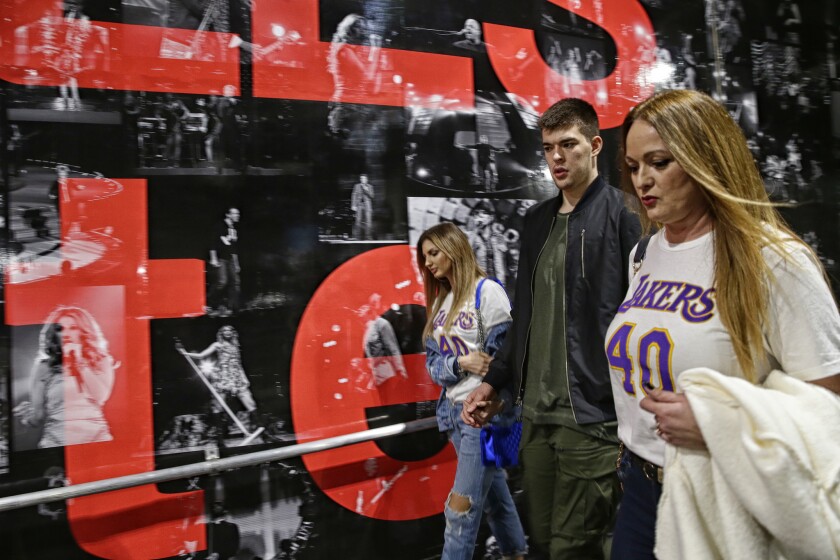 By 12 or 13, Dijana knew her son could be a professional basketball player, as his talent and height began to sprout. Around then he found himself playing with Dragan Bender, another Herzegovina-born Croatian who would be drafted in 2016. The Suns drafted Bender fourth overall in June.
That her son spent only 14 years at home with his family pains Dijana. He left home early to play in Zagreb, the capital of Croatia. Being away isn't new, but being this far away is.
Ivica met his girlfriend Kristina Prisc in Zagreb, then she moved with him to Belgrade, when he played in a Serbian league for the team Mega Leks. When he entered the NBA draft, she planned to go with him to whatever city chose him and hoped for a good one.
This summer she moved to Los Angeles.
"She helps me with everything," Ivica said. "I can't imagine how would I do it without her. … I would be good, but it would be much harder. I'm really thankful because she's here. I hope she's not gonna leave me here."
The distance is difficult for her too, so far away from her family.
::
Croatia is home to just over 4 million people, and the city of Los Angeles has almost 4 million people.
In Croatia, nobody stops Ivica assuming he is an NBA player because he's seven feet tall.
"In Croatia nobody cares," Ivica said. "I don't know. I mean it's a really poor country. People have their own problems."
Said Prisc: "When he came here he wasn't big in Croatia yet. We will see, in the summer, the real situation."
In Los Angeles it happens every day. Sometimes people are scared, thinking they're bothering him, amusing the 19-year-old who thinks he was just like these people not long ago.
It even happened at the Croatian church Dijana found and instructed Ivica to attend.
Ivica and Prisc went to St. Anthony's in downtown L.A. for a Mass there. Following Croatian custom, they waited after the ceremony to socialize at the front of the church. A long line formed of Croatian Americans, and people whose families came from Bosnia and Herzegovina, delighted to meet the first Croatian to play for the Lakers.
A real connection happened once at a D-Fenders game. Those games take place in the Lakers practice facility, with a smattering of fans sitting around the court. An old couple and their grown daughters came to one game to meet Ivica. They immigrated 20 years ago from the same region where Dijana grew up, and had acquaintances in common.
"When you meet Croatians somewhere abroad that's great," Ivica said. "It feels like you are best friends."
::
For the holidays his mother and two siblings came to visit. Prisc was the interpreter and the tour guide for Dijana, Mario, 13, and Mariaandjela, 15. Dijana thinks it's so cool that people stop and ask for her son's picture. Mario doesn't like it so much; he doesn't like waiting around for photo-seeking fans.
They stayed for 2 ½ weeks. Between a crammed schedule of Lakers practices, D-Fenders games, Lakers games and rest, Ivica made it to Santa Monica with them. Prisc took them to Hollywood, the Grove and Rodeo Drive.
Dijana cooked sarma — a Croatian dish that involves grape leaves or cooked cabbage wrapped around meat — and other favorites Ivica doesn't get often.
They went to Lakers games when he was active, but he didn't play in any of them. He gets most of his playing time with the D-Fenders, where he has had four double-doubles in 12 appearances.
"We all think he is going to be a big part of our franchise in the future," Lakers Coach Luke Walton said. "He's got a unique skill set, he's a big that has great touch. He's got good timing on the floor. He's obviously got a lot to learn at the age of 19 living and playing in a different country, but we're all fascinated with what he can be."
Someday when his family gathers around a live stream, they might see that sky hook in a critical moment. They might sip a glass of the family wine watching his dream come true, the distance a mere vehicle for it.
Lakers tonight
VS. SPURS
When: 5:30 p.m. PST.
Where: AT&T Center.
On the air: TV: Spectrum SportsNet, Spectrum Deportes; Radio: 710, 1330.
Records: Lakers 15-27; Spurs 30-8.
Record vs. San Antonio: 0-1.
Update: The Spurs had a nine-game home winning streak entering Tuesday night, but then lost to the Milwaukee Bucks. San Antonio lost even though Bucks guard Giannis Antetokounmpo was hampered by an illness.— Tania Ganguli
---
All things Lakers, all the time.
Get all the Lakers news you need in Tania Ganguli's weekly newsletter.
You may occasionally receive promotional content from the Los Angeles Times.