Lonzo Ball is cool and calm as he waits for the NBA draft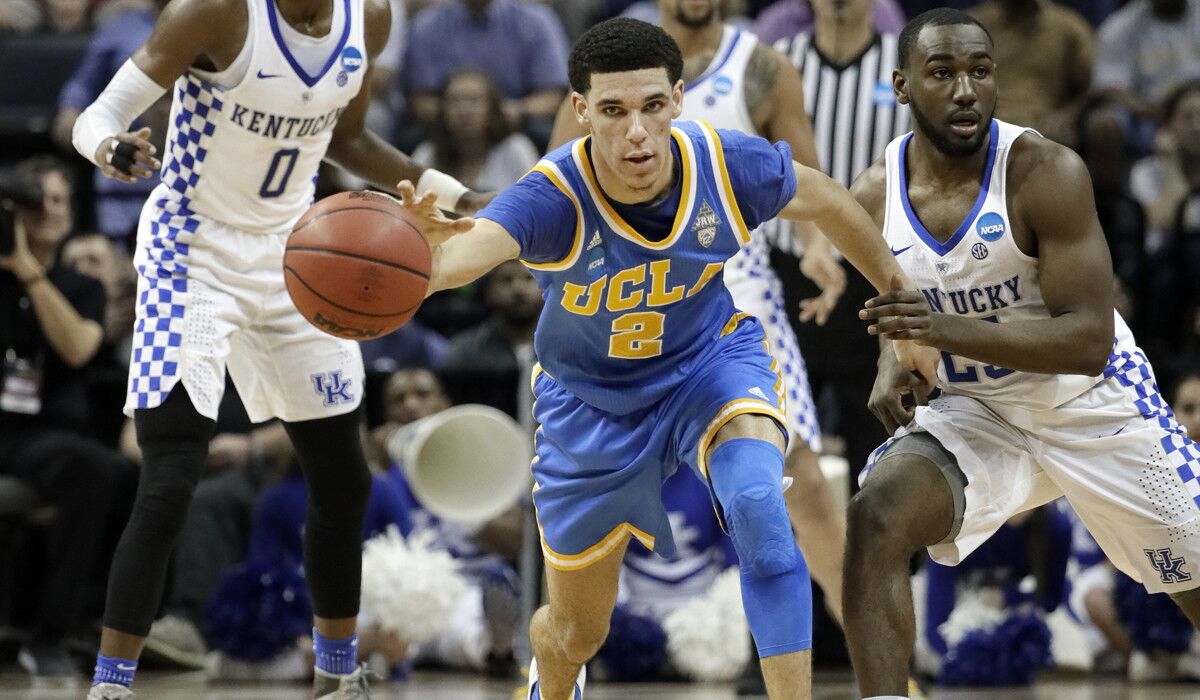 Reporting from New York —
On the eve of the biggest night of his life, Lonzo Ball pops up from underneath a fluffy, white down comforter and digs through a box of chicken nuggets. On a television a few feet away, pundits debate De'Aaron Fox, one of the top point guards in this year's NBA draft.
"Ey, bro, you have a turn down? Controller?" Ball calls across the room to Darren Moore, his trainer and manager.
He hadn't really been listening anyway. The show was on in the background as he napped. But a lot of that is just noise to Ball right now. That stuff isn't as real as what awaits him.
Thursday night in Brooklyn, his dream will come true, when he's drafted by an NBA team — especially if the Lakers do what's expected and take him second overall. It will end a pre-draft season dominated by his father, one in which Ball, the prospect, has been largely behind the scenes.
He worked out for the Lakers at their practice facility two weeks ago, had dinner with Luke Walton, Rob Pelinka and Magic Johnson, then lunch with members of the Buss family.
Last week he hosted Johnson and Pelinka in Chino Hills so they could watch his workout routine, watch him run hills and go through his training regimen. But the Lakers gave no guarantee they would take him.
And so he sits here in his hotel room in midtown Manhattan, insisting he doesn't know where he will go Thursday.
"Hopefully I go high," Ball says. "But whatever happens, happens."
Ball's journey during the past few months — or rather the journey of rumors about him — has been winding. Three months ago, he was considered a consensus top-two pick. More recently, Johnson, the Lakers president of basketball operations, said on the radio that the player in this draft who reminds him most of himself is Ball.
Then rumors leaked that the Lakers might like Kentucky's Fox better. Later, other reports insinuated Kansas forward Josh Jackson had enamored the Lakers. And then the possibility arose that they'd trade up to the top pick for Washington's Markelle Fultz, who worked out for the Lakers last week.
"I try to stay away from it," Ball says. "It's just rumors. Until it happens I don't really pay it any mind."
If there are nerves, and he says there aren't, they don't show now.
He's here in New York — which he says is cool, but "It's not better than L.A." — with about 20 friends and family members. His outspoken father, LaVar, and his two brothers are in New York, but not in his room now.
He has uncles and cousins here too. But while they've all enjoyed the week leading up to the draft, Lonzo has been busy elsewhere. He has spent most of his time with Moore and his agent, Harrison Gaines, attending events organized by the NBA.
Ball doesn't say much, but he smiles easily when explaining that he loves chicken nuggets. He giggles twice — when asked if he ever gets nervous, and when he talks about the Taylor Swift music introduced to him by former UCLA teammate T.J. Leaf and Ball's girlfriend.
Ball's own taste trends toward rappers DMX, Lil Wayne and Future. But now he has to explain his interest in pop princess Swift, so he scrolls through his phone to find all of her songs he's downloaded — about a dozen.
"We got 'Fearless,' 'White Horse,'" Ball says, grinning. "You know those? 'Untouchable.' 'Treacherous.'"
His Swift collection goes all the way back to her first album in 2006, and has some additions from her album released in 2014.
"It's not bad," Ball says. "You can't listen to it every day. But when you're in the mood."
He talks about letting the people around him handle his branding and off-the-court opportunities. He talks about how basketball helps him cope with any missteps he might make in his life. He talks about the spotlight he's accepted.
"It's not that I like it, it's not that I don't like it," Ball says. "It's just something I have to deal with."
And he calmly states that he thinks he's ready for the heightened attention that would come with being the second overall pick in the draft, and playing for the Lakers.
The truth is, he has thought about that. He's thought about what his future team might look like. He's marveled at the idea that his favorite player, LeBron James, could be a teammate if the Lakers can lure him in free agency next year.
"The thought of that is crazy," he says, smiling again. "My favorite player, the best player in the world. When you get to hear I might be able to play with LeBron, Paul George, it's crazy. Until it happens, I don't know. If it happens I'll be happy. I don't know what else to say."
By now a member of Ball's security team has arrived. The man was once an athlete trained by LaVar. He tells Moore it's time to go. They have a car waiting to take them to a players' association event nearby. They discuss their schedule as Ball ponders one last question.
He grew up a Lakers fan watching Shaquille O'Neal and Kobe Bryant dominate the league. He's never met O'Neal, and only briefly met Bryant. What would he ask Bryant if he had the chance?
For 10 seconds he thinks about it.
"What was the hardest thing you had to deal with your first year?" Ball finally says. "I'd ask him that. That's what I would ask him."
It's a question that might be relevant to Ball very soon.
Follow Tania Ganguli on Twitter @taniaganguli
---
All things Lakers, all the time.
Get all the Lakers news you need in Dan Woike's weekly newsletter.
You may occasionally receive promotional content from the Los Angeles Times.