Despite his age, Larry Nance Jr. is taking leadership role with Lakers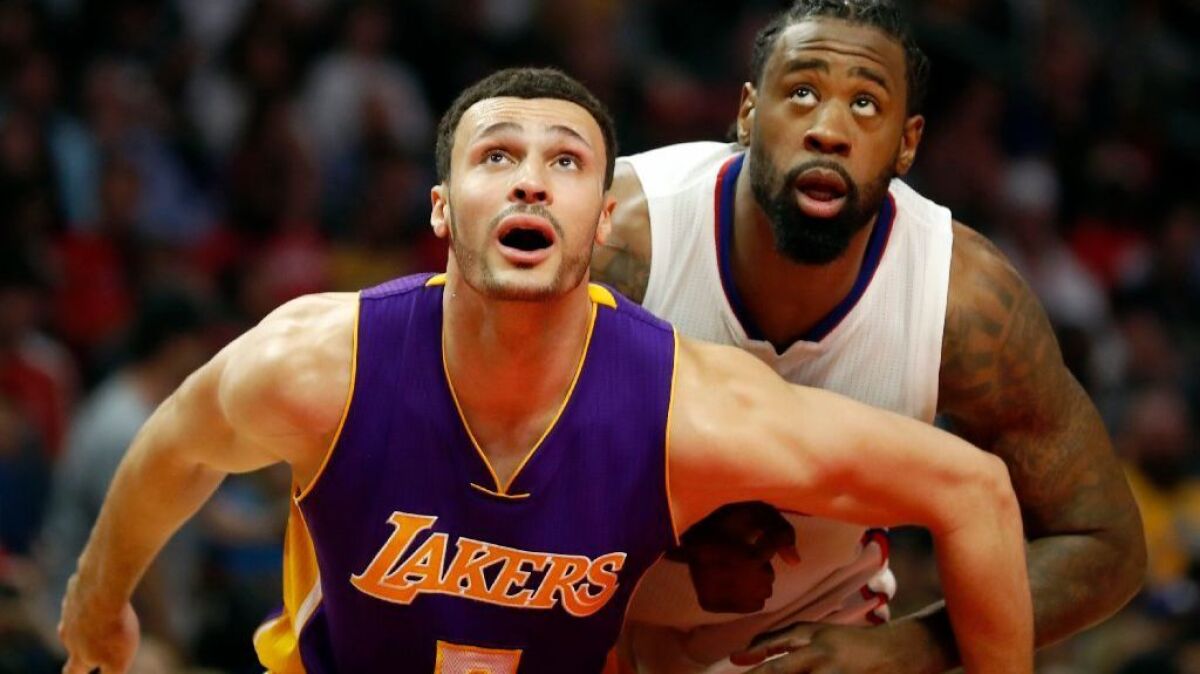 At the casual suggestion of the Lakers coaches, forward Larry Nance Jr. took some initiative this summer.
Paintball would help break the ice, he thought, so he gathered the team's rookies and his sidekick, second-year center Ivica Zubac, for some bonding.
"It's one of those things that are really good at getting everyone together and laughing," Nance said. "Everybody was outside of their comfort zone. Outside of the gym. None of us are pros at that. It was just good to get away from our element and step into another."
Said Zubac: "I don't want to brag about it but I was the best one."
Nance is only 24 years old, but he is one of the Lakers' more veteran core players. This summer he embraced that role, taking the kind of step the Lakers have wanted from their young players.
For the past several years, the Lakers' seasons have been about developing their young players into solid contributors, or even stars. It remains the case this year as they prepare to begin training camp on Tuesday, with media day on Monday. But there is a certain freedom in this season. All offseason long the buzz around the Lakers has centered on next summer.
However, in order to get what they want next summer, they'll have to focus on the present. The more they win, the more attractive they become to superstars who might become available in free agency next year.
"I can't wait," Nance said. "Hearing all that tanking talk [last year] is like nails on the chalkboard to a competitor. I don't even want to play if tanking is on the table. … This season is about improvement and wins. And getting to be the best team and having the best chemistry that we can possibly have and getting everybody to play the best that they can play. That's what I've been waiting for. … I, for one, am ecstatic. I'm eager. I wish the first game was tomorrow."
Tuesday begins the Lonzo Ball era, centered around a potentially transcendent player who could serve as a recruiting tool for star players because of his ability to facilitate an offense.
It also begins the Lakers' first full year with Magic Johnson as president of basketball operations and Rob Pelinka as general manager.
And the Lakers' campaign will commence in earnest, to show two superstars out there that this is a team that makes sense for them. Among others, Cleveland's LeBron James and Oklahoma City's Paul George and Russell Westbrook are expected to become free agents in the summer of 2018.
The Lakers' preparation for that summer began already, as the Lakers traded away Timofey Mozgov's prohibitive contract and refused to take on any new ones that would eat up their 2018 salary cap space.
They added some veterans they expect will help a roster that will take eight players under age 23 into training camp. In the trade that sent Mozgov and last year's point guard D'Angelo Russell to the Brooklyn Nets, the Lakers acquired 7-foot veteran Brook Lopez. Lopez's most attractive feature for the Lakers might have been that his hefty contract expires after this season. But he is also a 29-year-old former All-Star who can work with their young center Zubac.
The Lakers scored a coup in landing Kentavious Caldwell-Pope on a one-year deal worth $18 million. Though only 24, Caldwell-Pope is entering his fifth season and plays the kind of strong defense that the Lakers desperately needed last season when they were the NBA's worst defensive team.
Last week, they added Andrew Bogut, another veteran center who is 32, on a non-guaranteed deal. Bogut could earn the Lakers' 15th roster spot with a strong training camp.
The new veterans have been constant presences in the Lakers' facility this summer, working out and bonding with their teammates.
"We've seen them every day," Nance said. "I just got out of the gym with Luol [Deng]. As I was walking in Brook was walking out. [Corey] Brewer was there yesterday. Guys are in the gym, same with KCP [Caldwell-Pope]. Brook is everything you could hope for in a vet. KCP is great as well. Our group of vets are great."
Still, it's likely they are one-year rentals who will spend this season helping the Lakers, but also looking toward their futures elsewhere.
The Lakers' future includes Ball, who they hope will be their best point guard since Johnson. It includes Brandon Ingram, the second-year forward whom the Lakers refused to trade despite inquiries this summer. Had they been willing to move him, George might be a Laker already.
And that future includes Nance. In a recent television interview, Johnson called Nance one of the team's "secret weapons," one they refused to trade this summer.
"That's not just somebody on ESPN saying that," Nance said. "That's Magic Johnson. That's one of the greatest point guards, greatest players of all time. To hear a compliment like that coming from a guy like him, it was really cool. Makes you feel wanted and really confident in what you're doing.
"The more and more pieces come together. Uncertainty went away and nervousness went away and excitement crept in. Now we're full blown excited. I really love the way things are shaping up."
Follow Tania Ganguli on Twitter @taniaganguli
All things Lakers, all the time.
Get all the Lakers news you need in Dan Woike's weekly newsletter.
You may occasionally receive promotional content from the Los Angeles Times.