LeBron James makes a courtside appearance in Lakers' summer league win over Pistons
Reporting from Las Vegas —
The door to the loading dock opened with no fanfare and in walked LeBron James.
He wore a black hat, a white T-shirt and gold shorts with purple trim that said "Lakers" across the front. It was the first time James has worn a Lakers logo in public, the first concrete image of the team's great summer coup.
After a few pleasantries in the annals of the Thomas and Mack Center in Las Vegas, James strolled out toward the court seconds before the Lakers summer league game tipped off against the Detroit Pistons. As fans populating the Lakers-heavy crowd spotted him, they stood up and cheered.
James took his courtside seat. Later, he rose to meet Josh Hart near the three-point line. The new teammates shared a hug. A crowd of photographers made a semicircle around James and his associates, but a league employee quickly ushered them off the court.
A game was set to start, after all.
The Lakers continued their Las Vegas dominance on Sunday. They beat the Pistons 101-78 to advance to the semifinals of Las Vegas Summer League, behind 19 points from rookie Svi Mykhailiuk and 18 points from Hart. They will play the winner between Cleveland and Toronto on Monday. So far, the Lakers are 5-0 in Las Vegas and have won the last 11 games they've played in Las Vegas Summer League between last year's tournament and this year's.
"Nothing extra," said Hart, the likely summer league MVP. "At the end of the day, I play the game 94 by 50 feet. Obviously, that's cool that [James] was there. Before the game and after the game it's cool. But during the game, if it's not those guys on the court, I don't pay attention to it."
This isn't the first time James has dropped by a Lakers summer league game.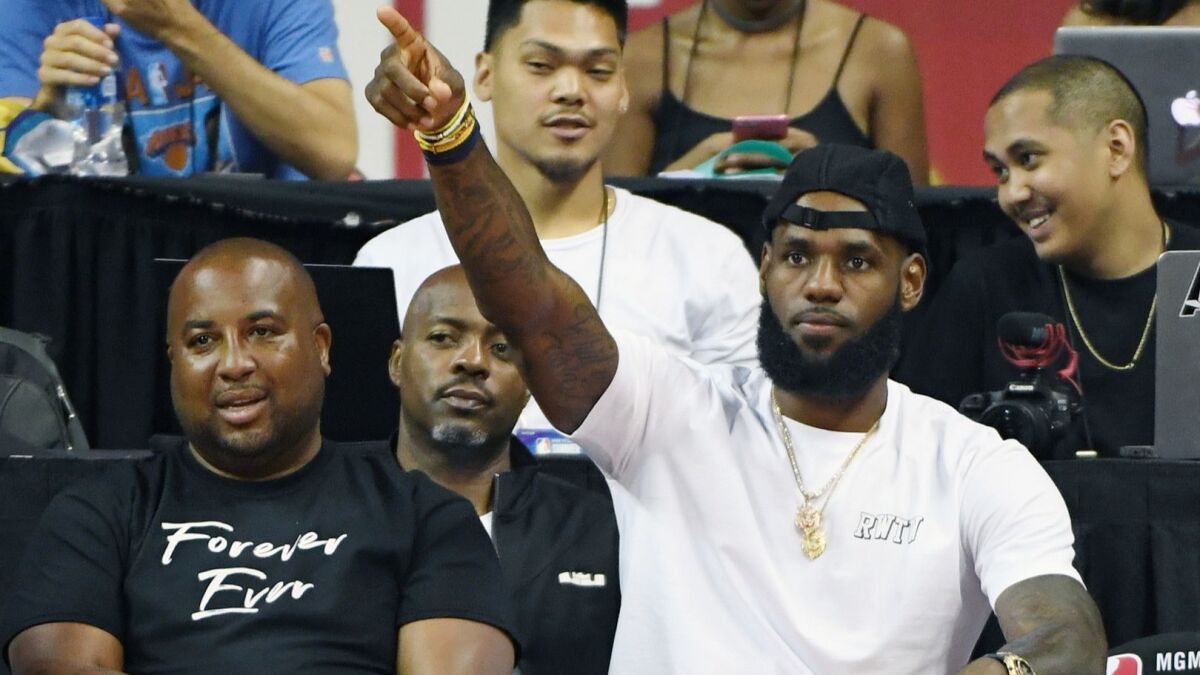 Last season, he sat courtside to watch them, arriving after the Cavaliers, then his team, had finished their game. He wore purple to that game and sat courtside, causing a stir of speculation about what that might mean.
This time, James had been in Las Vegas for a few days. But with the Lakers off Friday and Saturday, he had to wait until Sunday to catch the summer edition of his new team in action. They were already on the road when James agreed to sign a four-year deal with the Lakers on July 1. He signed his contract on July 9 at his home in Brentwood, with his agent Rich Paul and Lakers general manager Rob Pelinka in attendance.
Afterward, James skipped the fanfare. He never held up his jersey at a news conference announcing his arrival. He never spoke with reporters about why he made this decision. He doesn't plan to speak publicly until July 30 when his I Promise school opens in Akron, Ohio.
His presence at Sunday's game marked his first public appearance as a Laker.
James clapped and pumped his fists for impressive plays. When Mykhailiuk released the ball midway through the first quarter, James exclaimed "Cash only!" just before it sank through the net.
As Jeff Ayres worked his way to the basket to put the Lakers up 14-3, James called out, "Good move, Jeff."
Ayres has started at center since first-round pick Moe Wagner was shut down because of a left knee injury. At 31, he's one of the oldest players in all of summer league. He's played against James before, notably while with the Spurs from 2013-15, which included a Finals win over James' Heat.
Asked if they knew each other, Ayres wore a sly smile.
"Just beating him in the Finals," he said. "My bad."
When Alex Caruso hit a three-pointer and was fouled on the play, James did a little dance-like hand motion in celebration. Caruso didn't notice during the game, but his friends sent him the video on Snapchat.
"It's pretty surreal now," Caruso said. "I mean, he's really on the team I guess. Good to see him, and [Brandon Ingram] showed up too, just to see them supporting us shows that they care."
Ingram arrived just before halftime for his first taste of summer league action. He stopped to say hello to James on his way to his seat.
Two years ago he was part of the action, but Ingram has outgrown this event. For the past four summers, Lakers fans in Las Vegas have had a lottery pick to cheer for and see play for the first time. First Julius Randle, then D'Angelo Russell, then Ingram and last year Lonzo Ball started a frenzy that Kyle Kuzma helped elevate.
This year, without a future star to cheer for crowds were lighter than they had been in years past.
This year, for one game, the most important Laker sat courtside.
Follow Tania Ganguli on Twitter @taniaganguli
---
All things Lakers, all the time.
Get all the Lakers news you need in Dan Woike's weekly newsletter.
You may occasionally receive promotional content from the Los Angeles Times.