Lakers aim to be mentally tough as they try to end eight-game skid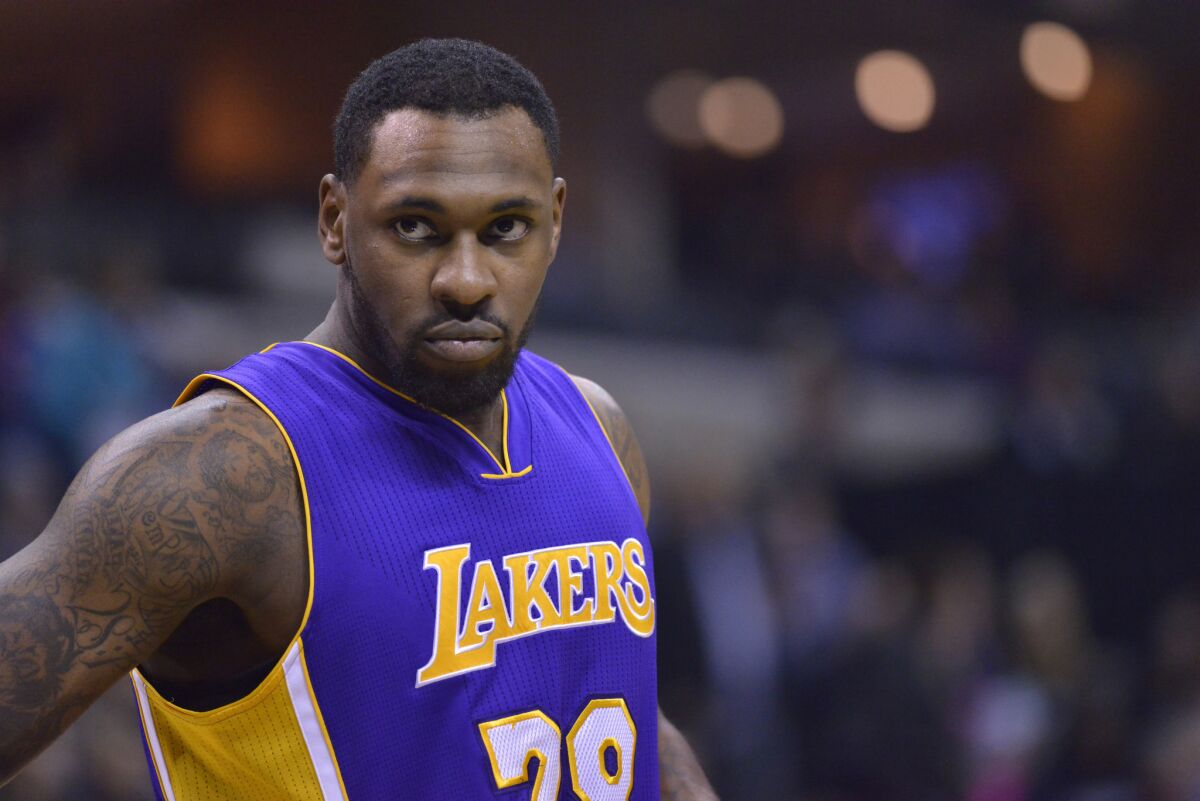 Reporting from PHILADELPHIA —
With his team gathered around him on the court at Temple University, Tarik Black reminded all those listening that they were lucky. He urged his teammates not to take for granted the opportunity they had to play in the NBA, to play in a way that made loved ones proud, even those who already are proud just out of filial loyalty.
Black had asked Lakers Coach Luke Walton whether he could speak to the team after practice. So did forward Thomas Robinson, who spoke just before Black. Their goal was the same their coach had a night before when he urged his team not to give in to mental weakness in their play. It was all geared toward trying to help the Lakers (10-18) emerge from their eight-game losing streak.
"Guys voiced some opinions and made some good points," Walton said. "That's what we're looking for. We want guys constantly stepping up. It's not easy for young guys in this league to do that. I was happy with the response today."
The Lakers held a practice in Philadelphia on Thursday afternoon, after riding buses from New York. They will face the Philadelphia 76ers on Friday night, in the third game of their seven-game, 13-day trip.
On Thursday, they worked to release the sting of that eighth consecutive loss, which came on Wednesday night to the Brooklyn Nets.
After Wednesday's game, Walton challenged the players not to be mentally soft in their approach.
"I don't think that we are mentally soft," Walton said. "I think at times we play mentally soft. There's a big difference. We got a group that we had a lot of success early on, relatively speaking, and I think we lost our priorities and lost our focus on what we were doing to have that type of success."
Indeed, before their eight-game slide, the Lakers were one of the NBA's most pleasant surprises. A year after going 17-65, they started the season 10-10. While last season their 10th win came in February, this season it came in November.
It proved heady for the young Lakers.
"I know we were getting a lot of love around town," Walton said. "I know that feels good. I know when you feel good, sometimes you lose some of that toughness and that edge and you want to keep it."
Etc.
The NBA's new collective bargaining agreement reportedly includes a provision that will reduce preseason games and start the season early in an effort to give more days of rest between games. "I'm not a big fan of back to backs," said veteran Lakers forward Luol Deng. "Especially being in the league for so long. I think fans will get better performances in games. I just think it's good for the league." … Black practiced Thursday for the first time since spraining his ankle against the Utah Jazz on Dec. 5. Walton said he was "limping around" a bit. The Lakers listed Black as out for Friday's game. … Jose Calderon, who suffered a strained right hamstring on Dec. 3, was able to begin more extensive running on Thursday. He did not practice and is also out for Friday. … Lakers guard Lou Williams missed Thursday's practice. Walton excused him so that he could attend to a personal matter.
UP NEXT
LAKERS AT PHILADELPHIA
When: Friday, 5 p.m. PST.
Where: Wells Fargo Center.
On the air: TV: ESPN, Spectrum SportsNet, Spectrum Deportes; Radio: 710, 1330.
Records: Lakers 10-18; 76ers 6-19.
Record vs. 76ers (2015-16): 1-1.
Update: While there's no talk of tanking in Los Angeles, the Lakers often talk about their "process" in a way the Philadelphia 76ers have been. They've embraced Joel Embiid, who sat out his first two seasons because of injuries, as the embodiment of that process. Two years removed from being drafted third overall in 2014, Embiid is a rookie-of-the-year candidate.
---
All things Lakers, all the time.
Get all the Lakers news you need in Dan Woike's weekly newsletter.
You may occasionally receive promotional content from the Los Angeles Times.