Lakers reluctant to play the 'youth' card as season goes on and losses pile up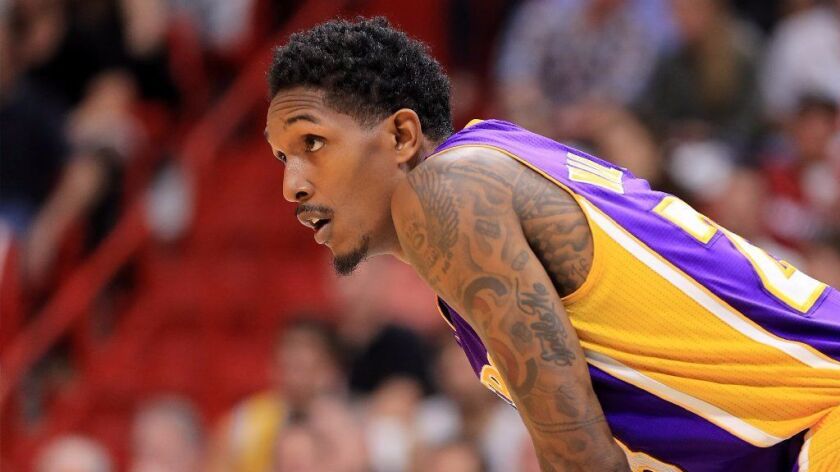 What Lou Williams said Sunday night after the Lakers' 30th loss of the season wasn't new to the rhetoric coming from within his team.
The veteran guard was asked if the callow Lakers can make the improvements they need to make now, or if a growing-up process must be completed first.
"It definitely can improve right now," Williams said. "I don't want to keep using the young team thing. At some point we gotta show growth collectively as a group. Obviously we do have young guys and we're depending on some young guys that's learning on the fly, so some of these things, like sharing the ball, that should be second nature at this point."
It's a sentiment that was heard more often during the early part of the season, when the Lakers were healthy, playing better than many expected and winning more often than many, including themselves, had anticipated before the season began. That 10-10 start caused visions of playoffs to dance in the psyches of coaches, players and fans.
Since then, they've gone 5-20, and grown more conscious of their youth.
"Down the stretch we're playing teenagers and 20-year-olds and 21-year-olds and this is a grown man's league," Coach Luke Walton said. "Are we good enough to win? Absolutely we are. But it takes making mistakes. There's no formula that tells you this is exactly when it happens."
It's not that the Lakers lack veterans. Three of their starters are in their 30s — guard Nick Young and forward Luol Deng are 31 and center Timofey Mozgov is 30, as is Williams, a key reserve.
But organizational focus this season is on developing the young players in whom the team has invested so much — recent lottery picks D'Angelo Russell, Julius Randle and Brandon Ingram, third-year guard Jordan Clarkson, second-year forward Larry Nance Jr. and, on a different level, center Ivica Zubac, a second-round pick last year.
Because of that, Walton's lineups aren't always directly aligned with which grouping will lead to immediate success; rather, they often keep an eye toward future development. The coach often leaves the 19-year-old Ingram in games even if he makes a mistake that might otherwise warrant a substitution, because he wants Ingram to have the experience.
On Sunday night, Ingram was fouled while attempting a three-point shot during a broken play. He missed two of the free throws.
"Even though he went one for three when he got fouled on that three, it's good for him to go through that," Walton said after the game. "I think that motivates players that want to be great. I think Brandon wants to be great. Even though it could hurt here or there. In the big picture or the long run, it only makes us a better team."
Ingram often is part of the unit Walton uses to close out games, offering another chance for a learning experience.
"I think the intensity builds, of course, your energy goes sky high in the building and it's time to lock up and have a more focused level in the game," Ingram said. "So I think, especially maybe in the last three minutes of the game, we'll be more focused in guarding our guy, helping other guys and of course moving the ball."
With the Lakers more than halfway through the season, Williams' dismissal of the idea that youth is an excuse is understandable. The team has occasionally shown signs of progress, most recently with a hard-fought win over the Memphis Grizzlies — one of the NBA's best defensive teams, against whom the Lakers scored 116 points. They've also had as many backslides as moments of progress.
"We don't know when we're gonna finally get over that hump and stay over it," Walton said. "We've gotten over it and then we take a step or two back. Then we get over it and we take a step or two back. I think that's pretty normal with most young teams in the NBA. It can be frustrating at times going through it when you see the same type of thing happening multiple times."
Etc.
The Lakers listed Clarkson and center Tarik Black as questionable for Tuesday's game against the Denver Nuggets. Clarkson sprained his right ankle during Sunday's game and Black sprained his left ankle. … At 15-30, the Lakers are half a game out of last place in the Western Conference. They are also four games out of a playoff spot.
UP NEXT
VS. NUGGETS
When: 7:30 p.m., Tuesday.
Where: Staples Center.
On the air: TV: Spectrum SportsNet, Spectrum Deportes; Radio: 710, 1330.
Records: Lakers 15-30, Nuggets 16-23.
Record vs. Nuggets (2015-16): 1-3.
Update: As the Lakers face another young team, it will be a study in the wackiness of the Western Conference outside its top three or four teams. Denver has only 16 wins this season and they are well within range of the eighth seed. The Nuggets are coming off a 125-112 win over the Orlando Magic.
---
All things Lakers, all the time.
Get all the Lakers news you need in Dan Woike's weekly newsletter.
You may occasionally receive promotional content from the Los Angeles Times.