Young Lakers are learning to deal with tough schedule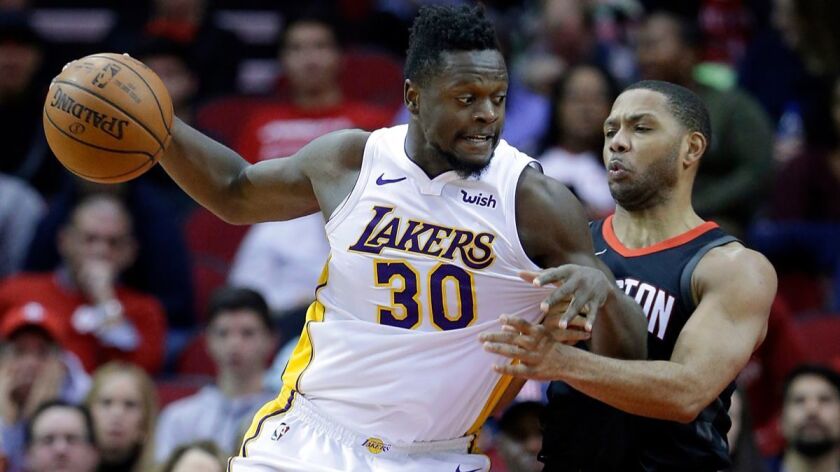 In the past month, the Lakers have gone through the kind of grueling schedule their rookie-laden lineup isn't used to handling. Games every other day, if they aren't back to back, against the toughest opponents in the NBA.
It's a learning experience every NBA player goes through, and one they won't soon forget.
"We got OKC coming to our house. … It doesn't get easy. It doesn't get easier," coach Luke Walton said. "It's good for them to go through it … because you can tell yourself one thing and then to physically go through it is something completely different."
On Monday night in Minneapolis, the Lakers ran out of gas. They were facing one of the Western Conference's best teams on the second night of a back to back — a night after an emotionally draining double overtime loss to the Houston Rockets.
What young players such as rookies Kyle Kuzma and Josh Hart, and second-year forward Brandon Ingram are experiencing now, their veteran teammates remember well.
"It's tough when you're a rookie; everybody hits the wall," said Corey Brewer, who is in his 10th NBA season. "Mentally you've got to just figure it out. … They're kids still in my mind. They're kids. They're gonna learn. We're only gonna get better."
Jordan Clarkson, in his fourth year, says his second NBA season was much easier than his first. Clarkson started getting significant minutes in January of his rookie year. He became a starter in his second season.
"I understand," Clarkson said. "They're coming fresh from college, their season probably would be over by now. Travel, everything probably catching up to few of those guys. You gotta learn what fits you recovery wise, how to take care of your body, eating, stuff like that."
Said Walton: "You start to realize how important sleep is and ice baths and all those things that come along with it, and the more years you go through it you just become used to it and then it starts to get easier and easier."
Brook Lopez, Lonzo Ball cleared
After evaluations Tuesday, the Lakers cleared Brook Lopez and Lonzo Ball to practice. Both players will be questionable for Wednesday's game against the Oklahoma City Thunder.
Ball and Lopez skipped the Lakers' last trip to focus on treating their injuries. Ball suffered a right shoulder sprain Dec. 23 against the Portland Trail Blazers.
Lopez sprained his right ankle against the Golden State Warriors on Dec. 18. Initially, the Lakers said Lopez would be reevaluated in three weeks. By being cleared for practice just 15 days after his injury, Lopez is ahead of schedule.
Kuzma will also be questionable for Wednesday's game. Kuzma suffered a right quadriceps injury against the Memphis Grizzlies. Although he has been listed as questionable before with this injury, he has not missed games with it.
Kuzma played 43 minutes against the Rockets on New Year's Eve, but only played 18 minutes on New Year's Day.
"Been getting hit same quad every game it feels like," Kuzma said.
Bottom dwellers
At 11-25, the Lakers have the second-worst record in the NBA and the worst record in the Western Conference. They rank last in the NBA in three-point shooting at 32.6%.
The Lakers are also last in free-throw percentage at 69%.
Their 16.5 turnovers per game rank 29th, better only than the Philadelphia 76ers.
Their offensive rating of 101.2 ranks 28th in the NBA, a far cry from a defensive rating of 105.2, which ranks 15th.
NEXT UP
VS. OKLAHOMA CITY
When: Wednesday, 7:30 p.m.
On Air: TV: ESPN; Radio: 710, 1330.
Update: Oklahoma City's Paul George makes his first trip to face the team he grew up rooting for, the team he's said he wants to play for, and the team that would love to sign him as a free agent this summer. This game is the first of five consecutive home games for the Lakers.
Follow Tania Ganguli on Twitter @taniaganguli
---
All things Lakers, all the time.
Get all the Lakers news you need in Tania Ganguli's weekly newsletter.
You may occasionally receive promotional content from the Los Angeles Times.