LeBron James thinks the Lakers' playing style will be similar to his Miami Heat teams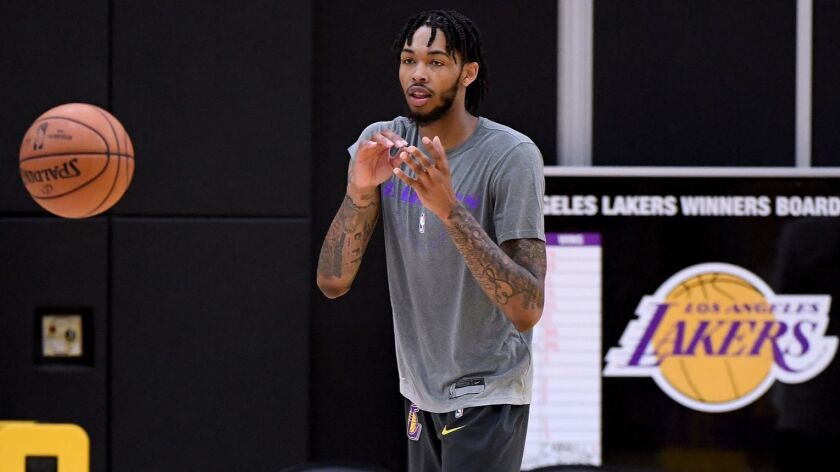 For the past two seasons the Lakers have worked on crafting their identity and style of play.
LeBron James' addition will certainly improve the effectiveness with which the Lakers run their system. But while some aspects of how the Lakers play will change, James' insertion might not create a dramatic shift in their style.
"I think it will be kind of similar to Miami in a sense of we really got out and started with our defense, and got out and ran," James said. "You get out and run, you're able to get down the floor before they set their defense. There's a lot of good defenses here in our league, so to be able to get stops and get out and run, you get down the floor before the defense gets set up.
"That's what we did a lot in Miami: We started a lot with our defensive side, and if you defend, it gives you an advantage on the other end."
That is a philosophy Lakers coach Luke Walton believes in and has worked to implement since he joined the Lakers in 2016. It has had some hiccups.
In his first year he inherited a team that was one of the worst defensive teams in the NBA. Their struggles continued into Walton's tenure. Last season, the Lakers ranked 13th in defensive rating, a marked improvement over the previous season.
In James, the Lakers got not only an exceptional offensive player, but one of the league's smartest defenders. The veterans they added — Rajon Rondo, Lance Stephenson and JaVale McGee — have all shown defensive ability. It should help the Lakers with their transitional goals.
This is all somewhat hypothetical. Walton and his staff are still working through the unknowns of this season.
"All the new personnel," Walton said. "I don't know any of these guys, so coming into the season, I don't know the practice habits. Are they talkers, are they quiet? Do they see, anticipate well … all these types of things I am getting to know."
On the other hand, some changes are easy to identify early.
Brandon Ingram became the closest thing the Lakers had to a closer last season, especially as he embraced the role more. This year …
"I can comfortably say LeBron will be our first option at the end of ballgames," Walton said.
For Ingram that will mean taking advantage of other opportunities throughout the game.
"I'm not sure what it will be," Ingram said. "But I know I will be prepared for anything they throw out there."
As this team forms its identity, the Lakers will learn together what will work for them.
"We're gonna play fast," Walton said. "Whether it's the same speed, faster, slower, we'll get to know our team as training camp goes. We're gonna play fast. We have a very deep team, we have a lot of guys who can push the ball. We want to attack. We think a big strength of ours this year will be our depth and the number of guys we can throw at you."
Ball stays on course
Lonzo Ball participated in all of the Lakers' practice Wednesday with the exception of the team's five-on-five scrimmage. Ball has been cleared by the Lakers' medical staff to do everything except play five-on-five. They also want Ball to avoid participating in two practices in one day for now.
Consequently, the Lakers held Ball out of Tuesday morning's practice and allowed him to play in Tuesday evening's practice. The Lakers had only one practice Wednesday.
Ball is recovering from arthroscopic knee surgery on July 17. The surgery dealt with a torn meniscus in Ball's left knee. Last season Ball also dealt with a sprained medial collateral ligament in the same knee and a bone bruise that caused him to miss the end of the season.
Between two right knee injuries and a sprained shoulder, Ball missed 30 games last season.
Ivica Zubac missed Wednesday's practice because of an unspecified illness. Lakers rookie first-round pick Moe Wagner has been unable to practice in training camp because of a left knee injury he sustained during Las Vegas Summer League.
Vets control first scrimmage
The Lakers' practice on Wednesday included their first five-on-five scrimmage of training camp.
"It went well," McGee said. "The young guys played hard. The vets won two out of three. It was pretty cool."
Walton tempered McGee's characterization of the group, noting that the teams changed a bit during the course of the scrimmages.
Follow Tania Ganguli on Twitter @taniaganguli
---
All things Lakers, all the time.
Get all the Lakers news you need in Dan Woike's weekly newsletter.
You may occasionally receive promotional content from the Los Angeles Times.