LeBron James says he's proud of Drake, doesn't take celebrity interactions for granted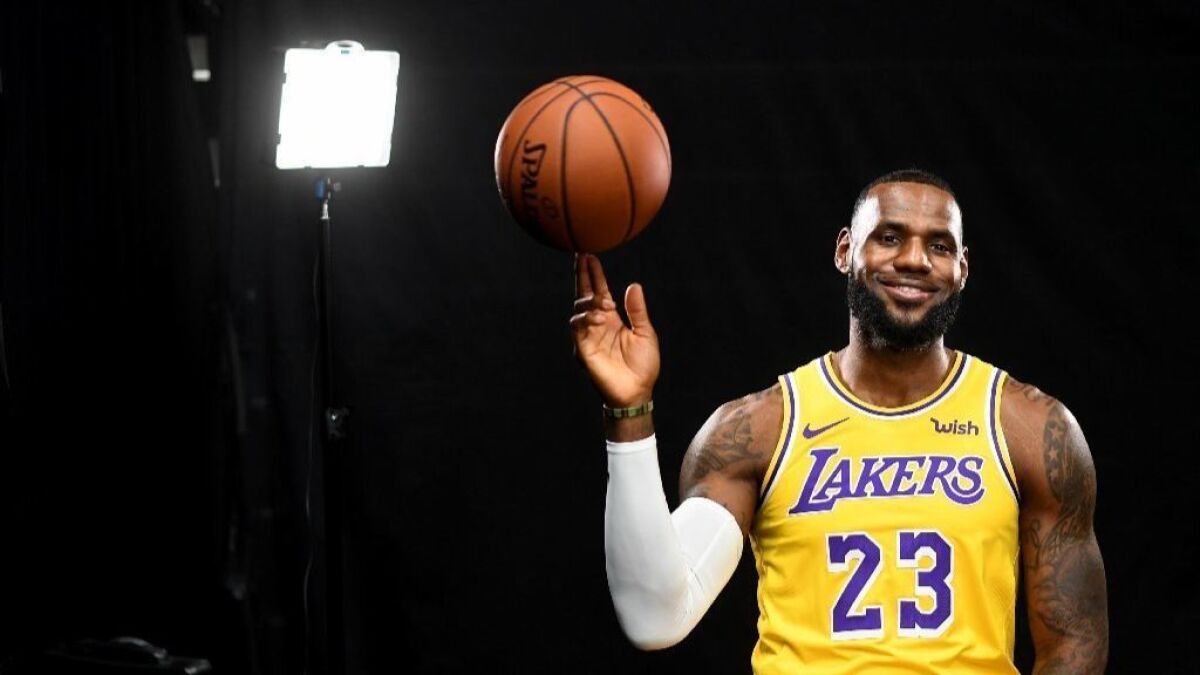 LeBron James has rubbed elbows with entertainers for years — Jay-Z saw him play when James was in high school.
Last month James shared a stage with comedian Dave Chappelle. Last weekend he shared a stage with rapper Drake, who performed in front of a sellout crowd at Staples Center.
Drake was also a guest on the second episode of James' HBO show "The Shop." Drake discussed his fractured relationship with Kanye West and his disdain for rapper Pusha T, as well as the unexpected nature of becoming a father and what it meant to tell his mother.
"What you guys saw is who he is and a lot of things we talk about," James said. "I've been knowing Drake since 2007. We've grown closer and closer every year, and I'm proud of who he is today. Not only as an artist, not only as a son. But as a father and he's one of the biggest stars that we have on this planet right now, and it's because of who he is and his hard work and dedication to his craft so, it's pretty cool."
James doesn't take any of these kinds of relationships for granted.
"I'm just blessed and honored that I can be in the same room with some of the greats in their respective fields," James said. "…That's Chappelle and Jay and Drake and I got an opportunity to speak to Barack Obama, be in the Oval Office. I was even, actually on stage with him before. So I just look at myself sometimes and say I'm just a kid from Akron and I'm able to be around people who will be known forever even long after their years of existence."
Starting guards?
In Monday's practice, the Lakers' starting guards were Rajon Rondo and Kentavious Caldwell-Pope.
"KCP gives us shooting," coach Luke Walton said. "He's a guy that can defend multiple positions, get up in, put some pressure on guys. and Rondo's an elite point guard in this league. Everyone on our team brings their own things to this table but I've liked what I've seen out of that group so far."
Rondo and Caldwell-Pope probably will start Thursday night in the season opener at Portland, but Walton was coy about his lineup.
Of Lonzo Ball, Walton said, "Whether Lonzo starts or not is going to be based on where we're at as a team and what's working for us right now. He's looked great and he continues to play better and better. Had another solid day today."
Ball, who had arthroscopic knee surgery in July, played in two preseason games after sitting out the first four.
Caldwell-Pope flew home from San Jose before the Lakers' final preseason game last Friday to rehab right knee tendinitis. It's unusual for a player to return home from a trip to rehab a minor injury, but Walton said the Lakers felt that was their best course of action because it was the preseason.
He doesn't anticipate the injury to linger.
"In my medical opinion," Walton said, "I think he's gonna be just fine."
Wagner getting closer
Rookie Moe Wagner participated in a controlled three-on-three scrimmage after practice.
Wagner, who suffered a knee bruise in July, did not play in any preseason games because of the injury. The 25th pick in the June draft, he has been cleared for non-contact activity.
T
Follow Tania Ganguli on Twitter @taniaganguli
All things Lakers, all the time.
Get all the Lakers news you need in Dan Woike's weekly newsletter.
You may occasionally receive promotional content from the Los Angeles Times.