Slow start dooms Lakers in 108-86 loss to the Timberwolves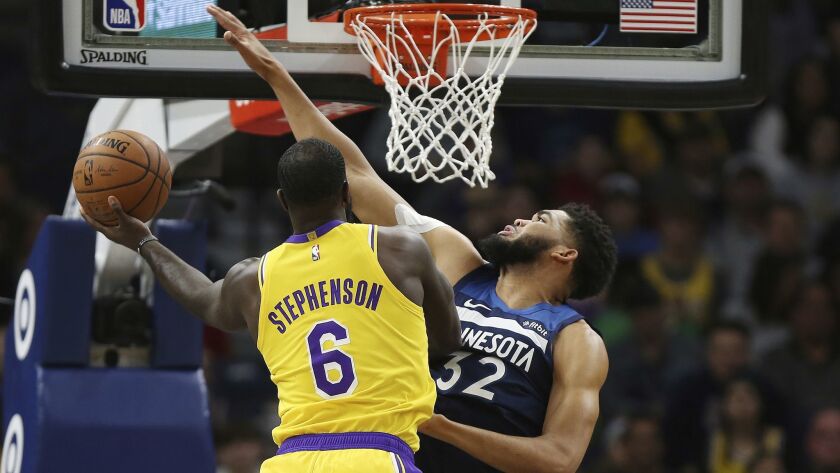 Reporting from Minneapolis —
Missing three key players and lacking effort all around, the Lakers could not overcome a sluggish start Sunday in Minnesota.
Halfway through the first quarter, they'd scored only three points. While their offense improved from there — how could it not? — the Lakers lost 108-86 to the Minnesota Timberwolves.
The game preceded one big shakeup on Sunday evening. Tom Thibodeau, the Timberwolves' coach and team president, was fired after the game, with Minnesota, at 19-21, languishing under .500 after almost half the season.
The Lakers, at 21-19, are just trying to survive a rough spell. It was their sixth game without LeBron James, who will miss at least two more with a strained groin. The Lakers have gone 1-5 without him. They also are missing veteran point guard Rajon Rondo (sprained finger) and starting forward Kyle Kuzma (sore back).
"It's a significant stretch because it's an opportunity for us, it's an opportunity for young players to grow and establish themselves, with LeBron out, with Rondo out," veteran center Tyson Chandler said. "It gives other guys an opportunity to step up so when those guys come back we can be in the rhythm, guys can be feeling good about what they're doing out there. But we've got to take advantage of it."
They didn't Sunday afternoon. Lonzo Ball didn't score, missing all four shots he took while finishing with six rebounds and four assists. Lance Stephenson led the Lakers with 14 points but missed six free throws. Brandon Ingram finished with 13 points, all in the second quarter, and missed 11 of 16 shots. He contributed one assist and five rebounds.
"They're trying but they're young," coach Luke Walton said of Ball and Ingram. "At some point, we need more passion. We need more fight. And that's not scoring more. That's more diving for loose balls, communicating loudly, grabbing [rebounds]. Brandon had some really nice crackback rebounds tonight that we can get out and run [off of]. We need that all the time from him."
Said Ingram: "I'm just playing the game. Playing the game the way I know how to play a basketball game. Getting guys open and when they have open shots, letting them take them. Just trying to be good on the defensive end, just doing whatever the coach asks."
Minnesota's young stars Andrew Wiggins and Karl-Anthony Towns each scored 28 points, and Towns had a game-high 18 rebounds.
The Lakers started an unusual lineup that included two centers, Ivica Zubac and JaVale McGee, and it struggled. Zubac had nine points and eight rebounds in 18 minutes while McGee finished with two points, two rebounds and an assist.
Zubac scored the game's first point on a free throw. Then the Timberwolves went on a 15-0 run. The Lakers' first field goal came courtesy of Michael Beasley, who came off the bench and scored with 7:28 left in the quarter.
Remarkably, the Lakers trailed by only 16 after one quarter, and even cut the deficit to 12 in the second quarter, fueled by Ingram's play. But that didn't last.
"Just couldn't get over that hump," guard Josh Hart said. "I think that was the biggest thing. That was the frustrating part because we kept getting it down to 12, OK here we go, they'd get a bucket and then push it back up to 18."
By halftime, the Lakers trailed by 19 and never got closer than 15.
Before James' injury, the Lakers were fourth in the Western Conference. By Sunday afternoon, the Lakers had fallen to eighth, with six teams including Minnesota close behind them.
The Lakers, who missed the playoffs the last five seasons, were expected to be a sure playoff team with James. Without him, they've struggled to stay afloat.
Stephenson was asked if it feels like the Lakers are letting their overarching goals slip away.
"A little bit," Stephenson said. "Right now is our down time. And I think we gonna go on a run. I think we gotta stay positive and confident in each other and this group that we got right now. No excuses and just play basketball, man. I think the guys just thinking too much; we just gotta play. Play like we normally play, and play without thinking."
Follow Tania Ganguli on Twitter @taniaganguli
---
All things Lakers, all the time.
Get all the Lakers news you need in Dan Woike's weekly newsletter.
You may occasionally receive promotional content from the Los Angeles Times.