Lakers rookie Moe Wagner screams potential, but is still cutting his teeth on defense
Reporting from Sacramento —
Miami's Bam Adebayo backed into Moe Wagner near the basket but never got the ball airborne as the Lakers rookie stripped it away. The ball rolled toward the first row of seats, and the referee awarded possession to the Heat.
"Nooooo!" Wagner screamed. "Come on!"
It was the latest — and typical — emotional outburst from Wagner, the first-round draft pick chosen 25th overall in June.
In his first professional action, a three-game California Classic summer-league series in Sacramento, he kept a promise made last Friday following his first practice at the UCLA Health Training Center.
"I'm not gonna change just because it's the NBA," Wagner had said. "I'm the same player. I'm a confident guy. I'm just gonna be myself, and I'll be smiling the whole time."
He admits, though, that he can't rely on what he did at Michigan, or before that with the German national team or club team, ALBA Berlin. To make it with the Lakers and in the NBA, he'll need to evolve. And it's not going to happen quickly.
"That's the fun of it," he said. "If you don't enjoy development and enjoy evolving, you're not gonna make it far."
He already has come a long way, but so has his reputation.
During three years of Big Ten play at Michigan, he was regularly booed on the road — from East Lansing to Happy Valley.
It took him less than one game as a pro, however, to reprise his role as a villain.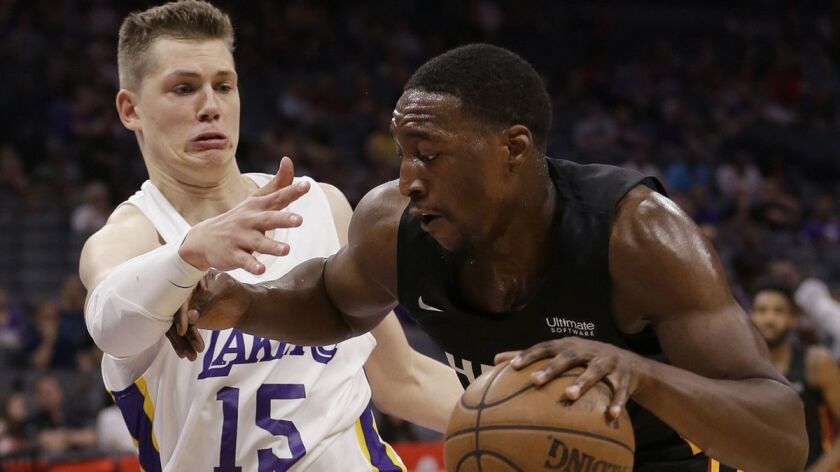 After a couple of emotion-fueled comments and physical plays against the Kings on Monday, he was booed when introduced in the fourth quarter. He laughed when asked about it, noting that "I don't ignore" the booing. He embraces it.
He also generates it.
►He yelled when he drove toward the basket against the Kings and came out of traffic hobbling. "Man!" he screamed along with an expletive.
►Wagner was the first to a scrum after teammate Nick King was tackled on a breakaway.
►He smashed his hands together and screamed something — this time inaudibly — after missing an open layup against the Kings.
"He plays with a lot of fire. A lot of passion," Lakers summer league coach Miles Simon said. "He's always talking on the floor. He's into everything that he does on the offensive and defensive end, and he's truly so fun to be around because then you know what he does? He does it with a smile."
He has played and lived with that emotion since his elementary years at Berlin's Thomas Mann Grundschule. His demonstrative passion started with soccer and continued when he made the switch to basketball at about 11 years old.
He was the tallest player back then, but soon teammates unexpectedly outgrew him. Even though father Axel Schulz is 6 feet 6 and mother Beate Wagner 6 feet 5, an anticipated growth spurt exceeded expectations. Playing basketball in the NCAA and the NBA once might have seemed like a fantasy, but so did growing into a 7-foot forward.
German coaches weren't interested in cultivating NBA dreams, however. Players weren't even permitted to wear NBA socks to practice. The European style of play was the curriculum, but Wagner developed other aspirations.
"We tried to avoid taking it that serious," his father admits, "but he did it. And that's the impressive and the important thing."
Those dreams led Wagner to Michigan, where he came off the bench as a freshman and averaged 2.9 points per game. He started every game as a sophomore and averaged 12.1 points. As a junior, he averaged a team-best 14.6, and the Lakers drafted him largely because of his ability to score.
Questions about his defense, though, remained.
"He was never a great defender," said Sebastian Trzcionka, Wagner's coach at ALBA Berlin. "He gambled a lot."
Gambling doesn't often pay. For instance, Simon screamed Wagner's name when the forward jumped on a fake pass near midcourt and allowed the Kings to cruise to an easy layup. In a 77-71 loss to the Warriors on Thursday, Simon yelled several times when Wagner's defense faltered.
"Too easy, Moe! Too easy!" he said. "Pressure him, Moe!"
And there will be more pressure.
"When I saw him in Lakers shirt, I was a little bit afraid," his mother said. "Because now he has new teammates and millions of people who look to him. So as a mother, if he has a bad day, you don't want to read in the Los Angeles Times that he's gonna be a bust or something."
That isn't a concern to her son, who feels his defense is improving. Simon seconded Wagner's development and added that even when he messes up, effort is always present. So despite the setbacks, Wagner remains optimistic.
Whether his optimism is rewarded with consistent NBA minutes is a question only time can answer, but Trzcionka believes it's possible. He's seen Wagner evolve before.
Back in his first season with ALBA Berlin, Trzcionka remembers a game against a rival when Wagner attempted a dunk, missed and fell on his behind.
"This little guy couldn't dunk the ball," Trzcionka said. "Now he's in the NBA."
And he continues to scream potential. With a smile, of course.
---
All things Lakers, all the time.
Get all the Lakers news you need in Dan Woike's weekly newsletter.
You may occasionally receive promotional content from the Los Angeles Times.