Lakers' D'Angelo Russell expected to miss at least two weeks after treatment on knee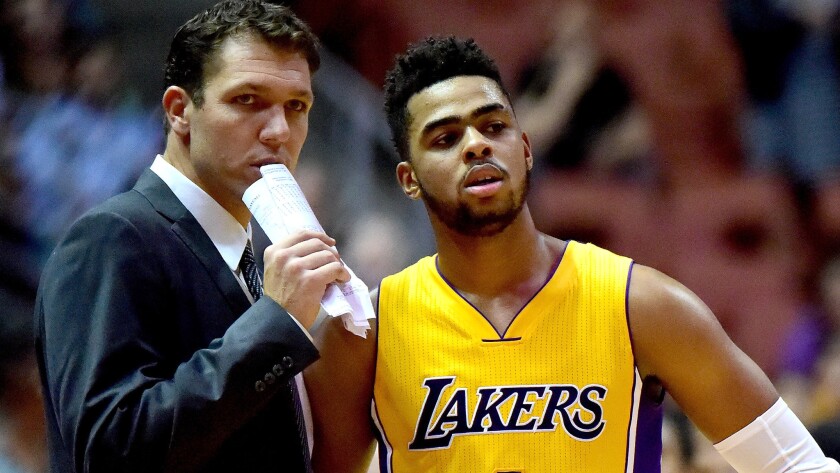 Reporting from Oakland —
Lakers point guard D'Angelo Russell is expected to miss at least two weeks after having a platelet-rich plasma injection Wednesday in his left knee.
Russell missed two of the Lakers' last three games with what the team termed a "sore knee." He sat out Friday against the San Antonio Spurs.
Two days later, saying the injury felt better, Russell played in the Lakers' 118-110 loss to the Chicago Bulls.
Russell admitted he was being cautious. Rather than drive to the basket, Russell stayed mostly on the perimeter. He took 11 shots, nine of them three-pointers, and made only three baskets.
"If he can't go out and play without any restrictions, it's not really worth having him out there right now," Lakers Coach Luke Walton said before Tuesday night's game against the Oklahoma City Thunder. "He's too young and his future is too bright to risk that, but if he can get out there and play the way we know he can, we want him on the court."
Jose Calderon started for Russell against the Spurs and the Thunder.
Russell did not travel with the Lakers to Oakland, where the Lakers (8-7) were to play the Golden State Warriors (12-2) on Wednesday night for the first of two games against them this week. The Lakers said Russell would be re-evaluated after one week.
Russell was not the only player dealing with an injury situation. Lakers forward Julius Randle was questionable for the Thunder game with a hip pointer injury.
"He seemed to be favoring it a little bit early on," Walton said. "And I felt like he kind of … I don't know if it was hurting, or if it was just in his head. But he seemed to be a little less aggressive tonight than he's been. But I haven't asked him yet how the hip felt. Every time I asked him during the game he said it feels good. But that's what most athletes tell you. So I don't know if it was hurting or not."
Growing confidence
It wasn't really a joke.
But Walton's line drew laughs anyway on the eve of the Lakers' second game against the Warriors.
"I told the guys it's us and the Spurs are the only two teams that beat them and we beat them last," Walton said. "So they're probably the ones that are a little nervous right now as we get ready to fly up to Oakland."
He paused at the laughter.
"That's funny?"
It would have been more of a joke two months ago, when the Lakers began their training camp talking of improvement, and development. Back then, they stressed their was no expectation that this team would have to win. Since then, the Lakers have stolen wins against some of the league's best teams, surprising many.
Their latest surprise came Tuesday with a two-point win over the Thunder – their closest game this season. Their reward? Getting on a plane right after the game to face the behemoth Warriors.
"The guys are excited, we're all excited, but it's part of the job," Walton said. "You get on a plane, you get a good night's sleep and mentally prepare for the next one."
Twitter: @taniaganguli
---
All things Lakers, all the time.
Get all the Lakers news you need in Tania Ganguli's weekly newsletter.
You may occasionally receive promotional content from the Los Angeles Times.