Lakers have fun for the first time in a while in 124-106 win over Wizards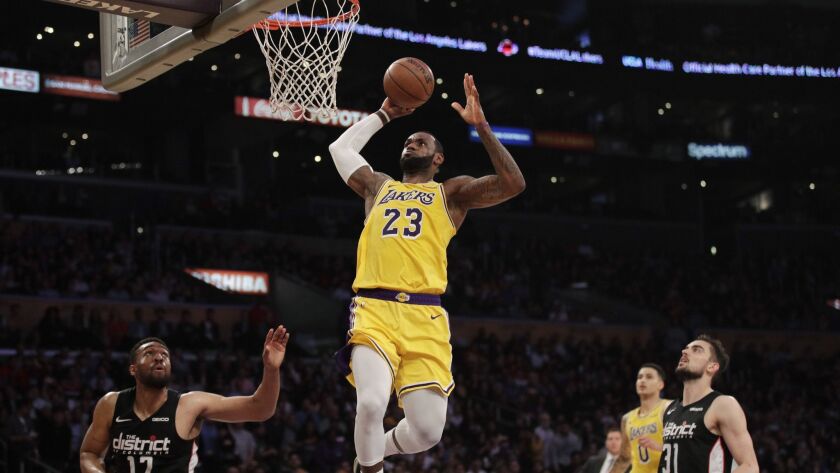 There are times when the joy with which Lance Stephenson plays permeates the Lakers' roster and their building. Those moments don't always coincide with the right basketball play, but sometimes they do.
One of those moments came in the first quarter Tuesday against the Washington Wizards when Stephenson sized up Jeff Green, stepped left, right, then crossed him over (stepping lightly on his foot), sending the veteran defender stumbling several steps backward.
Stephenson scored, then waved his arms as he shimmied in celebration.
"The air guitar is only for threes," Stephenson said afterward.
The play provided a spark for a team that hasn't had many in the last few months. The Lakers used that energy on their way to a 124-106 win over the Wizards at Staples Center, giving them back-to-back wins for the first time since January.
It was a game in which they played together and moved the ball well, which resulted in 37 assists. Stephenson finished with seven points and 10 rebounds.
Kentavious Caldwell-Pope led the Lakers with 29 points, making six of 12 three-pointers, while LeBron James scored 23 points with 14 assists and seven rebounds. Scott Machado, on a 10-day contract after spending the season with the South Bay Lakers, scored his first points as a Laker with a three-pointer in the fourth quarter.
The Lakers are 33-41 and with two more wins will match their total from last season. They traveled to Utah after the game to play the Jazz on Wednesday.
They'd struggled lately with injuries plaguing them. They were without Josh Hart, Tyson Chandler and Mike Muscala on Tuesday. Stephenson had been on the injury report recently but returned from a sprained toe.
"Real tough," Stephenson said of his absence. "Right now I'm still hurting. Just trying to get back and get back healthy right now. Seventy-five percent. Just get out there and play and have fun with my teammates."
His play near the end of the first quarter certainly added to that fun.
As Green regained his composure following Stephenson's crossover, the Lakers bench — mostly populated by starters at that point — lost theirs. They jumped and hollered and waved their towels. JaVale McGee and Machado rolled around on the baseline in a two-person pile. Rajon Rondo ran around and fell flat on his back.
"I was dead for a second," Rondo said. "They saw the dead body there. Chalked me a little chalk [outline]."
Stephenson, now unguarded, shot a jumper that swished through the net. Luke Walton watched his players a few feet away, grinning with hands on hips.
The quarter ended five seconds later and McGee was still on the ground. Wide eyed with mouth agape, Stephenson came over to clasp McGee's hand and bring him back to his feet.
"I told Lance, 'Make 'em dance, Lance,' early in the season and he did that tonight," James said. "If there's one guy that could care less about that happening to him, it would be Jeff. I know Jeff. Jeff was like, 'All right take the ball out.' He don't care about that."
Rondo concurred.
"If anybody really didn't care about it, it was Jeff," Rondo said. He then joked: "I kind of said something to him at halftime; I checked his ankles, making sure he was OK. He was fine."
Sign up for our Lakers newsletter »
UP NEXT
AT UTAH
When: 7:30 p.m. Wednesday.
On the air: TV: SpecSN, ESPN; Radio: 710, 1330
Update: The Jazz, a half-game behind the Clippers for fifth in the West, have won seven of eight.
Follow Tania Ganguli on Twitter @taniaganguli
---
All things Lakers, all the time.
Get all the Lakers news you need in Tania Ganguli's weekly newsletter.
You may occasionally receive promotional content from the Los Angeles Times.