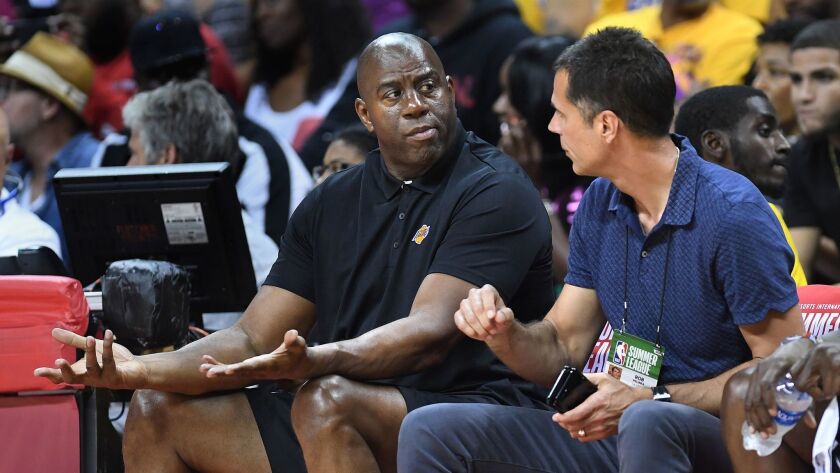 It looked like the Lakers were going to punt.
Instead, they ran the "Philly Special.''
On fourth down at trade deadline Thursday, it appeared the Lakers were going to stand pat with their young players, hang on to loads of stifling salary, and give up on their master plan of convincing potential free agents LeBron James and Paul George to sign up together this summer.
Then, out of nowhere, they pulled a trick play, the basketball equivalent of an end zone pass from a tight end to a quarterback, stunning the basketball world with a deal that could have Super-Bowl-sized ramifications.
Traded to the Cleveland Cavaliers were scorer Jordan Clarkson and fan favorite Larry Nance Jr. … but wait.
Coming back from the Cavaliers were troubled Isaiah Thomas, Channing Frye and a surely late first-round 2018 draft pick … but wait.
Clarkson and Nance Jr. have contracts the Lakers were hoping to dump. Thomas and Frye likely will be temporary Lakers because of contracts that will expire this summer.
The Lakers are now set to have loads of salary cap space that will increase this summer if they let Julius Randle walk and do some contract surgery on Luol Deng, all of which will clear the decks for … you guessed it.
With $70 million in cap space, enough for two max contracts, the Lakers could now be the ideal destination for James and George.
Touchdown, Magic Johnson and Rob Pelinka.
"This was an essential step to get a playoff team or a championship caliber team back to the Lakers,'' Pelinka said at a news conference.
Last summer, they promised Lakers fans that if they could be patient enough to tolerate a fifth consecutive non-playoff season — their longest postseason drought in 40 years — they would be rewarded with a contender in 2018-2019.
They now have a legitimate chance to fulfill that promise.
"This is what I came here to do … to create flexibility for our organization,'' Johnson said.
Of course, now their real work begins, that of convincing James and George that, together, they can contend in the wild West with a young core of Brandon Ingram, Lonzo Ball, Kyle Kuzma and Josh Hart.
The Lakers will have to finish the season strong. The kids will have to continue stepping up. The franchise must prove it has created a contending environment again.
Then Earvin has to get James and George together in a room and work his Magic.
For the longest time this season, all of this seemed like a pipe dream. The team wasn't playing well, James and George seemed to lose interest in coming here, another potential free agent in DeMarcus Cousins suffered a season-ending Achilles tendon tear, and the financial restraints made a change unlikely. With guys such as Jimmy Butler, Kawhi Leonard and Klay Thompson possibly available in the summer of 2019, the Lakers were preparing to throw up their hands and ask their city for one more year.
That would have been bad business. That would have left fans questioning whether Johnson and Pelinka were just smoke and mirrors. Five years of sitting out the spring is enough.
But the NBA is so wonderfully volatile, and things quickly changed. It became clear that James and Cavaliers owner Dan Gilbert don't like each other, meaning James is probably going to leave Cleveland even though the Cavaliers made other trades Thursday in hopes of salvaging the season. And Isaiah Thomas and his expiring contract became available because he became a malcontent. And the Oklahoma City Thunder, while playing well lately, still have been a disappointment and could be headed for a second-round playoff exit, which won't do much to convince George to forsake a Los Angeles homecoming.
All the pieces fell into place for the Lakers to make a bold move, filled with big hopes, and so they did, and, yeah, some fans are going to be upset. They've enjoyed watching Clarkson and Nance. They'll wonder why they just couldn't keep these young guys together.
But for all the upward movement, these young guys aren't going anywhere. For all the exciting surprise moments this team has delivered this season, the Lakers are still 22-31 and a virtually insurmountable six games out of the final playoff spot.
Face it, they're fun, but, without superstars, this team is never going to contend. Clarkson and Nance are nice pieces, but nothing more. Randle has probably reached his ceiling. As for the young players who will probably stick around, none can carry a team, with Lonzo Ball's failure to physically weather his first NBA season being a particular disappointment.
"I don't want to stay in 11th place,'' said Johnson. "And I don't want this organization to stay there.''
The Lakers need help. They need it this summer. On Thursday, they began clearing out enough space in the room to accommodate the NBA's greatest players and a superstar sidekick.
James and George might never be Lakers together. But they may be. And after Thursday, there's no reason they can't be. The whole thing feels like a risky trick play, but, guaranteed, the Lakers are smart for running it.
Get more of Bill Plaschke's work and follow him on Twitter @BillPlaschke.
---