Mike Brown says Kobe Bryant made him a better coach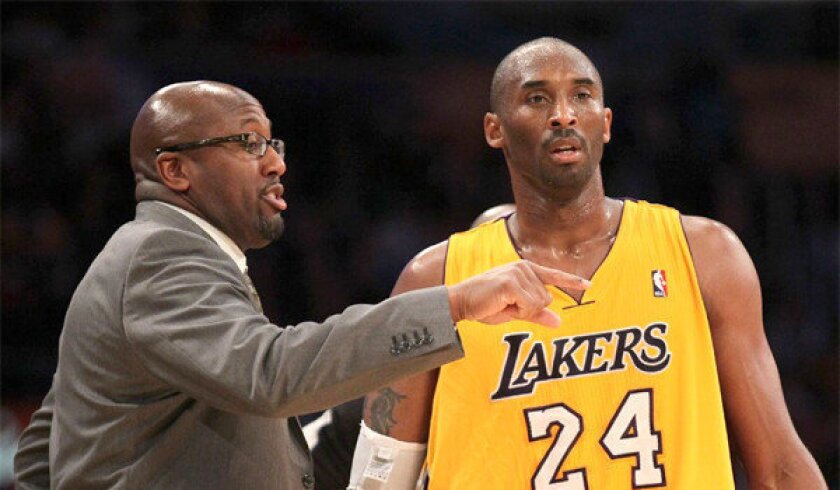 Mike Brown spoke on radio (SiriusXM) Thursday with "Off the Dribble" hosts Justin Termine and Mike Dunleavy Sr. about his former team.
"I appreciate the opportunity that the Buss family gave me and [General Manager] Mitch Kupchak gave me," Brown said. "Coaching the Lakers was an exciting, great time. It was a dream job for a lot of people, including myself."
After a lockout-shortened season, Brown was given just five games this year before he was let go with a 1-4 record despite losing Steve Nash to injury in the second game of the year.
"It's their team and so whenever, however they wanted to operate it, I was OK with," Brown said. "It's not my decision to talk about the decision that they made. I just live by whatever decision they make."
Brown still has three years on his deal (including the current season), so while he won't be coaching the Lakers, he will still be compensated.
The team hasn't exactly turned things around after a brief stretch under Bernie Bickerstaff, who took over as interim head coach before the team brought in Mike D'Antoni. The Lakers are 9-13 on the season, just 8-9 since Brown was relieved of his duties.
"They've been struggling, obviously, as of late but I think they do have a nice team and Coach D'Antoni has won many times before in the past," Brown said. "Especially when they get Steve Nash back and Pau [Gasol], I think obviously those are two big ingredients for that team to be on the upswing. As soon as they get those guys back on the hardwood, I think they'll be heading in the right direction."
Gasol is currently out with knee tendinitis, which had limited him for most of the season.
Brown said he was grateful for his time with the Lakers and Kobe Bryant.
"I had a good time working with Kobe," he said. "I really felt like I learned a lot. He is a guy that is extremely intelligent and extremely intense. In my opinion, when you are around people like that, they only push you to get better and so being around him I really felt like he made me a better coach."
ALSO:
A top-five seed may already be out of reach for the Lakers
Kobe Bryant leading Western Conference All-Star balloting
Kobe Bryant talks Lakers' struggles with Stephen A. Smith, Part 1
Email Eric Pincus at eric.pincus@gmail.com and follow him on Twitter @EricPincus.
---
All things Lakers, all the time.
Get all the Lakers news you need in Dan Woike's weekly newsletter.
You may occasionally receive promotional content from the Los Angeles Times.