Carlos Boozer: Lakers to recover, Jordan Clarkson is 'Baby Westbrook'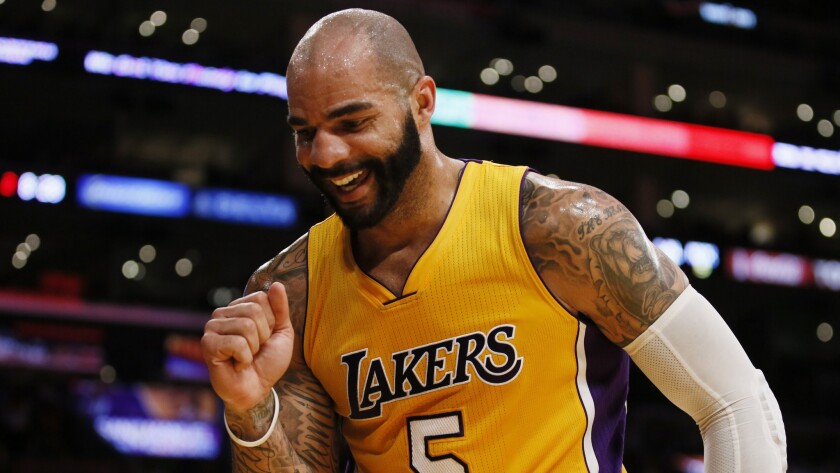 On Thursday, Carlos Boozer met with General Manager Mitch Kupchak and Coach Byron Scott for his exit interview.
"When I got here, I thought we'd have a healthy [roster]," said Boozer. "Things went differently."
The Lakers finished with their worst winning percentage in franchise history at 21-61.
"This is the Lakers. It's not going to be like this much longer," he said.
Boozer praised the Lakers' rookies, including Jordan Clarkson, Tarik Black and Jabari Brown.
He called Clarkson a star, the steal of the draft and a "Baby Westbrook," referring to Oklahoma City Thunder star Russell Westbrook.
Clarkson, who was the 46th overall pick in the 2014 NBA draft, proved to be one of the top rookies in the league over the second half of the season.
The Lakers acquired Boozer via a waiver claim, after the Chicago Bulls used their one-time amnesty to remove the veteran forward's $16.8-million salary from their salary cap.
The Bulls were still responsible for paying $13.5 million for the past season, while the Lakers owed Boozer $3.25 million for the 2014-15 season.
A free agent this summer, Boozer is open to a return to the Lakers.
"If we have a chance to compete for the playoffs or a championship, I'd love to be a Laker," he said, accepting his transition from long-time starter to reserve. "I'm at that point in my career now ... I kind of enjoyed it a little bit."
Through 71 appearances, starting 26, Boozer averaged 11.8 points and 6.8 rebounds a game while shooting 49.9% from the field.
"Overall I had a great time with my teammates. I thought we all bonded, a great group of guys," said Boozer, who also praised Coach Byron Scott for his job under difficult circumstances.
Email Eric Pincus at eric.pincus@gmail.com and follow him on Twitter @EricPincus.
---
All things Lakers, all the time.
Get all the Lakers news you need in Dan Woike's weekly newsletter.
You may occasionally receive promotional content from the Los Angeles Times.