How Lakers might be able to rebuild during Kobe Bryant's last years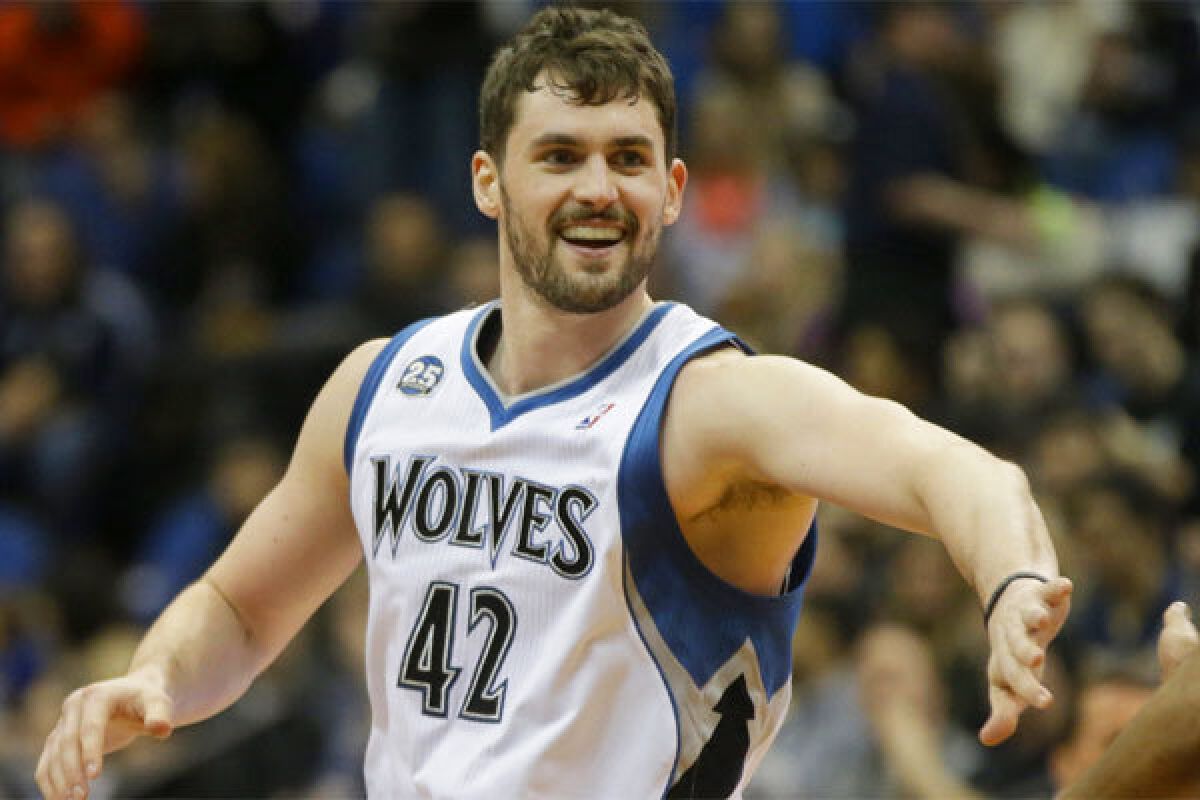 Kobe Bryant is done for the season, but he's already eyeballing next year with high expectations.
"It's my job to go out there on the court and perform. No excuses for it. You have to get it done," Bryant said in a news conference on Wednesday, after being declared out for the season. "Same thing with the front office. The same expectations they have of me when I perform on the court, the same expectations I have for them up there."
The Lakers will have financial flexibility, a high pick in the 2014 NBA draft, and designs on future free agents like Kevin Love in 2015 and Kevin Durant in 2016.
Patience may be the wise path, but if Bryant's advice is to be heeded, the Lakers would need to scrap some of their grander, long-term plans and act with a win-now mentality.
The bigger question is how. How do the Lakers go from a 22-42 season (through Wednesday) to a title contender in just a year?
The first step would involve the Lakers trading their lottery pick.
Trade the 2014 first-round pick for a veteran (Kevin Love)
A young player may be the better investment, but a young prospect isn't likely to help propel the Lakers to contender status in Year 1. Equally, a top-five pick could be a valuable trade asset for teams with veteran stars looking for a new home.
Kevin Love can opt out of his contract with the Minnesota Timberwolves after next season. Given the Timberwolves (32-31) continue to struggle on the wrong side of the playoff bubble, Love may look to relocate after the 2014-15 season.
Do the Wolves just wait for him to leave or do they look to get compensation for their All-Star forward?
The Lakers would have to wait until they have cap room in July, but a verbal agreement can be reached on draft night with the Lakers picking for Minnesota.
Another veteran possibility for the pick, instead of Love, might be Rajon Rondo of the Boston Celtics. Unfortunately for the Lakers, the Cleveland Cavaliers are unlikely to trade All-Star point guard Kyrie Irving, even for a top selection in the draft.
Carmelo Anthony is expected be a free agent, but the Lakers would be hard pressed to build a contender around him, if he's looking to earn over $20 million a season.
And does anyone expect LeBron James to opt out of his contract and leave the Miami Heat for the Lakers?
Waive and stretch Steve Nash's contract
To continue their win-now plan, the Lakers would need to use the NBA's stretch provision on Nash, waiving him while reducing his salary to $3.2 million for the next three seasons.
While that would increase the Lakers' cap room this season, it would diminish their spending power slightly for the 2015-16 and 2016-17 seasons.
Trading Nash would certainly be better. Perhaps the Lakers can find a team looking to shed a veteran on a long-term deal -- perhaps Jarrett Jack of the Cavaliers.
Assuming the Lakers don't find a trade partner, and in the name of winning quickly, Nash could be released.
Without Nash, the Lakers could have up to $13.4 million in cap space to add another player to join Bryant and Love.
Re-sign Pau Gasol or trade for Omer Asik
The Lakers can use their cap room to go after free agents like Luol Deng, Lance Stephenson and/or Kyle Lowry, but that new lineup would have a hard time winning if Love was the only impact big man.
A center should be the priority, and the Lakers already have a former All-Star in their fold in Pau Gasol.
This next step may depend heavily on Bryant's power of influence. Gasol is looking forward to free agency, where he can have a chance, once again, to compete for a title.
If Bryant and the Lakers can convince him to stay for at least a season, perhaps at $10 million, Gasol would give the franchise a dynamic, offensive frontcourt with Love.
An alternative to Gasol would be Omer Asik of the Houston Rockets. He might be the ideal fit next to Love, given his size and strength as a defender.
The Rockets tried to trade Asik during the season but couldn't find a workable partner willing to give up a first-round pick. Asik will earn $14.9 million next season, but by a quirk of the rules he only counts as $8.4 million against his team's cap.
The Lakers would need to sell the Rockets on a future first-rounder for Asik.
If neither Gasol nor Asik works out, the summer's free agent pool of centers includes Marcin Gortat, Spencer Hawes, Andrew Bynum, Kris Humphries, Emeka Okafor and Andray Blatche, among others.
Chris Bosh can opt out of the $20.6 million he's owed for 2014-15 from the Miami Heat, but even if the Lakers gave him $13.4 million, that's quite a pay cut.
Greg Monroe will be a restricted free agent with the Pistons but Detroit may be more likely to match any offer the Lakers would make.
Re-sign Jodie Meeks, keep the inexpensive players
The Lakers have Jodie Meeks' early-bird rights after two seasons with the Lakers, which enables the team to sign him to a contract starting in the $5 million-$6 million range.
As a free agent, Meeks takes up just $2 million of the Lakers' cap room. The team can sign him to a larger deal after spending in free agency, assuming he is willing.
The NBA has projected its salary cap to climb to $62.9 million for next season. Presuming Nick Young opts out of the final $1.2 million left on his deal, the Lakers will have Robert Sacre and Kendall Marshall (nonguaranteed) on minimum contracts.
Ryan Kelly and Kent Bazemore are likely to receive qualifying offers ($1 million-$1.1 million) from the team, making both players restricted free agents.
To fully maximize their cap room, the Lakers need to either renounce most of their own free agents, or re-sign them before making a deal for Love. Players like Jordan Hill and Chris Kaman may be casualties.
While the Lakers would like to bring Young back, they may not be able to compete with other offers from around the league.
With Gasol at $10 million while retaining Meeks' rights, the team would still have $2.4 million in cap room to spend.
If the Lakers instead trade for Asik, the team would have about $4.1 million in cap room remaining.
The Lakers should be able to re-sign players like Jordan Farmar, Xavier Henry and Wesley Johnson to minimum contracts, after they've used their cap space.
If the Chicago Bulls amnesty Carlos Boozer, make a waiver claim
The Bulls are one of the few teams still able to use their one-time amnesty clause.
Chicago has been long-rumored to be considering using their amnesty on Carlos Boozer, which would remove his $16.8 million from the Bulls' salary cap and luxury tax computation.
As a team under the cap, the Lakers can make a bid to claim Boozer off amnesty waivers, perhaps in the $2 million-$2.4 million range, to add a solid veteran power forward who can also play undersized center if needed.
Use room exception on a veteran (preferably at point guard)
Kobe Bryant was upset that the Lakers traded Steve Blake at the deadline to the Golden State Warriors.
Blake has his family in Los Angeles and has said he's open to a return to the Lakers after his contract expires with the Warriors.
Once the Lakers have used their cap space, they'll attain additional spending capacity too with a $2.7-million room exception.
That might be enough to lure Blake back or add another veteran to the Lakers.
Is it a winner?
Should the Lakers trade their first-round draft pick, even for Love, when he might come as a free agent in 2015 on his own? Why not have both?
If the Lakers are truly in win-now mode, the future concerns fade away despite the long-term consequences.
A core of Bryant, Love and either Gasol or Asik, rounded out with Boozer, Blake, Meeks, Farmar, Bazemore, Johnson, Henry, Sacre, Kelly and Marshall would have potential.
Is that an elite team in the Western Conference? Maybe not, but if healthy it would be a lot stronger than the squad that has stumbled through one of the worst seasons in Lakers history.
Of course, this all assumes that Bryant is able to return at an elite level, which may be difficult for a nearly 36-year-old player coming off Achilles' tendon and knee injuries that knocked him out for nearly an entire season.
ALSO:
Kobe Bryant will be out for the rest of the season
Magic Johnson ends cease-fire, questions Lakers' leadership
Watch Kobe Bryant's latest commercial featuring the 'Kobe light bulb'
Twitter: @EricPincus
All things Lakers, all the time.
Get all the Lakers news you need in Dan Woike's weekly newsletter.
You may occasionally receive promotional content from the Los Angeles Times.