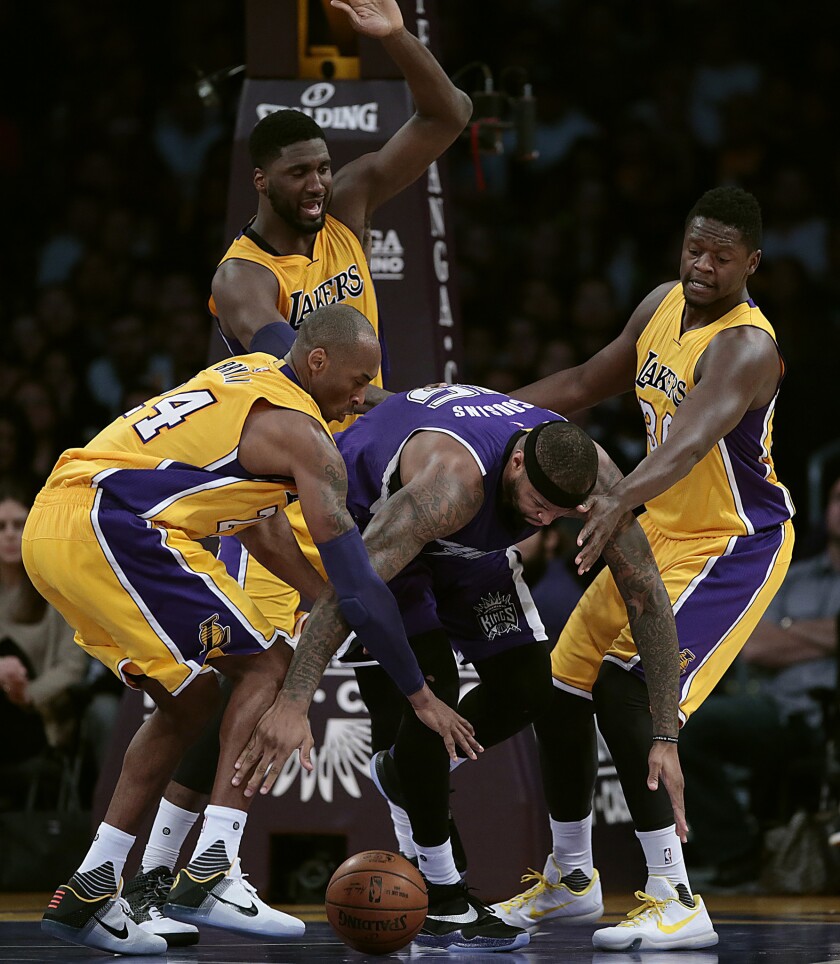 The Lakers lost their fourth straight game on Wednesday night, falling to the Sacramento Kings, 112-93.
The Kings led by as many as 14 points in the second quarter, but the Lakers closed to within two points on a pair of Kobe Bryant free throws early in the third.
Sacramento responded with a 9-1 run to push its lead back to double digits, the Kings ultimately taking a nine-point advantage into the fourth.
The Lakers made another push to get to within four points early in the fourth. Just when the Kings looked as if they might melt down, Darren Collison scored five straight, followed by four from DeMarcus Cousins, to go up by 13.
Cousins finished with a game-high 36 points and 16 rebounds. Rajon Rondo scored 11, with 17 assists. The Kings shot 48.3% from the field, 30.0% from three-point range (six of 20) and 71.4% from the line (20 of 28).
The Lakers did not shoot well, hitting just 35.6%, 16.0% (four for 25) and 80.6% (25 of 31).
Brandon Bass led the Lakers with 18 points, filling in for Roy Hibbert, who struggled through foul trouble and played just 16 minutes.
Bryant and Lou Williams added 15 points apiece and Jordan Clarkson and D'Angelo Russell both scored 14.
The Lakers (9-35) play again Friday, hosting the San Antonio Spurs (36-6). The Kings (18-23) play Thursday, hosting the Portland Trail Blazers (19-25).
The Kings also got a double-double from Willie Cauley-Stein with 12 points and 10 rebounds. Rudy Gay scored 16 points; Collison added 10 points off the bench.
Email Eric Pincus at Pincus at eric.pincus@gmail.com and follow him on Twitter @EricPincus
---