Mitch Kupchak: Lakers 'don't intend to hire a coach any time soon'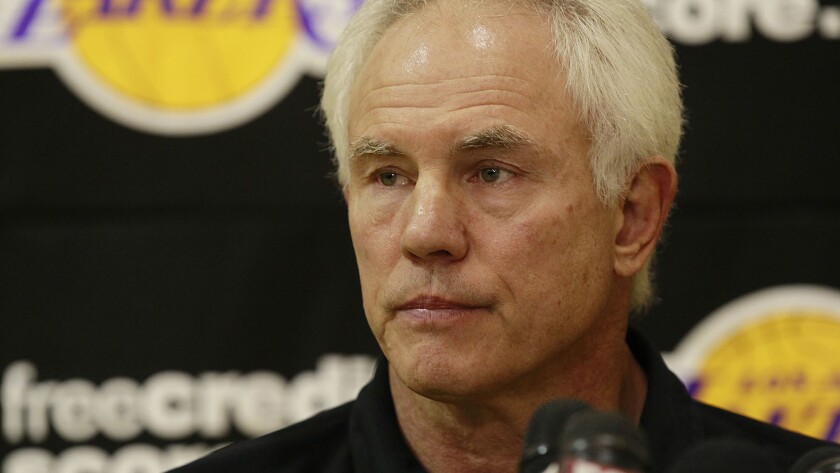 The Lakers still have no head coach. According to General Manager Mitch Kupchak, it may be a while.
"We don't intend to hire a coach any time soon, but the thought process has begun," said Kupchak, according to Lakers.com on Monday.
Coach Mike D'Antoni recently resigned, but the Lakers may wait to see where they pick in the 2014 NBA draft before making a hire.
"Although I won't rule out hiring a coach prior to the lottery on May 20, I think it's likely that we don't, because that's really the first step in terms of additional information for this franchise," Kupchak said. "Let's find out what kind of pick we have. That may even help us decide what direction to go with for our coach. It will be a consideration."
The Lakers are currently in sixth position in the lottery, with a 21.5% chance of moving up to a top-three pick. Odds are stronger the franchise picks at six (43.9%) or seven (30.5%).
The list of coaching possibilities is long and might include names such as Kevin Ollie, Mark Jackson, Jeff Van Gundy, Stan Van Gundy, Kurt Rambis, Byron Scott, Roy Williams, John Calipari, Mike Krzyzewski, Mike Dunleavy, Billy Donovan, Lionel Hollins, Ettore Messina, George Karl, Steve Kerr and even former Laker Derek Fisher.
"We've seen, in the last year or two, coaches that you'd never think would be fired get fired despite their achievements and records," said Kupchak. "We don't want to have a coach for two or three years; we'd love to have one for seven or eight years, but it's a tough job. There are a lot of young coaches, a lot of older coaches: it's very competitive. Despite the glamour and the compensation, it is a difficult job."
The Golden State Warriors, Detroit Pistons, New York Knicks, Utah Jazz, Minnesota Timberwolves and Cleveland Cavaliers have coaching vacancies.
Email Eric Pincus at eric.pincus@gmail.com and follow him on Twitter @EricPincus.
---
All things Lakers, all the time.
Get all the Lakers news you need in Dan Woike's weekly newsletter.
You may occasionally receive promotional content from the Los Angeles Times.