Preview: Lakers vs. Portland Trail Blazers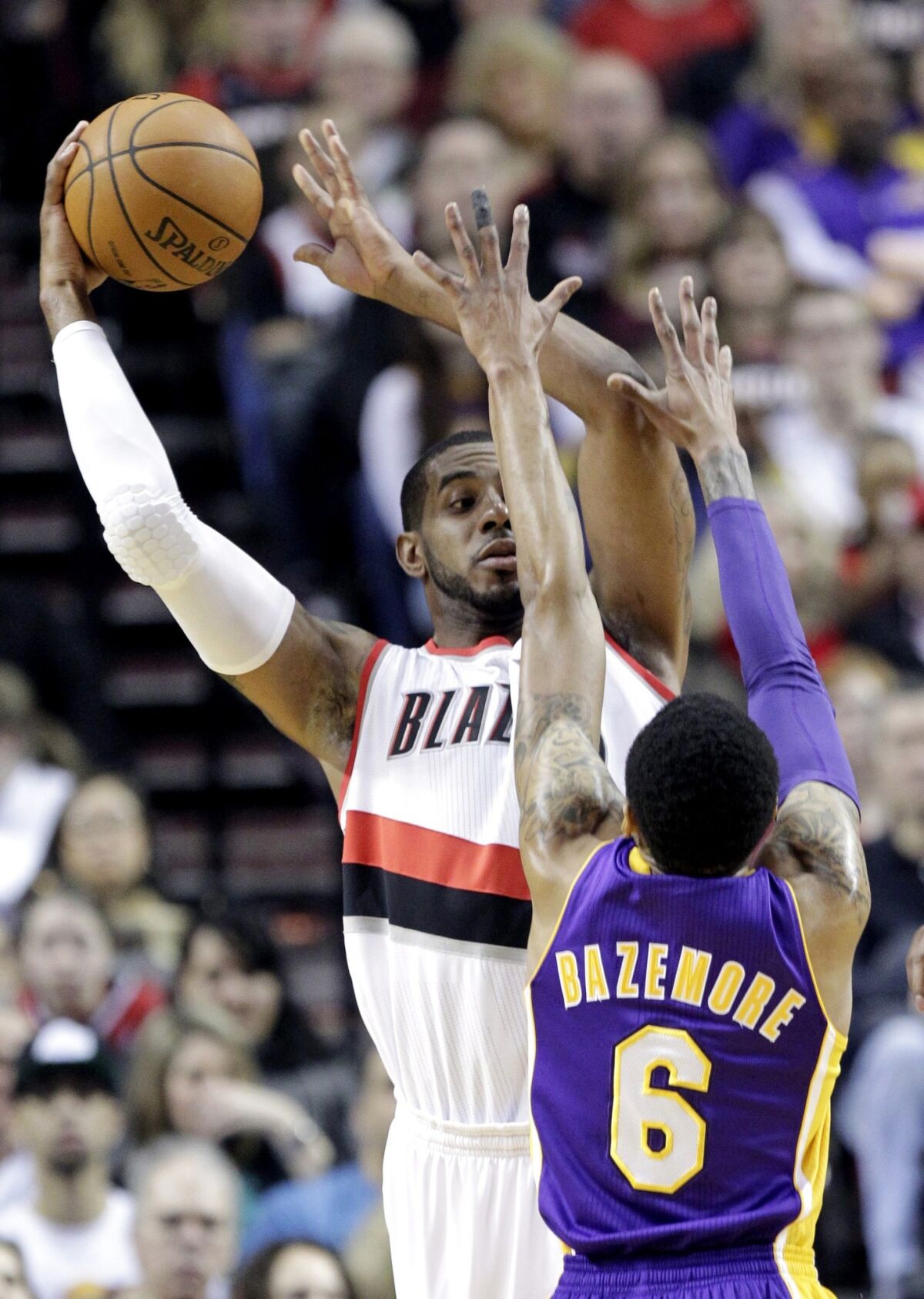 The Lakers (25-48) stunned the Trail Blazers (48-27) in Portland on March 3, 107-106.
The Blazers are fighting for a playoff position in the West, but with a three-game winning streak, Portland is 3-1/2 games ahead of the ninth-place Phoenix Suns (44-30).
Can the Lakers play spoiler again, as they did Sunday with a surprise 115-99 win over the Suns?
Portland has improved in recent games, getting All-Star LaMarcus Aldridge on the court from a back injury that sidelined him for a couple of weeks.
The Lakers expect to have Pau Gasol in the lineup, after a bout with vertigo.
Xavier Henry (knee) and Steve Nash (nerve root irritation) may be game-time decisions. The Lakers are still without Kobe Bryant (knee) and Jordan Farmar (groin).
Key matchup
Gasol may be rusty after sitting out since the second-half of a March 23 win over the Orlando Magic, suffering from dizziness and nausea.
The veteran center/forward is the Lakers' leading scorer at 17.5 points, 9.9 rebounds and 3.3 assists a game.
While Gasol is the Lakers' primary inside player, he won't match up directly against Aldridge, at least to start the game.
Expect Robin Lopez to draw the Gasol assignment. The Lakers may look to Jordan Hill to try and slow down Aldridge, who is averaging 23.2 points and 11.1 rebounds a night.
If Gasol can't go, Chris Kaman fills in well at center.
X-factor
The Blazers rely heavily on their starting five with Damian Lillard, Wesley Matthews, Nicolas Batum, Aldridge and Lopez.
Mo Williams is their lone, consistent offensive spark off the bench.
If the Lakers can slow down Lillard, who is a dynamic scorer at 20.9 points with 5.5 assists a game, they'll have a shot at a second straight upset over the Blazers.
Batum (13.0 points a game) is also a difficult cover, almost averaging as many assists as a small forward (5.1) as Lillard.
Jodie Meeks may draw the Lillard assignment which would likely match Kendall Marshall against Matthews.
Meeks has given the Lakers a strong season, averaging 15.4 points a game while shooting 40.1% from three-point range.
Outlook
The Blazers won't make the same mistake Phoenix made on Sunday of taking the Lakers lightly.
ALSO:
Lottery prospect Julius Randle, Kentucky Wildcats to Final Four
Pau Gasol, nearing return, would like to play alongside Chris Kaman
Lakers' Nick Young relishing 'player hater' role
Email Eric Pincus at eric.pincus@gmail.com and follow him on Twitter @EricPincus.
---
All things Lakers, all the time.
Get all the Lakers news you need in Dan Woike's weekly newsletter.
You may occasionally receive promotional content from the Los Angeles Times.