Robert Horry recalls confrontation with Kobe Bryant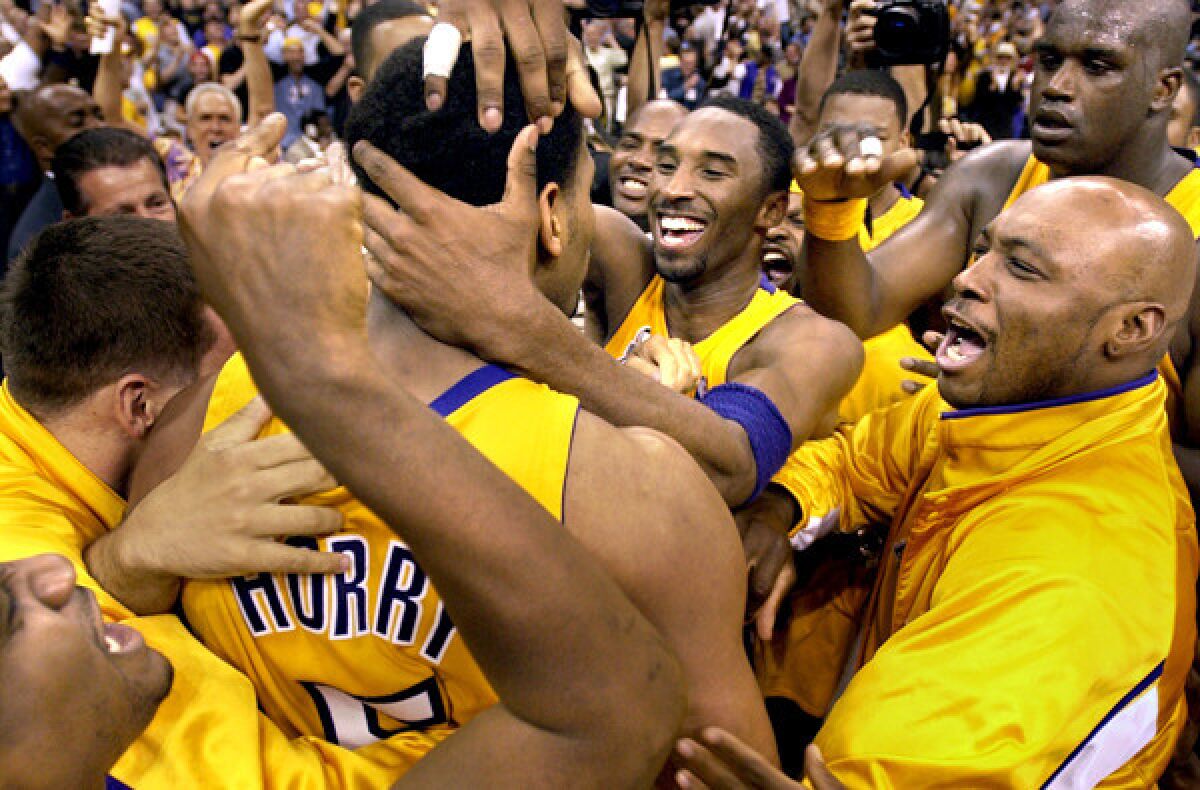 Before Kobe Bryant spoke Thursday night at "Kobe Up Close Hosted by Jimmy Kimmel," Robert Horry took the stage.
"[Bryant] has all kinds of accolades, all kinds of praise going, but he's still working hard every day," Horry said. "It makes you want to work hard. That's what guys realize when they come to the Lakers organization."
Bryant and Horry won three rings together with the Lakers (2000-02) but the former teammates didn't always see eye to eye. Bryant's intensity in practice and even in games could be a little much for a seasoned veteran like Horry.
The seven-time champion recalled a game early in their partnership when Bryant kept demanding the ball, but Horry stuck instead to the triangle offense.
During a timeout, Bryant said, "I'm hot," and pressed Horry on why he was ignoring his requests.
"How many championships you got?" Horry replied. "I've got two. I've got this."
Horry joined the Lakers after winning two titles with Hakeem Olajuwon and the Houston Rockets. He went on to win two more with the San Antonio Spurs after leaving the Lakers.
The minor confrontation between Bryant and Horry strengthened their relationship.
"It was a bonding moment for us," Horry said. "Slow down, young fella, slow down."
Bryant went on to speak for an hour with Kimmel. The event was held at Nokia Theatre, produced by Sports Spectacular and the Kobe & Vanessa Bryant Foundation, with proceeds to help fight homelessness.
"The Laker brand and name itself is fantastic," Horry said. "When you have a guy like Kobe Bryant in that brand also, it takes it out of this world. I think the fact that everybody sees the work ethic this guy has makes them work harder."
Horry also noted that he's still the most hated man in Sacramento, even years after his Game 4 buzzer-beating shot in 2002 against the Kings that helped propel the Lakers to their third straight title.
ALSO:
Mitch Kupchak: 'Kobe is a big question mark'
Kobe Bryant sees a return to Pau Gasol as a return to winning
Mitch Kupchak doesn't see reason for Lakers to tank for lottery
Email Eric Pincus at eric.pincus@gmail.com and follow him on Twitter @EricPincus.
---
All things Lakers, all the time.
Get all the Lakers news you need in Dan Woike's weekly newsletter.
You may occasionally receive promotional content from the Los Angeles Times.