Stat sheet shows Clippers, Thunder evenly matched through five games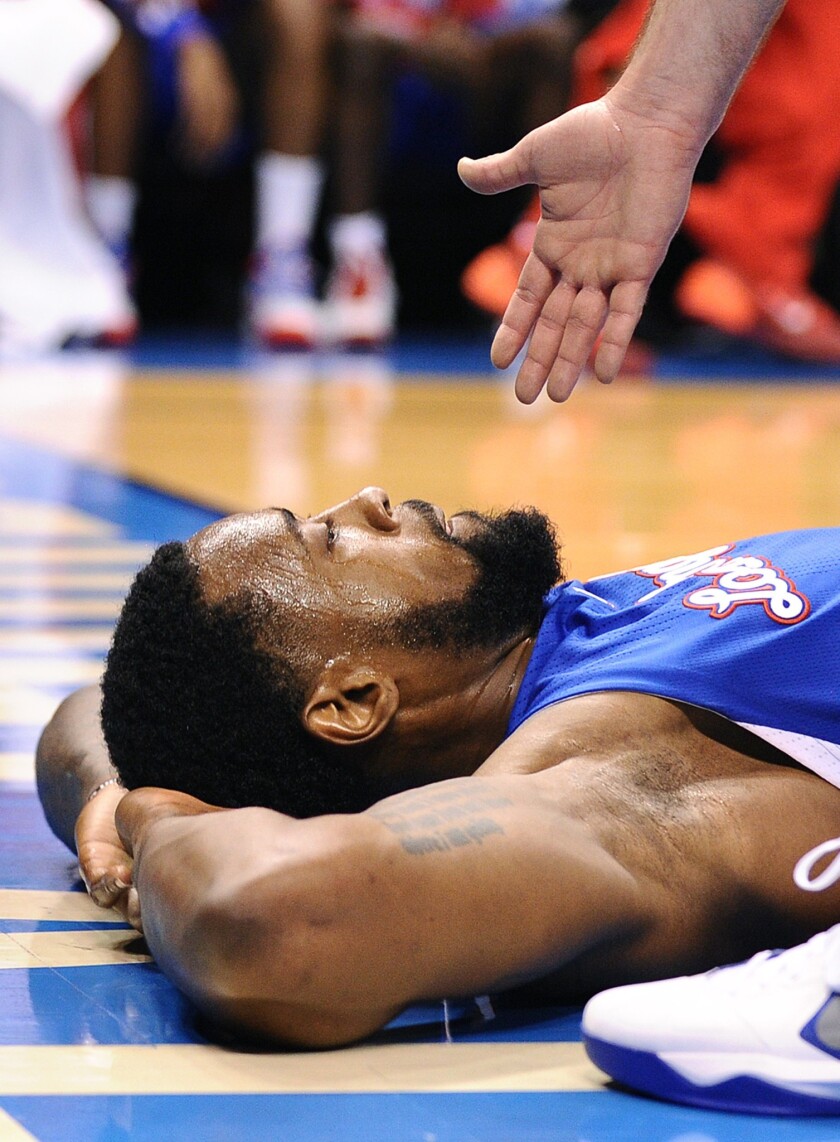 Through five games of their second-round playoff matchup, the Clippers and Oklahoma City Thunder have been evenly matched.
The Clippers seemingly had the advantage in Tuesday night's Game 5, up by seven points with 49.2 seconds left, but the Thunder staged a furious rally to win the game and take a 3-2 lead in the series.
The winner's margin of victory has narrowed in each game. The Clippers won the first by 17, the Thunder the second by 11 and the third by six. Game 4 went to the Clippers by two and Oklahoma City edged ahead by one with just 6.4 seconds left on the clock.
For the series, the Clippers have scored a total of 540 points to the Thunder's 539.
The Clippers have converted eight more field goals (201 to 193), of which nine were three-point makes (46-37). Oklahoma City has made up the difference at the free-throw line with a 116-92 advantage.
The Thunder has dominated on the defensive glass with a 174-133 edge in defensive rebounds, while each team has 56 offensive rebounds through five games. Oklahoma City's rebounding advantage may have more to do with the Clippers' 39 additional field goal attempts (439-403).
The Clippers have taken (and missed) more shots and shot a lower percentage from the field (45.8%) than the Thunder (47.9%) -- leading to rebounding opportunities for Oklahoma City.
Part of the reason the Thunder hasn't had as many field goal attempts this series: The Clippers foul more often (128 to Oklahoma City's 114), sending the Thunder to the line 16 more times than the Clippers (143-127).
While the Clippers need to improve on rebounding, especially on the offensive glass, a better defensive effort to force a lower Thunder shooting percentage while keeping Oklahoma City off the line would even out the boards.
Given the Thunder shoots a solid 81.1% from the free-throw line as a team, defending without fouling should be the Clippers' mantra going into the game.
Meanwhile the Clippers have hit 72.4% from the line, the average brought down by DeAndre Jordan's 3-of-17 shooting.
The Clippers have 21 more assists that the Thunder (118-97) and Oklahoma City has committed 22 more turnovers (77-55).
The Thunder have blocked more shots (25-18) while the Clippers lead in steals (42-29).
Twitter: @EricPincus
---
All things Lakers, all the time.
Get all the Lakers news you need in Dan Woike's weekly newsletter.
You may occasionally receive promotional content from the Los Angeles Times.