Column: After being pushed around by Clippers, Lakers prove they can beat their rivals
Patrick Beverley was harassing LeBron James early in the fourth quarter Sunday afternoon when James made a move that epitomized a game.
The giant Laker swatted away the tiny Clipper with an elbow to the chest.
This was how it went. This was how it looked. This is how the third revival of this season's fantastical city showdown felt.
"We some dawgs," said the Lakers' JaVale McGee, and how they snarled.
After being pushed around in their first two meetings, the Lakers finally pushed back. After hearing how they weren't tough enough to beat their hallway rivals, the Lakers pounded them inside and out.
Weary of all the talk of how they couldn't beat the Clippers, the Lakers both beat and beat down the Clippers, 112-103, while setting the narrative for this spring.
If these teams meet as predicted in the Western Conference finals, it will be bruising, it will be battling, and it will be pick'em.
If Sunday's Clippers home game at Staples Center was any indication, it will also be nuts. The fans were split down the middle, with equal parts cheers and jeers with every big play, players caught up in the emotion, skidding and scuffling and taunting through two-and-half hours of nuts.
LeBron James put on a show, winning matchups and scoring points with relative ease as the Lakers beat the Clippers for the first time this season.
"The best type of games is when you come out with bloody lips and scratches, and you know guys taking charges and guys chirping," said the Lakers' Anthony Davis, whose smiling face indeed contained both a bloody lip and a scratch. "It was a fun game today."
There was a palpable relief in the locker room of a Lakers team that, while they would never publicly admit it, really needed this win.
They desperately needed something to convince themselves they could hang with the multi-talented Clippers, and now they have it. They badly needed evidence that they could beat the Clippers with a physical style of play and a fourth-quarter push, and now they have that.
In a potential series that has been played out every day in barbershops and bistros all over this town, no longer do the Clippers hold a clear advantage. No longer can Clippers fans confidently strut that they will finally own the bully. No longer do Lakers fans have to cower in fear about this spunky nemesis living right down the hall.
Even though the Clippers still lead the season series two games to one, this matchup now feels dead even after the Lakers took dead aim at the Clippers' midsection and jabbed.
"We want to focus on playing basketball the right away, we know we're a much better team than we showed the previous two times we played these guys," said Avery Bradley. "I feel like we were able to show that."
It started with Bradley, who had the Lakers' second consecutive steal in the first quarter after the Clippers had taken a 10-5 lead and were already pushing the Lakers around. After scoring on a layup, Bradley barked at Beverley and picked up a technical foul and the Lakers never stopped swarming.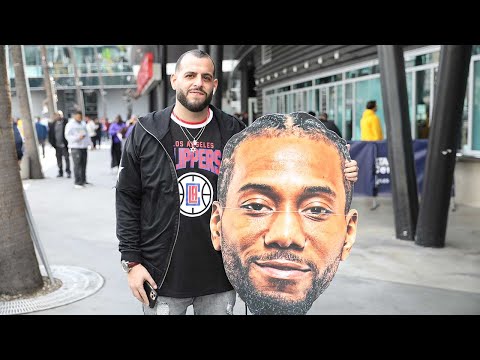 Times staff writer Andrew Greif explains how the Clippers are trying to win over fans in a Lakers-dominated city.
"That set the tone," said Bradley, who gave the Lakers their much-needed third scoring option by hitting six threes and scoring 24.
Other role players relished the moment, which will be vital if the Lakers hope to win like this in the spring. Kyle Kuzma had 10 rebounds. Rajon Rondo had seven assists. Lots of hands swarmed in lots of faces.
The Lakers trailed by four at halftime, then outscored the Clippers by eight in the third quarter and held on in a fourth quarter in which James just wouldn't let them lose. Late in the game this 35-year-old dude even fought on the floor for a loose ball like a schoolkid, gaining possession and helping stymie any late Clippers hopes.
"Whatever it takes to win," said James, smiling. "I was already on the floor, that helped a lot."
Two days after putting on an other-worldly performance in a victory against fellow MVP contender Giannis Antetokounmpo and the league-leading Milwaukee Bucks, James showed again why he clearly deserves the trophy.
While the battle of the superstars was a draw — James and Davis combined for 58 points, the exact totals of the Clippers' Kawhi Leonard and Paul George — it was James who scripted the ending.
In the fourth period, besides his playground grab, he had a dozen points, three rebounds and three assists, a better total output than the Clippers' two superstars combined. Overall, James inspired a Lakers team that forced the Clippers into 16 turnovers while collecting 10 more assists and scoring six more points in the paint.
"I prepare myself, my body and my mind, to endure anything," said James. "It's my responsibility to put this team in a position to be successful."
In victories over the Bucks and Clippers — two of the NBA's finest teams — LeBron James showed how much of a difference-maker he is for the Lakers.
Responsibility met. Again. The game was formally clinched in the final minutes on a barreling, bouncing James layup after which he skipped, hopped, and screamed into a Staples Center crowd that suddenly became one-sided, fans roaring in a gym that belonged to the visitors.
"I give them credit, they were the more physical team by far," said Clippers coach Doc Rivers.
Players will say there are no statement wins. Players are wrong. This statement was a whopper.
The Clippers lost for the first time in 11 games when they've been at full strength. The Clippers lost after winning their last six, five against playoff teams, by an average of 17 points.
They will play one more regular-season game in April, a makeup event where most of the stars will probably be resting, so the next time they meet will be … in the playoffs? For the first time? Please?
"I'm all for it," said Rivers "I just have a feeling for one of us to go where we both want to go, at some point we're going to be in each other's way. You have to make that assumption that that may happen."
Assumption made. The Clippers are tough. The Lakers are just as tough. The battle has been joined. Bring it on.
Sign up for Full-Court Text with NBA reporter Dan Woike
By providing your mobile number, you agree to receive automated SMS text messages about the NBA and to receive special offers from the Los Angeles Times. Standard messaging rates apply. You can always text STOP to quit or HELP for more information. By signing up for this SMS service, you agree to our Privacy Policy and Terms of Service.
All things Lakers, all the time.
Get all the Lakers news you need in Dan Woike's weekly newsletter.
You may occasionally receive promotional content from the Los Angeles Times.