Jake Paul scores split-decision win over Tyron Woodley
Jake Paul is awarded a split-decision victory over Tyron Woodley with scores of 78-74 from judge Dana DePaolo and 77-75 from Jaime Garayua, while judge Phil Rogers rules it 77-75 for Woodley.
Paul outlanded Woodley with punches 71-52 in the eight-round fight to beat the former UFC welterweight champion.
Paul landed 36 jabs and 35 power shots. Woodley landed 41 power punches.
Round 8: Both fighters try to land haymakers at the beginning of the round. The pace and pressure is tense. Paul and Woodley know the fight could be still up for grabs. Woodley lands a vicious right hand with 20 seconds left in the round. Paul mimics the movement of a matador inviting the bull in at the final seconds, clearly proud of the efficient work he did in the final round, led by a left hand. The bell rings, and Paul leaps into the ropes thinking he's won. We'll wait to see if the judges agree.
Round 7: Paul's punches begin to get wider. Woodley presses forward, showing that the 14-year age difference is just a number. A clipping left hand stops Paul momentarily. Paul takes a deep breath and fires back with half-hearted punches. Then he lands a huge overhand right hand. Neither fighter is sustaining an attack or firing off combinations at this point. The pace is slowing, and the fight appropriately will end in three minutes. Another close round.
Round 6: Paul catches a second wind in the fight slated for eight rounds. He's clearly proven by now that he belongs in big-time prize-fighting. He connects with punches off his back foot like a seasoned veteran. Woodley resumes his attack but is not throwing frequently. It's a slower round, with Woodley also throwing some decent jabs. Woodley ends the round as if he's going to throw a superman punch.
Round 5: Both fighters appear anxious as the round begins. When Woodley moves forward with the jab, he makes Paul appear a bit uncomfortable. He lands a nice uppercut inside as well that's also followed with a straight right. Paul licks both of his gloves in response, but he's the one who gets licking in a close round.
Round 4: High drama unfolds as Paul gets punished for the first time in his pro career. The first taste of adversity comes after Woodley lands a left hook. It's followed with a strong right. Paul tried to counter with a left hook but Woodley counters again with a right and Paul gets pushed into the ropes for good measure. Paul clearly loses the round. The fans, including Dave Chappelle, who is sitting ringside, are on their feet.
Round 3: The round begins slowly but midway through, Paul pressures Woodley and lands a right uppercut that was set up with a lead left hand. Woodley, however, rocked Paul with a straight right of his own that was more significant and the best punch of the fight for either fighter. The blow came right before the bell sounded. Paul was not pleased. Woodley is finally looking ready to go. The fight is heating up.
Round 2: Paul begins the second round punching at range and placing them expertly. Woodley counters with a straight right to the head. He looks more comfortable in the second, but is not letting his hand go as frequently as needed. Paul is showing improved layers to his game with feints. For the first time in his pro boxing career, Paul will see the third round. He's won the first two.
Round 1: Jake Paul comes out wearing LED trunks bearing his name on the beltline. Tyron Woodley charges forward like he's about to go for a double-leg takedown. But this is a boxing match, and Paul begins peppering Woodley with crisp jabs. He seems to be the only one interested in fighting so far. Woodley throws just six punches in the round. Paul lands six while throwing 21. If Woodley has a moral victory, he makes it out of the first round, something Paul's previous foes have not enjoyed.
Amanda Serrano outslugs Yamileth Mercado to seize unanimous decision win
Seven-division world champion Amanda Serrano kept her crown as one of the greatest female fighters of all time by defeating Yamileth Mercado via a unanimous decision in the co-main event.
Serrano won her 27th consecutive fight and continued her 10-year unbeaten streak with scores of 99-91, 98-92, 97-93 against Mercado. With the win, Serrano (40-1-1, 30 KOs) retained her WBC, WBO and IBO featherweight championships.
Mercado moved up in weight to fight Serrano, and her lack of size did not allow her to fend off her opponent. Serrano outslugged Mercado 160 to 95 in punches by using a ripping body attack, totaling 65 landed shots to the solar plexus.
The Brooklyn-based Serrano has faced 11 current or former world titlists throughout her 12-year career, and the Mexican Mercado (18-2, 5 KOs) proved capable of challenging her hot streak.
The southpaw Serrano started the fight strong, chasing and finding Mercado with a straight left hand before following with a body shot.
The short sequence offered a quick peek into how the fight would soon unfold. Serrano walked down Mercado the entire match and outworked her by throwing 275 more punches.
By the 10th and final round, the damage had accumulated, Mercado's left cheek was sliced open, and her left eye was purple and nearly swollen shut.
Serrano tried to close the show in style and end the fight with a knockout as the fans stood, but the punch never materialized. She threw and landed fight highs of 25 punches landed and 81 thrown in the round.
The main event between Jake Paul and Tyron Woodley is next.
Daniel Dubois devastates Joe Cusumano with three knockdowns in first round
Daniel Dubois dominated Joe Cusumano, knocking him down three times in the first round to score a thrilling technical knockout victory.
The British heavyweight prospect Dubois (17-1, 16 KOs) couldn't have presented a better performance in his U.S. debut.
Dubois' first knockdown was set up with a flurry of shots that finished with a clipping right hand to the top of Cusumano's temple less than a minute into the fight. The second knockdown came after another series of shots, led by a right uppercut that ultimately dropped Cusumano. The final knockdown came after a four-punch combination crushed Cusumano for good.
Referee George Nichols waved off the fight with 50 seconds still left in the round.
Dubois connected on 21 punches, compared with just five from Cusumano.
Montana Love rocks Ivan Baranchyk in one-sided fight filled with drama
Montana Love rocked and stopped former world titlist Ivan Baranchyk via seventh-round stoppage, seconds after he dropped the Belarussian boxer in a one-sided fight featuring plenty of drama.
A left uppercut from the Cleveland native Love (16-0-1, 8 KOs) set up the win, but it was an accumulation of the 79 bruising punches that preceded it that allowed for him to revel in victory.
The 26-year-old Love's winning shot stunned Baranchyk (20-3, 13 KOs), who picked himself up off the canvas only to be saved by the bell. Baranchyk trainer Pedro Diaz deemed the punishment till that point too much to allow Baranchyk an opportunity to continue and stopped the super lightweight bout that was scheduled to go to 10 rounds in between rounds 7 and 8.
Baranchyk was down 70-62, 69-63, 69-63 on the official scorecards and clearly needed a KO to win.
Baranchyk had shown some great moments in the match to give him the hope of landing him a miracle comeback win -- he landed 45 total shots of his own -- but as the fight went on, began to fade.
It didn't start off that way.
Both fighters gauged each other's prowess in the first two rounds, frames edged by Love, and the pace really picked up in the third when Love felt the hate from Baranchyk by a barrage of blows.
Baranchyk connected with a right hand and chased him down the ropes to land another left hook. The shot dropped Love to the bottom of the ropes, and he was saved from falling down. Referee Lonnie Scott should have ruled the sequence a knockdown.
Baranchyk continued his onslaught, again pressing Love down on the ropes with his offense, but the inexperienced Scott, refereeing just his fifth fight, did not rule it a knockdown again. As Scott was breaking up the action to end the round, Love landed a right hand that rocked Baranchyk and forced the Belarussian fighter to stumble as he returned back to his corner.
It was the turning point of the fight.
In the fourth round, Love landed a hellacious left uppercut that rocked Baranchyk but puzzlingly admired his work by pounding his chest and lifting his hands in the air instead of pressing the action further.
Love lashed Baranchyk for most of the fifth round with lefts to the head and body until the final seconds when Baranchyk rocked Love with a picture-perfect left hook. It was the best punch of the fight.
But Baranchyk looked fatigued and on his way out by the seventh, missing wildly with his shots while absorbing plenty of leather. Love's punishing left hand was the last blow Baranchyk had to absorb.
Baranchyk was fighting for the first time since his 2020 fight of the year loss to Jose Zepeda, a fight that featured a total of eight knockdowns Baranchyk stopped in the fifth round.
The 28-year-old Baranchyk is a former 140-pound IBF world champion who dropped the title to top pound-for-pound fighter Josh Taylor in 2019.

Tommy Fury kicks off Jake Paul-Tyron Woodley PPV with decision win
Tommy "TNT" Fury proved that he didn't have the dynamite required to likely land significant fights in his upstart career.
Fury scored an easy unanimous decision over Anthony Taylor with scores of 40-36 from all three judges in his U.S. debut, but it wasn't the punctuating performance required to land a fight with headliner Jake Paul, the source of his ire in recent months.
The half-brother of World Boxing Council heavyweight champion Tyson Fury held a massive size advantage over Taylor, an MMA fighter who had competed as low as 135 pounds in his career.
Fury outlanded Taylor 73 to 29 in a fight contracted to take place at 180 pounds. Taylor tipped the scales at 175 and also gave up five inches in height against the inexperienced Fury.
Fury didn't land a knock down, but he landed 46% of his power shots against Taylor. He also used a jab to keep Taylor at bay throughout their four-round fight.
The 22-year-old Fury has just 12 amateur fights under his belt and has been carefully matched throughout his career — the seven opponents he has beaten had a record of 14-174-5 at the time of their fights.
Although Fury again called out Paul after his win over Taylor, the YouTuber-turned-boxer could still be out of the picture for a while longer after a milquetoast win.
Taylor, fighting in a boxing match for the first time in four years, used a shoe-shine attack led by a wildly ineffective overhand right hand as his primary attack.
The Alameda, Calif.-based Taylor has a 7-5 record in MMA and has been riding a five-fight winning streak dating back to 2018.
Jake Paul vs. Tyron Woodley undercard fights include Amanda Serrano vs. Yamileth Mercado
The Jake Paul vs. Tyron Woodley pay-per-view event will feature a total of five fights starting at 5 p.m. Pacific, which is an added bonus from the usual four promoters usually offer.
In the co-feature, seven-division world champion and current WBC, WBO and IBO featherweight crownholder Amanda Serrano (40-1-1, 30 KOs) will take on Yamileth Mercado (18-2, 5 KOs).
"I want to thank Jake for putting his faith in me and pushing to get me on this card. This is going to be two champions going at each other and leaving it all in the ring," said Serrano. "These belts are my babies. It's going to be very hard for her to beat me and take these back to Mexico. She's going home empty-handed. I thank Mercado for taking the fight, but she's not winning."
British heavyweight prospect Daniel Dubois (16-1, 15 KOs) will be making his U.S. debut against American Joe Cusumano (19-3, 17 KOs).
"This is my U.S. debut, so I want to look good and win in devastating fashion. I'm a seek and destroy fighter and that's what I'm bringing again," said Dubois. "This guy is right for me and I'm ready for the fight. It's going to be a spectacular debut and I'm going to announce my presence with a lot of power and skill."
Ivan Baranchyk (20-2, 13 KOs) will look to bounce back from his 2020 fight of the year loss to Jose Zepeda when he faces Montana Love (15-0-1, 7 KOs) in a 10-round welterweight scrap.
"I'm excited to be here and fighting on this show," said Baranchyk. "I learned a lot from my last fight. I put in a great training camp so that I can show my new weapons. I just need to take everything from my training camp and bring it into the ring."
Tommy Fury (6-0, 4 KOs), the half-brother of WBC heavyweight champion Tyson Fury, will take on Anthony Taylor (0-1) to open the event in a six-round cruiserweight clash.
"Everyone is very familiar with Tyson, and they're about to learn all about what I bring," said Fury. "I'm coming with my own package and my own game and you're going to see that on Sunday night."
Fury and Paul have been exchanging a war of words of late, and the two could be on a collision course for a future fight.
Fighting words from Jake Paul and Tyron Woodley
Tension was high and tempers flared during a testy news conference Thursday between Jake Paul and Tyron Woodley ahead of their pay-per-view fight slated to take place Sunday at the Rocket Mortgage FieldHouse in Cleveland on Showtime.
Here's what the principals had to say ahead of their cruiserweight clash:
Jake Paul:
"When I started boxing, I didn't think I'd be here this fast. My original goal was to fight Conor McGregor or Floyd Mayweather, because I knew I would have a big enough pay-per-view draw to do those things. Now I want to become world champion. I want to fight and beat Canelo Alvarez. This has been a fast, quick roller coaster ride, but I didn't expect to be here. I just knew I loved fighting and I knew I was good at it.
"This is an exciting time. I'm bringing it home for Cleveland. We knew that when we teamed up with Showtime, that this would be a huge event. This is turning into a historic moment.
"Tyron Woodley is 'The Chosen One,' we chose him to get his ass beat. None of his accomplishments matter on Sunday night. I'm sending him into retirement and turning him into a meme. People are going to see all of my skills. People are going to be surprised. I haven't shown anything yet. I might come out southpaw. This is my coming out party.
"It's going to be another show on Sunday. I'm putting on another masterful performance and a boxing clinic. This guy is going to sleep and getting turned into another meme. Just like his friend Ben Askren. After Sunday, nobody is ever going to talk about Woodley ever again. He's a speed bump on the road of my career.
"There's no other fighter that's 3-0 and taking fights against champions. I want challenges and I want to push myself. I was much more motivated in training camp because I know this is a dangerous opponent. I expect him to come out sharp and I expect this to be a fun one.
"I'm polarizing, I get it. I don't care what people think. Most people aren't like that. They're scared to rub people the wrong way. Some people want to see me lose, but I'm here to stay.
"A fight against Tommy Fury makes sense. That's a huge fight. It seems to be right in the palm of both of our hands. We do have to go out and perform on Sunday. I want to see how the U.S. crowd receives him. I want to see if he has that star power this whole entire week. He doesn't have the big pay-per-view numbers that Tyron Woodley has, or even a Ben Askren. Those guys sold tons of pay-per-views. No one has seen a Tommy Fury fight.
"There's no real respect between us. I'm going to show that winning a UFC championship doesn't mean anything in the world of boxing."
Tyron Woodley
"I'm almost falling asleep over here listening to this guy. It's disgusting how much of a clown people have to be to be recognized. He's got the appearance of being about that action down, but I'm really like that.
"This is the fight game. You can say what you want to say and you can do what you think fighters do. Jake does all the things to build the fight, but we're really here now. He's getting hurt on Sunday.
"All the people around him have lied to him. They don't want to lose their bag. They're not pushing him. You can come out with that dumb robot, it doesn't matter. You're getting knocked out.
"I'm just really ready to fight. I don't have any shenanigans or B.S. I should bring him some wipes to clean himself up when I knock him out on Sunday.
"He hasn't shown me anything yet. Real recognize real. I don't worry about what anyone on the outside is saying. I'm worried about bringing that action.
"I'm going crazy on Sunday. At the end of the day, it's been a long time coming. I'm thankful for my team that's supported me but I'm also thankful for everyone who counted me out. When everyone comes against you, it shows how powerful what you're about to do is.
"I think in general with combat sports, one person does something and people want to replicate it. This is a real fight though. If you look at the way we're built, this is a real fight. Some people took this lightly and that's why they came up short against him. We've been training since before this fight was even signed.
"All camps have highs and lows. You have to fight through adversity. With me mentally, it was a lot easier when we were having fun. It was passionate and you had people watching your every move and monitoring your every step. I'm just very grateful to all my coaches. To me, this is just a lot of fun. I haven't had fun in a long time, to be real. I loved this training camp. It was one of my most fun ever."
Boxing experts make their picks for Jake Paul vs. Tyron Woodley
Tyron Woodley presents the toughest test of Jake Paul's boxing career so far. This is a fight that can end early since both have a lot of power. Paul confirmed against Ben Askren that he can hit very hard, by knocking him out with one punch. He's improving his boxing skills in every fight. On the other hand, Woodley is a better striker than Askren, but he's also 39 and has lost his last four fights in MMA. Woodley has taken a lot of punishment and has gotten slower since 2018, so I'll go with the younger Paul by decision.
— Eduard Cauich, L.A. Times en Español sports editor
In a conversation with Jake Paul, he stated to me that "very soon" he'll "fight real boxers." That makes MMA's Tyron Woodley just another step in the YouTuber-turned-boxer's career to eventually make that happen. Woodley poses the most danger in Paul's young professional boxing career. Though, with three victories, all knockouts, Paul stands as the favorite to come out victorious over someone who's considered one of MMA's best strikers. Woodley has never boxed professionally before and at 5-foot-9 and with a 74-inch reach, he stands short against Paul, who is 6-foot-1 and sports a 76-inch reach. Woodley might be an expert taking his opponents to sleep on the mat, but instead, he'll be the one going night night this time. Paul fourth-round KO.
— Jad El Reda, L.A. Times en Español sports editor
Tale of the tape between Jake Paul vs. Tyron Woodley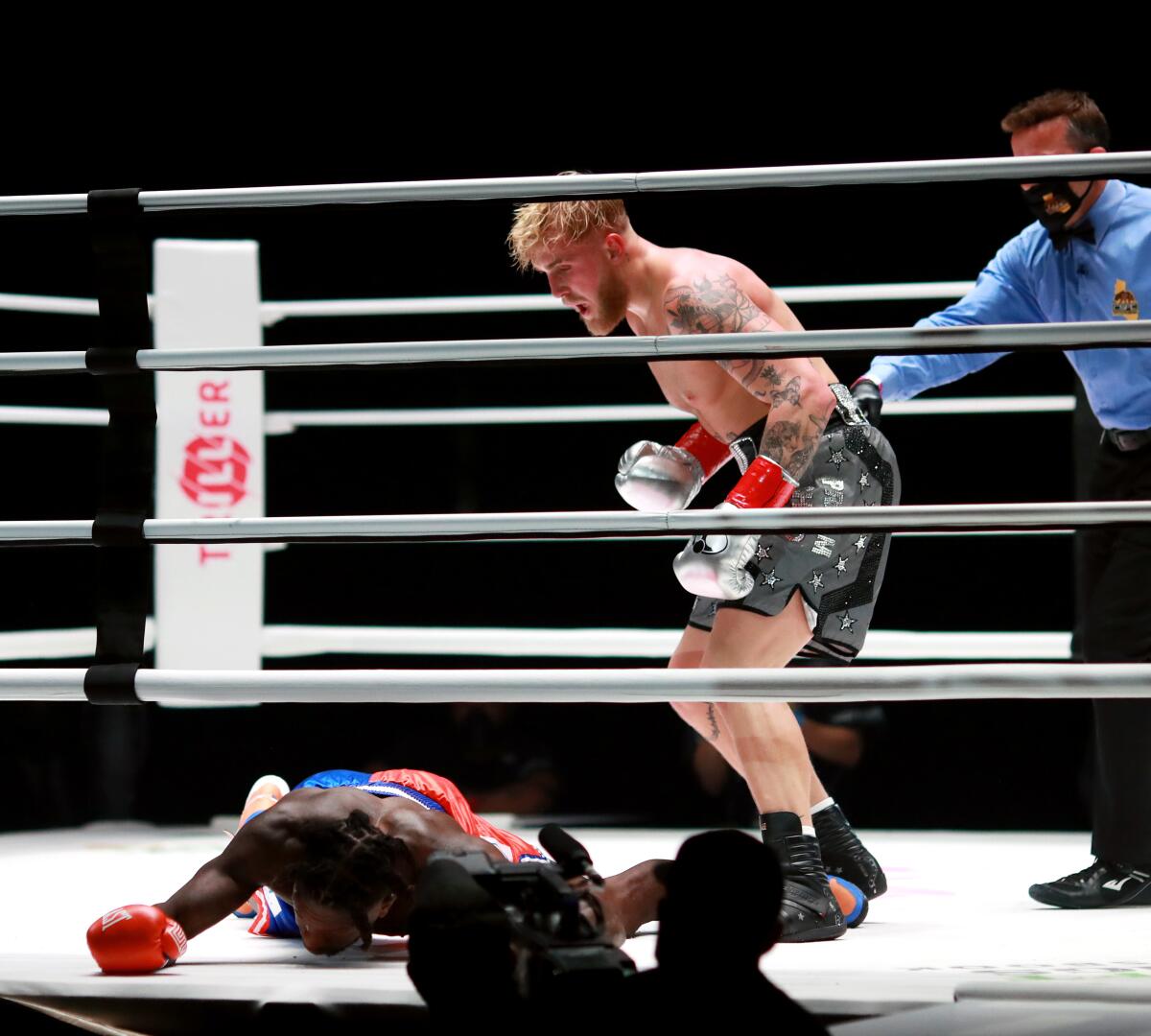 Jake Paul
Age: 24
Birthplace: Cleveland
Residence: Los Angeles
Record: 3-0, 3 KOs
Nickname: The Problem Child
Height: 6-foot-1
Weight: 190 pounds
Arm reach: 76 inches
Stance: Orthodox
Key stats: Made boxing debut Jan. 30, 2020; has knockout wins over former ONE champion and UFC fighter Ben Askren, three-time NBA Slam Dunk champion Nate Robinson and YouTuber AnEsonGib.
The social media star has a following of 20.4 million on YouTube, 16.9 million on Instagram, 5.8 million on Facebook and four million on Twitter.
Tyron Woodley
Age: 39
Birthplace: Ferguson, Mo.
Residence: St. Louis
Record: 19-7-1 MMA, 7 KOs, 7 decisions, 5 submissions, making pro boxing debut
Nickname: The Chosen One
Height: 5-foot-9
Weight: 189.5 pounds
Arm reach: 74 inches
Stance: Orthodox
Key stats: Former UFC welterweight champion with wins over Darren Till, Demian Maia, Robbie Lawler, Stephen Thompson, Kelvin Gastelum and Carlos Condit; 16-fight UFC veteran; nine-fight Strikeforce veteran; competing in MMA since 2009; winless in last four MMA matches.
Betting odds for Jake Paul vs. Tyron Woodley
Jake Paul is listed as a -200 betting favorite, while Tyron Woodley is the betting underdog at +165, according to Barstool Sportsbook, the official sports betting partner of the Showtime-staged event.
If the fight ends without a winner, a draw is +2000.
"Showtime has been in boxing a long time. We have a long history in the sport. But the thing about boxing is that it always has a way of surprising you. Just when you think you've seen it all, along comes someone like Jake Paul to upset the apple cart. I'm excited to see the sport innovate, change and evolve," said Stephen Espinoza, president of sports and event programming for Showtime.
"The great thing about boxing is that on some level, nothing matters until you get into the ring. To borrow a phrase, 'boxing don't lie'. Boxing is the ultimate truth-teller. When Sunday night rolls around, your resume and your following doesn't matter. For all the hype and hoopla, make no mistake, these are fights. The purest form of competition. The great thing about boxing is, when two competitors enter that ring, each fighter gets a chance to rewrite their own history. It all comes down to that moment of truth on Sunday night."
How to watch Jake Paul vs. Tyron Woodley
The Jake Paul vs. Tyron Woodley pay-per-view bout can be purchased through Showtime or FITE for $59.99. The five-fight PPV broadcast begins at 5 p.m. Pacific and will be held at the Rocket Mortgage FieldHouse in Cleveland.
If you're in the Cleveland area, tickets starting at $25 are still available and can be purchased via RocketMortgageFieldHouse.com.
Local bars and restaurants across the United States are slated to show the event. The list of establishments in your local area can be found at Joe Hand Promotions.
The fight can also be ordered through a variety of platforms, including: the Showtime app, online at Showtime.com/PPV. US consumers can also purchase via the Showtime streaming service app on Apple iOS and tvOS devices, Android Mobile, AndroidTV, Roku, FireTV, Chromecast, Xbox One and Sony's PlayStation Store.