Ryan Garcia wins by knockout, wants to fight Gervonta Davis next
Round 6: Ryan Garcia knocks out Javier Fortuna with a two-punch combination that started with a straight right hand and ended with a left hook. Fortuna spits out his mouthpiece, and referee Jerry Cantu waves off the fight 27 seconds into the round.
Garcia knocked down Fortuna in the fourth, fifth, and sixth rounds.
After the bout got off to somewhat of a slow and sloppy start, Garcia used his speed and power to kick things into high gear to score the statement knockout he was seeking.
"I hit hard. It doesn't take a lot to hurt someone," Garcia said. "It felt like a statement win."
In his post-fight interview, Garcia doubled down and again called for a fight against knockout artist Gervonta Davis.
Round 5: Ryan Garcia sends down Javier Fortuna again
Round 5: With 1:49 left to go in the round, Ryan Garcia scores another knockdown when he scrambles the senses of Javier Fortuna with a sneaky left hook.
Fortuna has a delayed reaction when he drops to the canvas The crowd is electric and erupts. The end could be nearing.
Round 4: Ryan Garcia drops Javier Fortuna with big left hook
Round 4: Ryan Garcia scores the fight's first knockdown, connecting with a left hook to the body of Javier Fortuna. A series of right hands set it up. Fortuna's mouthpiece falls out, and he gets several extra seconds to recover as it gets rinsed off.
Fortuna remains in survival mode for the rest of the round as Garcia batters him. Fortuna walks to his corner somewhat reeling.
Round 3: Ryan Garcia can't gain momentum vs. Javier Fortuna
Round 3: Not much action in the round. Ryan Garcia is looking to land a chopping left hook, but it looks awkward when he's throwing. Javier Fortuna is doing a commendable job countering, picking and choosing his shots as openings are there for the taking.
Garcia ends the round with a right hand to the body, but not much action so far. 30-27 Garcia
Round 2: Javier Fortuna makes his presence felt
Round 2: The southpaw Javier Fortuna clips Ryan Garcia with a right hand in the opening 30 seconds, and Garcia's head snaps back. Fortuna appears to look more comfortable and Garcia is throwing less.
With nearly 30 seconds remaining, Garcia connects with a strong two-punch combination. But the round was mostly sloppy with a lot of holding. 20-18 Garcia
Round 1: Ryan Garcia starts fast vs. Javier Fortuna
Round 1: Ryan Garcia starts by landing the fight's first punches with a series of left jabs and left hooks. He's pressing the issue, and Javier Fortuna has barely thrown a punch by the midway point of the round.
Garcia connects with three straight right hands. Fortuna charges forward and presses Garcia to the corner, who quickly holds. It's very much a "feeling out" round. 10-9 Garcia
Santa Ana's Alexis Rocha shines bright, cruises to decision win vs. Luis Vernon
Alexis Rocha had main event billing in his last fight, stopping Blair Cobbs at the Galen Center with a ninth-round knockout on March 17.
The convincing victory was enough for the Santa Ana sensation to get a star-like reception ahead of his co-main event fight against Luis Vernon.
The 25-year-old Rocha (20-1, 13 KOs) received a resounding ovation from the local fans, and then went on to reward his supporters with a thorough beatdown against the outmatched Argentinian contender Vernon (19-5-2, 9 KOs).
Rocha was awarded scores of 100-90, 100-90 and 99-91 in the 10-round welterweight bout.
Rocha landed a near shutout, while Vernon seemed to be mostly in survival mode the entire fight.
Punch stats painted a picture reflected in the scorecards. Rocha outlanded Vernon 171 to 72, with 140 of the blows being power punches.
Rocha is now riding a four-fight winning streak since suffering his first career loss to can't-miss prospect Rashidi Ellis in 2020.
Lamont Roach Jr. scores unanimous decision win against Angel Rodriguez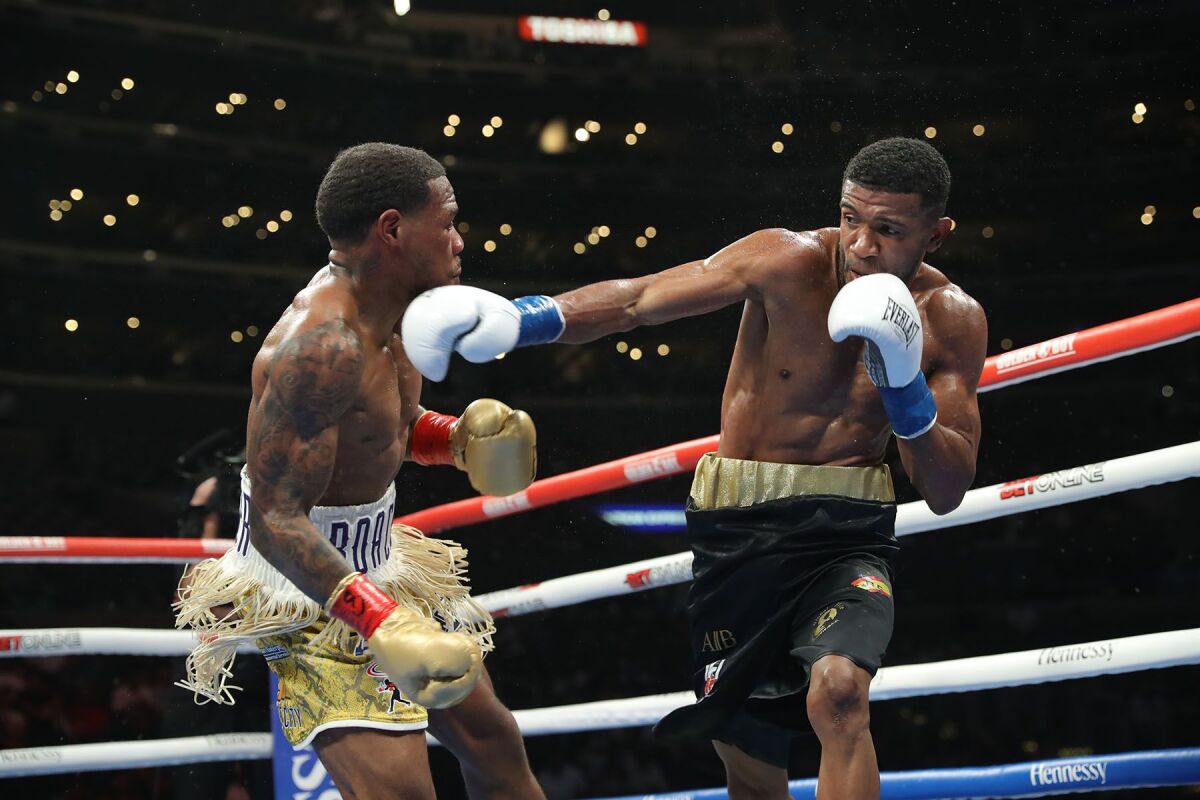 Lamont Roach Jr. (23-1-1, 9 KOs) scored a unanimous decision victory against Angel Rodriguez (20-2, 10 KOs) in a WBA super featherweight title elimination bout.
The former world title challenger Roach put himself back into championship contention by receiving scores of 116-112, 116-112 and 117-111.
The bout was mostly anticlimactic, with Roach chasing Rodriguez around the ring and trying to force the action.
The 26-year-old Roach was rattled with a low blow in the fourth round and needed considerable time to recover from the foul.
The Maryland native responded in the fifth round with a vicious right hand that momentarily had Rodriguez dancing as if he was on stilts. It was his best punch of the fight.
It was difficult to find many other meaningful moments in the bout, as Roach had a workmanlike approach to seal the deal. The restless crowd even booed several times to voice their displeasure.
Roach doubled up and outlanded Rodriguez 240 to 121 in the fight. Both fighters nearly threw the same amount of punches, with Roach delivering 580 and Rodriguez answering with 502 punches, per CompuBox.
Roach outlanded Rodriguez in 11 rounds, with the first round being even at seven.
David Jimenez drops Rialto's Ricardo Sandoval, scores majority decision 
David Jimenez (12-0, 9 KOs) remained unbeaten, scoring a majority decision win against Rialto's Ricardo Sandoval (20-2, 15 KOs).
Jimenez sneaked by with scores of 114-112, 114-112 and 113-113 in the WBA flyweight title elimination match.
The seesaw action culminated with a climactic moment in the 11th round when Jimenez connected with a right cross that corkscrewed Sandoval and dropped him to the canvas.
The punch stats, however, provided somewhat of a different story.
Sandoval outlanded Jimenez 249 to 163
Jimenez, a 30-year-old Costa Rican southpaw, was deducted a point in the seventh round by referee Thomas Taylor for excessive holding.
But he showed mettle and resolve and recovered for the remainder of the fight to score the decision.
The 23-year-old Sandoval suffered his first loss since his fifth pro fight in 2016.
Diego De La Hoya, Oscar Collazo and Miguel Gaona score wins in preliminary action 
Preliminary action before the DAZN stream started featured three fights at Crypto.com Arena.
Los Angeles native Miguel Gaona (3-0, 1 KO) made easy work of Abdiel Padilla (1-3, 1 KO), the prospect knocking down his counterpart twice in 80 seconds with right hooks to the body in their junior welterweight fight.
Diego De La Hoya (23-1, 11 KOs) scored a fourth-round knockout against Enrique Bernache (24-14, 12 KOs) in their featherweight bout.
De La Hoya, a cousin of Hall of Fame fighter Oscar De La Hoya, returned to the ring after a nearly 2 ½-year layoff to stop Bernache with nine seconds left in the fourth frame, as referee Ray Corona stepped in to halt the action. The damage started with a left hook in the final 30 seconds of the round.
Oscar Collazo (5-0, 3 KOs) and Victorio Saludar (21-5, 11 KOs) both hurt each other, but it was Collazo who won their entertaining WBA minimumweight title elimination match via unanimous decision.
Collazo was awarded scores of 118-110, 116-112 and 116-112.
The highlight of the fight unfolded in the seventh round. Collazo scored a knockdown as a result of a left hook to the body. The punch momentarily left Saludar defenseless, leading Collazo to unleash two more punches to his opponent's head.
Less than 15 seconds after beating the 10-count, the former world champion Saludar stunned Collazo with a knockdown of his own with a right uppercut.
The 25-year-old Collazo, a New Jersey-born, Puerto Rico-based boxer, was making his United States debut.
Tale of the tape for Ryan Garcia and Javier Fortuna
Ryan Garcia
Age: 23
Nickname: King Ry
Hometown: Victorville, California
Record: 22-0, 18 KOs
Total rounds fought: 79
Height: 5 foot 10 inches
Reach: 70 inches
Weight: 140 pounds
Stance: Orthodox
Advisor: Lupe Valencia
Promoter: Golden Boy
Trainer: Joe Goossen
Javier Fortuna
Age: 33
Nickname: El Abejon
Hometown: La Romana, Dominican Republic
Record: 37-3-1, 26 KOs
Total rounds fought: 214
Height: 5 foot 6½ inches
Reach: 68½ inches
Weight: 139.8 pounds
Stance: Southpaw
Promoter: Sampson Lewkowicz

Fighting words from Ryan Garcia and Javier Fortuna
The buildup for the Ryan Garcia-Javier Fortuna fight has mostly been a respectable one. Here's what both fighters have had to say leading up to the fight.
Ryan Garcia
"I grew up [in Southern California], I have seen games here, this is Kobe's house. I identify with him and the Mamba Mentality, and I am grateful to be able to fight at the Crypto.com Arena. I have seen every style here and now I am fighting here. It's a dream come true
"There have been a few things that have been out of our control that has prevented me from staying active. I feel like with things better now, there are more fights in my future. I haven't taken any damage. I feel good, I am healthy and ready to go.
"I think of every possibility to make fights in boxing. Both parties can come to an agreement, they need to be fair to each other and to the fights. Don't be greedy, be firm, be fair and let's look at the data.
"This game is about adjustments, you can't bank on the same thing every day. What matters most is that you do the best you can with the hand you are dealt in that moment."
"It doesn't matter if you are not 100%. We are at the point where that doesn't even matter. I am at the point that it wouldn't matter if I am at 65%, I am destroying Fortuna. He cannot beat me. I am levels above him."
"I want Tank Davis next, that is what I have said. I know that Tank is a big fighter and so am I. Whoever wins that fight is the next face of boxing."
Javier Fortuna
"I feel very good to be here, very honored, and am happy that I can move my career forward. I feel in good physical condition and I promise I will give the fans a very good fight.
"Ryan is a small fighter. He doesn't have the capacity and doesn't have the talent to beat me. I hope he is ready.
"Ryan's speed doesn't faze me. I know how to take that away from him. I have the experience to do it. You'll see during fight night. You'll see my power. I am looking forward to beating him at his house.
"Ryan is a good fighter, but we hope that this time around he doesn't have any excuses not to fight me. I see that he is very focused on another fight instead of focusing on the fight he has this Saturday. And we hope that after I beat him on Saturday he doesn't have any excuses.
"When you enter the ring you risk your life. I am risking my life, sacrificing for my children and I promise that I will give him everything I have. I am focused on what I can do to win."
Who is Javier Fortuna? 
Javier Fortuna is a 33-year-old boxer from the Dominican Republic who is a former WBA super featherweight titleholder.
The left-handed fighter has a record of 31 wins (26 KOs), three losses, and one draw throughout his 13-year pro career, but his resume is still lacking a hallmark victory.
Fortuna lost his title in 2016 after suffering an 11th-round TKO to Jason Sosa.
Fortuna has also lost to former world champions Robert Easter Jr. in 2018 and Joseph Diaz Jr. in 2021.
Fortuna rebounded from his loss to Diaz last summer in Los Angeles with a first-round knockout win against the unheralded Rafael Hernandez in a homecoming bout in Santo Domingo.
Betting odds for Ryan Garcia vs. Javier Fortuna
Ryan Garcia is listed at nearly a -1200 betting favorite across several sportsbooks, while Javier Fortuna is listed at nearly a +700 betting underdog.
How to watch Ryan Garcia vs. Javier Fortuna
The 140-pound lightweight fight between Ryan Garcia and Javier Fortuna will take place at the Crypto.com Arena in Los Angeles.
The Golden Boy Promotions event will stream on DAZN starting at 5 p.m. PT, with the main event slated to take place around 8 p.m. PT.
A monthly DAZN subscription costs $19.99 and yearly access to the OTT service costs $149.99.
As an alternative option, fans can order the fight via PPV.COM for $34.99 and the purchase will include one free month of DAZN.
If you're in the Los Angeles area, tickets to the show can be purchased starting at $41 through AXS.com. Doors open at 2 p.m., with the first fight of the day scheduled to take place at 2:10 p.m. The preliminary undercard can be seen on the Golden Boy YouTube page.
If you'd like to watch the fight at a bar or restaurant, you can find the nearest establishment that is showing the fight by searching your zip code at Joe Hand Promotions.