Column: For 3 figure skaters, the road to Pyeongchang goes through Rafael Arutunian's Lakewood workshop on ice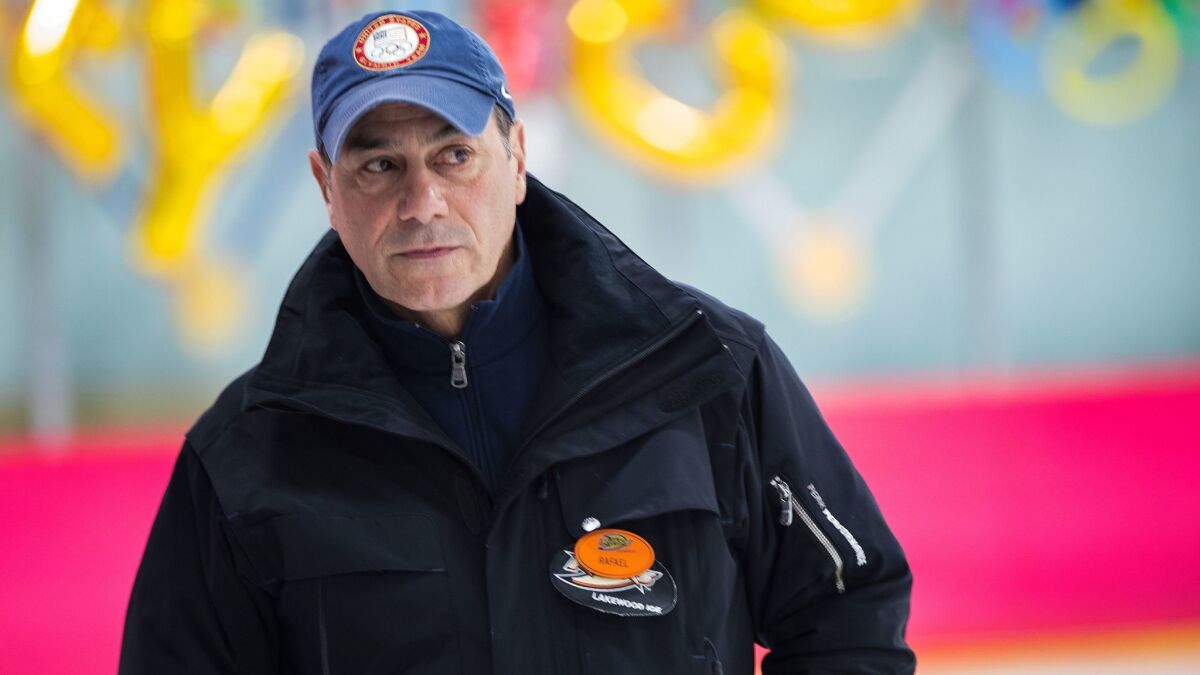 Rafael Arutunian can fix uncomfortable figure skating boots and mend bad jumping habits with equal ease, molding materials and technique with the sureness of a coach who has analyzed axels and scrutinized salchows for 40 years at rinks in Armenia, Russia and the United States.
But what makes him so successful is his ability to see into his skaters' minds and hearts and provide the precise motivation they need, a gift whose value goes beyond teaching how to make an efficient entrance to a jump or nail a landing.
Arutunian, 60, will coach Americans Nathan Chen and Adam Rippon and Czech skater Michal Brezina at the Pyeongchang Olympics, a trio he has coached at the Rinks-Lakewood for nearly two years. At the same rink he coached Ashley Wagner, a 2014 Olympian and first Pyeongchang women's alternate, and second alternate Mariah Bell. Keeping so many world-class skaters happy and productive is a remarkable feat. Arutunian, who works alongside his wife Vera and assistant Nadia Kanaeva, has created an environment that's purposeful but not cutthroat.
"It's one of the most positive rinks I've skated at," said Chen, a two-time U.S. champion whose ability to reel off difficult quadruple jumps makes him a medal contender at Pyeongchang. "Raf is able to put all of us together on the same ice and we're all very positive toward each other. We all push each other. I'm sure we all would not be the skaters that we are without each other, training side by side every day."
Their support takes various forms. "Adam helps Nathan if something in his costume is wrong. And he fixes it. And then Nathan helps too. They try to help each other," said Arutunian, a native of Tbilisi, Georgia, a former Soviet republic that's now an independent country. "I try to be honest with all of them and that's why it's so nice to see if somebody's music does not play loud enough and somebody, a competitor, comes up and will fix it. That is interesting to see how they help each other. Fighting is only during competition."
Arutunian has brought the best out in technically strong skaters like Chen and those who lean more on artistry, like Rippon. Over the years Arutunian has guided world champions and Olympians such as two-time Olympic medalist and five-time world champion Michelle Kwan — who came to him late in her career to fix the fit of her boots but stayed for his advice on her technique — Canada's Jeffrey Buttle, Turin Olympic silver medalist Sasha Cohen, Japan's Mao Asada, and Russia's Alexander Abt.
Kwan appreciated that he clearly demonstrated each move he suggested.
"He's definitely very observant," Kwan said. "Some days he would say very little to me. And some days he was pushing me and pushing me and pushing me, and I think a good coach is somebody that gives you what you need that day.
"A good coach says different things to different skaters. It's a way to connect. Some skaters need that extra positive reaffirmation. And some skaters are, 'I'm much more efficient when I don't have a lengthy conversation. Just give me things that help.'"
Brezina, who finished 10th at Sochi in 2014 and eighth at this year's European championships, initially was taken aback by Arutunian's forceful manner. But during an Olympic sendoff party at Lakewood Ice last week, Brezina called Arutunian's collaboration with him "a miracle work at certain times."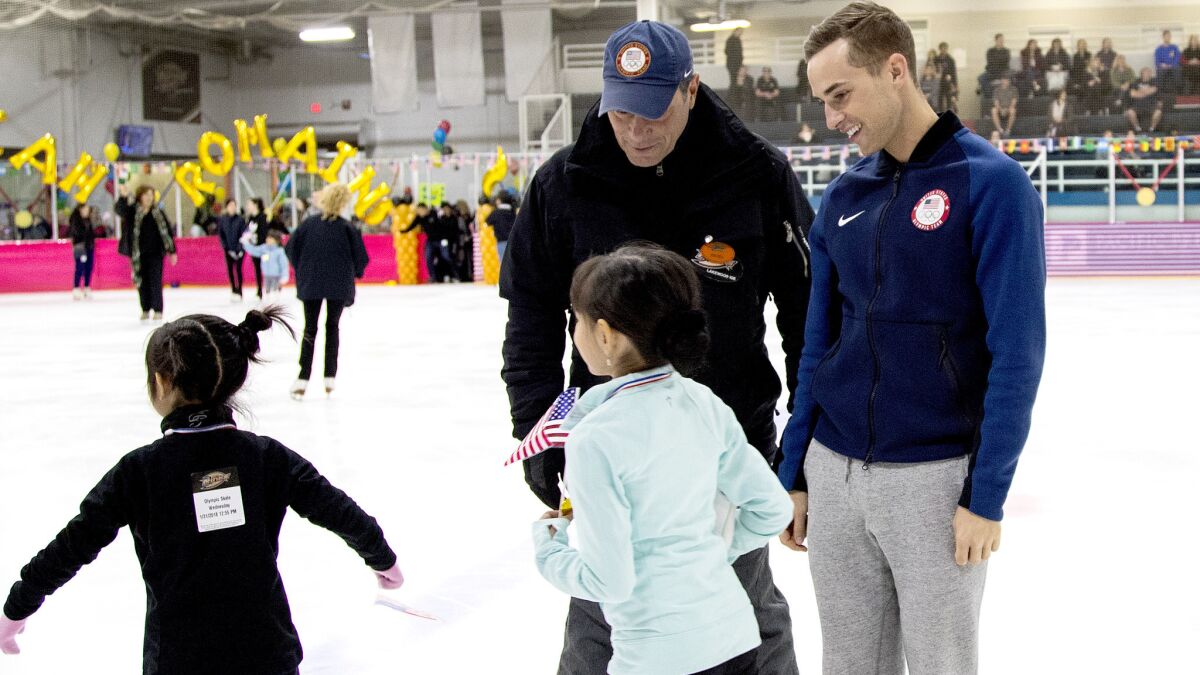 Brezina added: "He was very strong in the beginning. A lot of people don't like that because you get pushed a lot to do what he wants. But once you get through that phase, at the end it becomes easy and then he doesn't have to push you. He doesn't have to yell at you and you realize, 'Oh my God, he was right,' so all the yelling actually paid off."
More quietly, Arutunian helped ease the financial stress that impeded Rippon's path. When Rippon arrived in California a few years ago he could barely afford the gym membership he needed in order to stay in shape and he took apples and tea home from the gym so he wouldn't go hungry. Arutunian co-signed a car rental agreement with Rippon and let him defer paying for lessons.
Rippon has flourished since then, elevating his already lyrical skating. "I wanted so badly to be an Olympian, to be a good skater and I think Rafael saw that I was willing to do whatever it would take to make that happen," Rippon said. "And I have. It's amazing."
Arutunian downplayed his role in sustaining Rippon's career.
"Adam is one of the hardest-working guys I ever met. So I knew with my experience of teaching and his hard work, it could work," Arutunian said. "My experience would never help if he would not be that hard worker. I see he is a hard worker and I start to realize that I can help him get to Olympics. So that's what happened."
Arutunian hesitated when asked to assess Chen's and Rippon's prospects. He might work occasional miracles but he doesn't pretend to be clairvoyant.
"Taking chances, it's always a big question. It depends on how they will get ready," he said.
His work of mending and molding is almost done.
Follow Helene Elliott on Twitter @helenenothelen
Get the latest on L.A.'s teams in the daily Sports Report newsletter.
You may occasionally receive promotional content from the Los Angeles Times.