Creativity, timing and perseverance: How L.A. got the 2028 Olympics
The afternoon had turned uncomfortably hot in Qatar as the two men stepped outside, away from the crowds at an international sports assembly. They needed to speak in private.
Los Angeles Mayor Eric Garcetti and his companion on that November day in 2016 — Thomas Bach, president of the International Olympic Committee — took off their jackets to walk along the edge of the Persian Gulf.
Los Angeles was competing with Paris for the right to host the 2024 Summer Games, and Garcetti recalls Bach telling him the race would be tough.
This wasn't exactly news. Word had spread that some IOC members considered Paris a sentimental favorite, if only because the French capital had lost in several previous bid attempts.
There was also the matter of President-elect Donald Trump — the IOC membership, composed of officials around the world, had grumbled about the newly elected leader's "America First" platform.
"There seemed to be this really strong feeling they couldn't say no to France," Garcetti said.
L.A. bid leaders had already grown worried enough to focus on an unusual way to emerge victorious. In dinners and small meetings with Olympic leaders, they quietly pushed the IOC to name two winners, giving 2024 to one city and 2028 to the other.
Now, ducking away from the assembly in Qatar's capital city of Doha, Garcetti and Bach discussed the idea further.
"He needed to assess the political landscape," Garcetti said of the IOC president. "And we needed to do that without any press, any of our own staff, without anything being leaked."
As the men concluded their initial chat and stepped back inside an air-conditioned hotel, they faced months of secret offers and counter-offers, ultimatums and backroom bargains.
---
On Wednesday, the IOC formally awarded the 2028 Summer Games to L.A., concluding a bid campaign that had almost disintegrated before it began.
In the winter of 2015, LA 2024 — as the private bid committee was known then — had to compete against Boston, San Francisco and Washington, D.C., to be selected as the sole U.S. candidate.
Many close to the situation, including key U.S. Olympic Committee staff members, considered L.A. the favorite.
The city's $5.3-billion plan had drawn praise for using existing venues such as the Coliseum and Staples Center. Instead of building an expensive Olympic village, LA 2024 would eventually decide to house athletes at UCLA. Bid leaders promised to cover all costs through revenues from broadcast rights, sponsorships, ticket sales and other sources.
But when the USOC board met in Denver in January 2015 for what was described as a "spirited discussion and more than one round of voting," Boston emerged the winner.
After a polite but terse conversation with the USOC, Garcetti commiserated with bid chairman Casey Wasserman. The mayor's office had ordered banners for the victory news conference and now had to return them to the printer.
In public, bid leaders vowed to support Boston. It was a different story in private.
Wasserman, whose sports agency represented numerous Olympic athletes, had reason to stay in touch with USOC officials. As the weeks passed, he kept reminding them: L.A. can step back in if anything goes wrong.
The wait would be short.
By summer, Boston's campaign was crumbling under public concerns about the city being left with a huge debt from the Games. A USOC official called to make sure L.A. was still interested. "He was checking our temperature," Wasserman said.
When Boston withdrew a few weeks later, in late summer 2015, a resurrected LA 2024 finally held its celebratory news conference on Santa Monica State Beach.
That night, bid leaders boarded a red-eye flight to meet with Bach at IOC headquarters in Lausanne, Switzerland. After months of planning, and a bump in the road, LA 2024 was ready to fight for the Games.
---
Timing was a problem.
The city had hosted the Summer Games twice before, most recently in 1984, a blink of the eye in Olympic years. Reusing venues such as the Coliseum and Pauley Pavilion made economic sense but heightened the sense of "been there, done that."
This predicament joined a growing list of concerns that soon included the IOC's warm feelings for Paris, which had last hosted in 1924, and hesitancy over Trump, then the Republican presidential nominee. All of it began to weigh on Garcetti and Wasserman in mid-2016.
The men spoke about potentially losing and mounting another bid — they knew the IOC looked kindly upon cities that tried again — but it would mean returning to private donors who had given them almost $60 million for the current campaign.
"There was no way we could pull together the resources to do it again," Wasserman said.
So they kept going back to the idea of two winners. It made sense not just for them, but also for the IOC.
The Olympic movement had been struggling to attract hosts in recent years, with too many cities scared away by the risk of staging a multibillion-dollar sporting event.
Four candidates had backed out for the 2022 Winter Games. As the 2024 bid cycle progressed, Rome and Hamburg, Germany, withdrew.
Wasserman knew he could not just go to the IOC and say, "Hey, end the process and give it to two cities." So he called upon people who were knowledgeable and influential in the Olympic movement.
There were discussions with American television executive Dick Ebersol and British businessman Martin Sorrell. He had dinner in Sapporo, Japan, with John Coates, the IOC vice president from Australia.
"It was this idea that was floated around and expressed in the media," recalled Christophe Dubi, the Olympic Games executive director for the IOC. "And it took off from there."
---
An America that turns inward, like any country that turns inward, isn't good for world peace, isn't good for all of us.

— L.A. Mayor Eric Garcetti
Complaints about Trump from IOC members grew louder in the summer of 2016 when L.A. bid leaders showed up at the Rio de Janeiro Olympics. Speaking to a roomful of reporters, Garcetti, a Democrat, tried to distance his city's bid from the Republican candidate's nationalist policies, saying: "An America that turns inward, like any country that turns inward, isn't good for world peace, isn't good for all of us."
As presidential election polls tightened in the fall, LA 2024 kept saying that its bid "transcends politics," but concerns deepened after the November election. The bid committee wondered: How many IOC votes might the new president cost L.A.?
Garcetti met with Bach in Doha as Wasserman continued making the rounds. In December, Bach uttered his first public comments about potential changes in the bidding process.
"We said, 'What a great idea,' " Garcetti recalled. "As if it was theirs."
It was still a three-horse race with Budapest in the running, but when the Hungarian capital withdrew in February, the path was cleared for two winners. At an April sports convention in Denmark, the IOC sat down with L.A. and Paris to formally explore the idea.
Paris insisted it could not wait another four years because the land it wanted to use for an Olympic village would not remain available for that long.
L.A. officials, with the mindset of an underdog, were predictably willing to consider the option. After the IOC created a group to study how it might be done, Wasserman distributed an open letter.
"To be blunt, LA 2024 has never been only about L.A. or 2024," he wrote, taking a none-too-subtle jab at Paris. "Even when the issue of a dual award for the 2024 and 2028 Games was initially raised, we didn't say it's 'L.A. first' or it's 'now or never' for L.A."
---
In July, IOC members gathered for a special session to approve the two-winner scenario.
Garcetti recalls standing in the background with Paris Mayor Anne Hidalgo as the vote was tallied. Acting on a lark, he led her onto the stage where they raised their hands triumphantly.
Bach was speaking at the time and seemed confused, wondering about the sudden commotion.
"I didn't know what the protocol was," Garcetti said. "I remember Bach looking over at me like, 'What's happening?' "
Now that the decision was made, the gamesmanship began.
It started with posturing as LA 2024 leaders wanted financial considerations for agreeing to wait around another four years. Bach dismissed the idea, saying the Games should be valuable enough on their own.
"I don't think you need to reward somebody if you give somebody a present," he said.
The clock was ticking — a deal had to be struck before the selection vote in September. If not, the IOC would proceed as usual and elect one winner.
Over the next several weeks, the parties spoke by teleconference each morning at 6 Pacific time. L.A. officials then spent the day chewing over details and emailing a response to Switzerland, where it was the middle of the night. The IOC would wake up and deliver a counter-proposal that LA 2024 could read before the next morning's call.
"It was an immense volume of information and transactions that had to take place in a short period of time," Dubi said. "Yes, hard work was needed."
There was speculation L.A. might seek a lump sum, but it wasn't that simple.
At issue was the "host city contract," which compels the host city's government to pay off any debts should the Games go over budget. It also defines how billions in Olympic revenue are divvied up.
"We couldn't force them to make changes that were paradigm changes, that would affect all host city contracts going forward," Wasserman said.
L.A. had to work around the edges.
---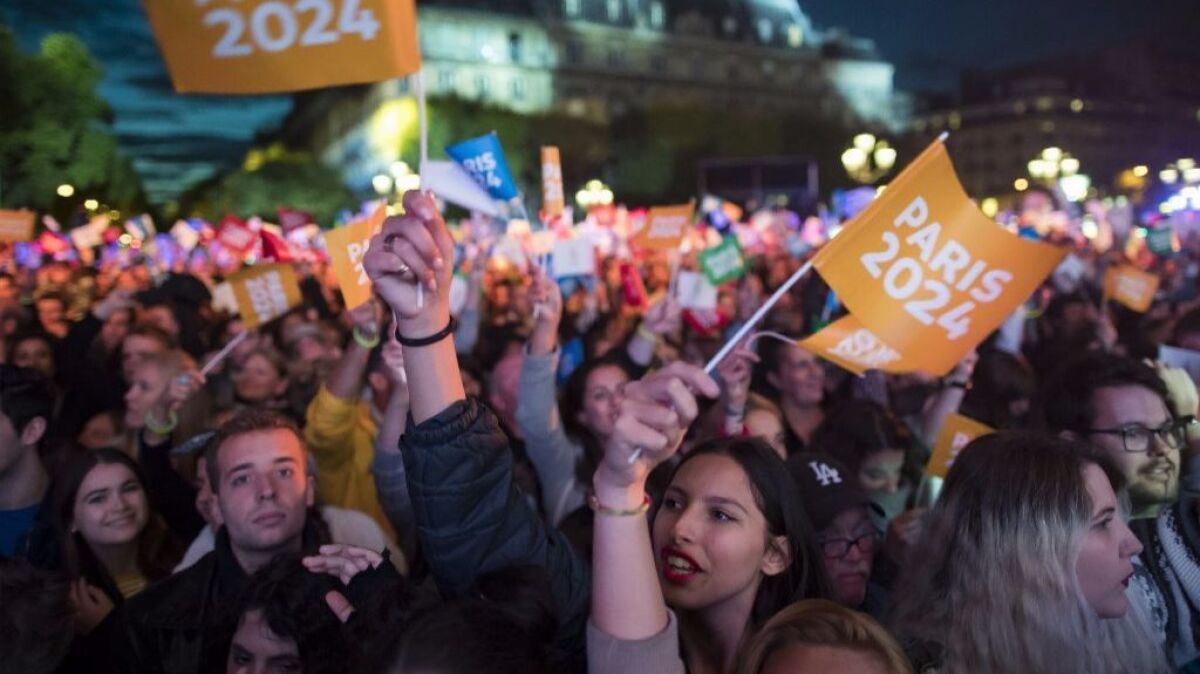 Garcetti has heard the criticism that L.A. settled for second place. He doesn't buy it.
"This deal was too good to pass up," he said after the city and the IOC settled on terms at the end of July.
The bid committee persuaded the IOC to waive tens of millions in fees and provide a $180-million advance that would help the bid committee distribute a planned $160 million to youth sports programs citywide over the next decade.
The IOC also surrendered its 20% share of any surplus generated by the Games. If organizers finish at $500 million under budget — as they have privately estimated — it would be worth $100 million to them.
But the key part of the agreement involves sponsorship arrangements that, until now, had not been made entirely public.
The IOC had previously vowed to help pay for the 2028 Games with $1.8 billion from its revenue, an amount that did not include anything from the valuable automotive sponsorship that belongs to Toyota until 2024.
L.A. bid leaders got the IOC to promise an additional $200 million from that category or, if it is not resold, hand it over for domestic sale. Either way, L.A. will have a say in how it is renegotiated.
"If you think about how the NFL sells that category, they have a car, they have a truck — you could break that category up a lot of ways," Wasserman said, suggesting there's more money to be made.
It could be a decade or longer before anyone knows whether L.A. struck a good bargain. Initial reviews were mixed, with one Olympic expert saying Garcetti and Wasserman "played their cards just right," while another insisted they could have pushed for more.
But there was no sign of doubt when Garcetti signed the host city contract in Peru on Wednesday.
"Like anything worth fighting for, this was a long journey," he said. "Little by little, we got a victory."
Ten months after his secretive walk along the waterfront with Bach, the mayor appeared ebullient, dressed in a suit and gray sneakers, the epitome of California cool.
As IOC members gave a standing ovation, he smiled and waved and hugged just about everyone who came near.
Follow @LAtimesWharton on Twitter
Get the latest on L.A.'s teams in the daily Sports Report newsletter.
You may occasionally receive promotional content from the Los Angeles Times.