IOC, L.A. and Paris involved in a high-stakes game of chicken over Olympics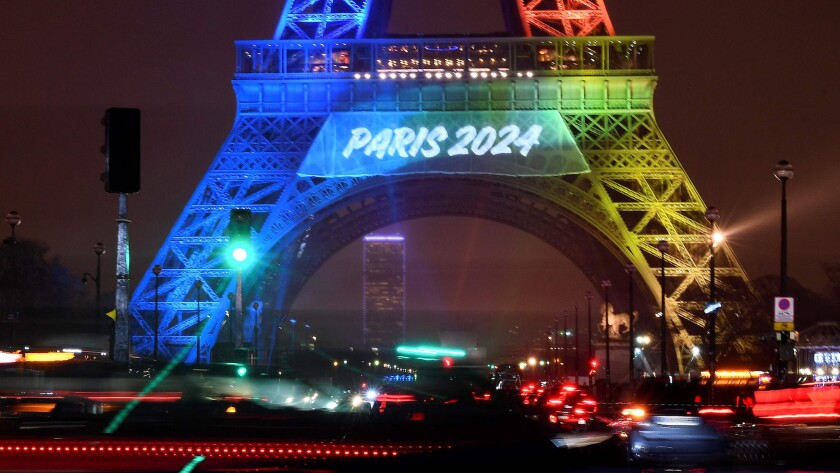 The statement coming out of Paris this week did not seem to leave much wiggle room.
With the French capital competing against Los Angeles to host the Summer Games, bid leaders appeared to shoot down a proposal by Olympic leaders to name two winners — one for 2024 and the other for 2028.
"We can't accept '28," Tony Estanguet, the Paris 2024 co-chairman, told reporters. "It's not possible."
Nothing in this bidding cycle has been simple or straightforward.
The Olympic movement has reached a crisis as cities around the world shy away from bidding for the Games, concerned about the enormous costs involved.
Los Angeles and Paris arguably possess the resources to stage the massive sporting event in a financially responsible manner, which is probably why the International Olympic Committee is considering an unprecedented move by locking them both down at September's vote in Lima, Peru.
Now comes the intrigue, with Olympic leaders pushing their agenda, Paris delivering an ultimatum and Los Angeles — in more careful words — insisting it is focused solely on 2024.
"This is a high-stakes game of Olympic chicken," said Jules Boykoff, a professor at Pacific University in Oregon who studies bidding. "There are public negotiating strategies, but behind the scenes there might be talks to which we're not privy."
The predicament facing the IOC stems from a string of Games that have run over budget, leaving hosts with significant deficits.
Most recently, the 2014 Winter Olympics in Sochi, Russia, came with an estimated $51-billion price tag. Organizers of the 2016 Rio de Janeiro Games were forced to make a series of cutbacks when they ran out of money last summer.
In the current bidding cycle, Boston; Hamburg, Germany; Rome; and Budapest, Hungary, have withdrawn over cost concerns.
That creates "a huge upside" to selecting both Paris and L.A., said Robert Livingstone of Toronto-based GamesBids.com. "It would give the IOC a comfort factor."
Los Angeles' $5.3-billion proposal could save money by making use of existing venues such as the Coliseum, Staples Center and Pauley Pavilion. The athletes' village would be placed at UCLA, saving another billion or more in construction.
Paris must build an arena, aquatics center and athletes' village, but is otherwise well equipped.
"They're both strong, capable cities," Livingstone said.
Yet, if one of them were to accept the 2028 bid, a lot could change in 11 years.
Brazil possessed one of South America's fastest-growing economies when it was named as a host seven years in advance. By 2016, the country had fallen on hard times.
The potential for accepting 2028 becomes even more complicated for Paris and Los Angeles because they have based their proposals on negotiations with numerous venue owners.
LA 2024 also spent months working out an agreement to earn the City Council's support.
In a statement issued Tuesday, the private bid committee stuck to its guns: "Los Angeles is the right city at this critical time for the Olympic Movement and is only bidding for 2024. With no permanent venues to build and 88% public support, only LA 2024 offers the lowest-risk and truly sustainable solution for the future of the Olympic Movement in 2024 and beyond."
Such pronouncements notwithstanding, there is speculation that either city might ultimately accept the 2028 Games. After all, officials have already spent tens of millions on bidding.
"I just don't buy the argument that 2028 is impossible for either team," Boykoff said. "Some additional time could actually be a positive."
Previous hosts have watched expenses soar as they rush to complete preparations, paying crews to work overtime.
But neither Paris nor Los Angeles can afford to hint at accepting the later bid. It might all but seal the vote, giving IOC members an easy out.
Paris ruled out 2028 by saying it would no longer have access to the land earmarked for the athletes' village.
"I think that's a bluff," Livingstone said. "But we don't have any truth serum."
At the same time, Livingstone suspects Los Angeles has "painted itself into a corner" with a ready-made bid that doesn't provide any reason for not waiting another four years.
LA 2024 might also be reluctant to take a hard stance in light of sometimes strained relations between the U.S. and the Olympic movement.
Some IOC members still seethe over the scandal in which their colleagues were ousted for accepting bribes during bidding for the 2002 Winter Games that ultimately went to Salt Lake City.
There were long-standing tensions over the way American television dollars were shared with the rest of the world; that agreement was finally renegotiated in 2012.
IOC politics add further complexities. With several cities expressing preliminary interest in bidding for 2028, IOC members might not want to relinquish their power — by way of votes — for the next decade.
"There's a lot of bravado," Boykoff said. "It's fascinating."
If nothing else, the IOC desperately needs to reverse the current trend with 2024 Summer Games that make financial sense. And that gives Paris and L.A. some leverage.
If one of the cities accepts 2028, it might extract concessions by, say, forcing the IOC to contribute a bigger slice of international sponsorship dollars.
Or both candidates could choose to hold firm, forcing the IOC to back away from a two-winner solution.
With six months remaining until a host is selected, Livingstone detects a bit of bargaining in the statements coming from all sides.
"There are so many mixed agendas," he said. "You have to wonder."
Follow @LAtimesWharton on Twitter
---
Get the latest on L.A.'s teams in the daily Sports Report newsletter.
You may occasionally receive promotional content from the Los Angeles Times.