Simone Biles' marketability window could be small — there's always someone new
Reporting from Rio de Janeiro —
In a hallway underneath the Rio Olympic Arena, a crush of journalists pushed against the metal fence in front of the world's best gymnast. Simone Biles, not even 5 feet tall, seemed to be swallowed up by the crowd. She fiddled with the green strap of her credential, but otherwise appeared at ease with another day as one of the most recognizable faces at the Summer Olympics.
"We have an idea of just how big it is back home," the 19-year-old said.
Biles won four gold medals, including the coveted all-around title, during an adjective-defying week where she made the sport's most difficult feats look routine. The performance cemented her place as perhaps the most gifted gymnast in history.
She's so well known that she can't visit the Christ the Redeemer statue towering over Rio de Janeiro alone. More than a million people have followed her bubbly Instagram account this month. Limited-edition cereal boxes will celebrate her golden achievement.
Translating that success into a long-term income stream promises to be difficult, because of a small window for most Olympians to capitalize on their notoriety. Biles could be an exception, particularly if she returns for the Tokyo Olympics in four years.
"I wish it wasn't the case, but Olympians have a very short shelf life," said Matt Delzell, managing director of the The Marketing Arm in Dallas that specializes in sports and entertainment promotion. "We fall in love with these athletes who represent our country so well and then we forget about them. Then the next thing comes along."
Biles carries a compelling backstory, adopted by her grandparents, Ron and Nellie, at age 5 during her birth mother's struggle with alcohol and drug addiction.
The limelight will die down. It's not as if gymnastics is a 24/7 sport.
Joe Favorito, sports marketing expert and professor at Columbia University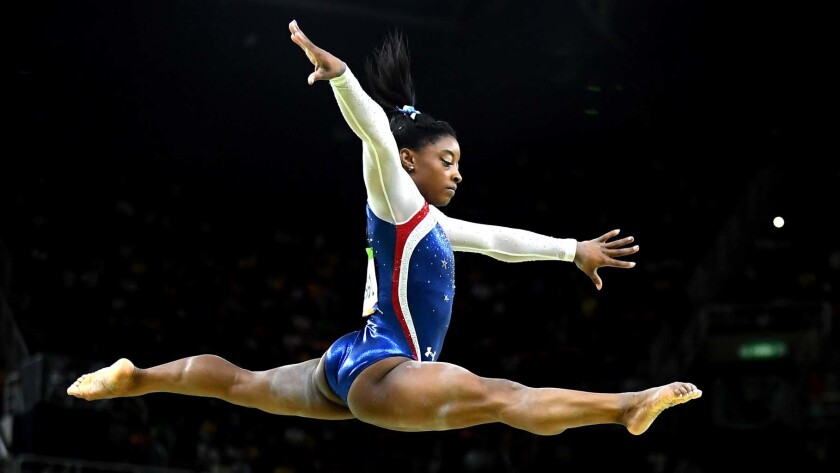 Biles insists she's not a celebrity. But her showmanship has helped to turn her into one. When she winked at Shawn Johnson, the Olympic gold medalist in the balance beam in 2008, during a floor exercise weeks before the Games, video of the moment went viral.
"I'm not the next Usain Bolt or Michael Phelps," she said after winning the all-around title last week, "I'm the first Simone Biles."
The difference is Bolt and Phelps have shown the ability to transcend the four-year Olympic cycle. Fame for most Olympians comes and goes as quickly as the 17-day Games.
Bolt, however, is the world's fastest human with wide-ranging international appeal and Phelps, the swimmer who just completed his fifth Games and plans to retire, is the most decorated Olympian of all-time. They don't just bring strong personalities and groundbreaking athletic success, they've done so at the Games over an extended period of time.
Experts point to Gabby Douglas, who won all-around champion at the London Olympics, but didn't bring the same level of attention to Rio de Janeiro, as an example of the challenge gymnasts face to remain in the public eye when their careers are shorter than almost every other sport.
"The limelight will die down. It's not as if gymnastics is a 24/7 sport," said Joe Favorito, a sports marketing expert who is a professor at Columbia University. "But [Biles] certainly has the ability between her background, her success and her personality to transcend the Games and make it beyond the four years."
Added Delzell: "You're going to capitalize on the millions of eyeballs that are watching right now when she's the talk of the town, when she's the talk of the country."
Biles got a head start. The three-time world champion turned professional last year -- passing up the opportunity to compete for UCLA -- and quickly amassed a wide-ranging portfolio of sponsorships. Months before her first gold medal, she was already treated like an Olympic champion. Sponsors lined up to capitalize on her success.
She has her own line of gymnastics equipment and leotards. She endorsed a sports drink. She starred in advertisements for Procter & Gamble and Hershey's. She signed with Nike. Her face adorned a Kellogg's cereal box.
Bob Dorfman, executive creative director for San Francisco-based Baker Street Advertising, sees more athlete-related marketing being taken care of in advance of the the Games, rather than as a reaction to a flurry of gold medals. Biles has already taken the first step to make the success last.
"You have to do something pretty special like she's done," Dorfman said. "A lot of this has to do with what kind of staying power she has."
Experts estimate the pre-Olympics deals were worth between $2 million and $4 million, with the potential for $3 million or more in earnings in the coming year. That total could increase if Biles competes at the Tokyo Olympics.
Though a new U.S. gymnastics star or two seems to emerge every four years, Daniel Rascher, a University of San Francisco sport management professor, thinks Biles might be an exception. Finding a way to maintain her level of exposure in non-Olympic years is key.
"Simone is a superstar and has the ability to cut across a larger swath of the public's consciousness," he said.
Next month, Biles, one of only six gymnasts ever to win four gold medals at the same Olympics, will join a group of gymnasts for a 36-city tour. Spectators can watch her signature move -- named the 'Biles' -- a double layout with a half twist at the end during the floor exercise that no one else can do. It's enough to appear superhuman, though Martha Karolyi, the stern-faced coordinator for the U.S. women's national team, took pains to remind a group of journalists earlier this week that Biles is, in fact, human.
Nastia Liukin, the all-around champion at the Beijing Olympics in 2008, understands better than most what's ahead for Biles.
"The first few months, maybe the first year, she's going to struggle with having a normal life," said Liukin, who provided gymnastics commentary for NBC in Rio de Janeiro. "It's very exciting at first, but at some point you want to be able to go to a restaurant or get your nails done or go to the grocery or just be Nastia. I wanted to morph myself from being Nastia the Olympic champion to being me."
And for Biles these days, being herself is enough.
Twitter: @nathanfenno
---
Get the latest on L.A.'s teams in the daily Sports Report newsletter.
You may occasionally receive promotional content from the Los Angeles Times.