Claressa Shields seals the deal, becoming first U.S. boxer to win two gold medals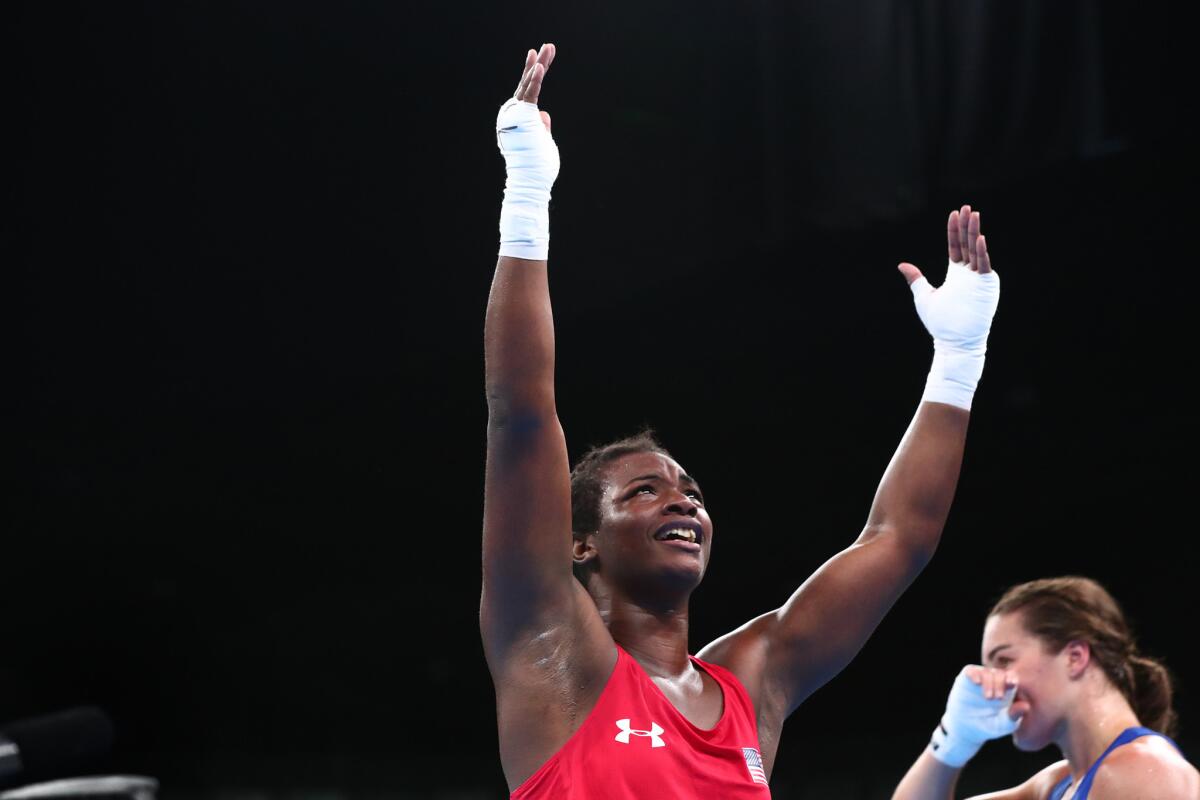 Reporting from Rio de Janeiro —
History will not soon forget Claressa Shields. And on Sunday she made sure no one else will either.
So after pounding her way to a one-sided victory over the Netherlands' Nouchka Fontijn in the women's middleweight boxing final, mounting the medal podium and having the gold hung around her neck for the second time in four years, Shields unzipped the left pocket of her warmup jacket, pulled out the medal she won four years ago in London and draped that across her chest as well.
"People will never forget that I am the first American boxer to win two Olympic [gold] medals," Shields said.
Nor will they forget how she did it, pounding her way past the best women boxers in the world to win three unanimous decisions and all 12 rounds she fought in these Olympics. So dominant was her performance, Shields was named the outstanding boxer, male or female, of the Rio Games.
But though it might have looked easy, Shields insisted it wasn't.
"I worked so hard to get here," she said, struggling to keep her composure through a rush of both relief and excitement. "Not everyone can be an Olympic gold medalist, period. To be able to say I'm a two-time Olympic gold medalist?
"I think I'm asleep. I don't remember getting hit throughout the fight. Did I get hit?"
Not very often — especially not after an even first round that Shields narrowly won. The next three weren't close, with Shields ducking everything Fontijn threw while countering with an annoying left jab and a punishing straight right. After seeing so many bouts in the Rio tournament settled by baffling judging decisions, Shields was determined to leave no doubt in Sunday's final.
"You have to go in there and seal the deal," she said. "I [didn't] want to have a split decision. I want to make sure I dominate."
She did, running her record to 77-1 and her winning streak to 51 fights with a performance she celebrated by running a lap around the boxing ring, a giant American flag trailing her like a kite.
It's a remarkable turnaround for a girl who grew up poor in Flint, Mich., the daughter of a former boxer who spent much of Shields' childhood in prison and a mother who struggled with drugs and alcohol. In junior high, Shields moved frequently between homes and often had no place to stay.
Now, five months after her 21st birthday, she is the only U.S. boxer to win two Olympic titles in the modern era. And she said there's a lesson in all that.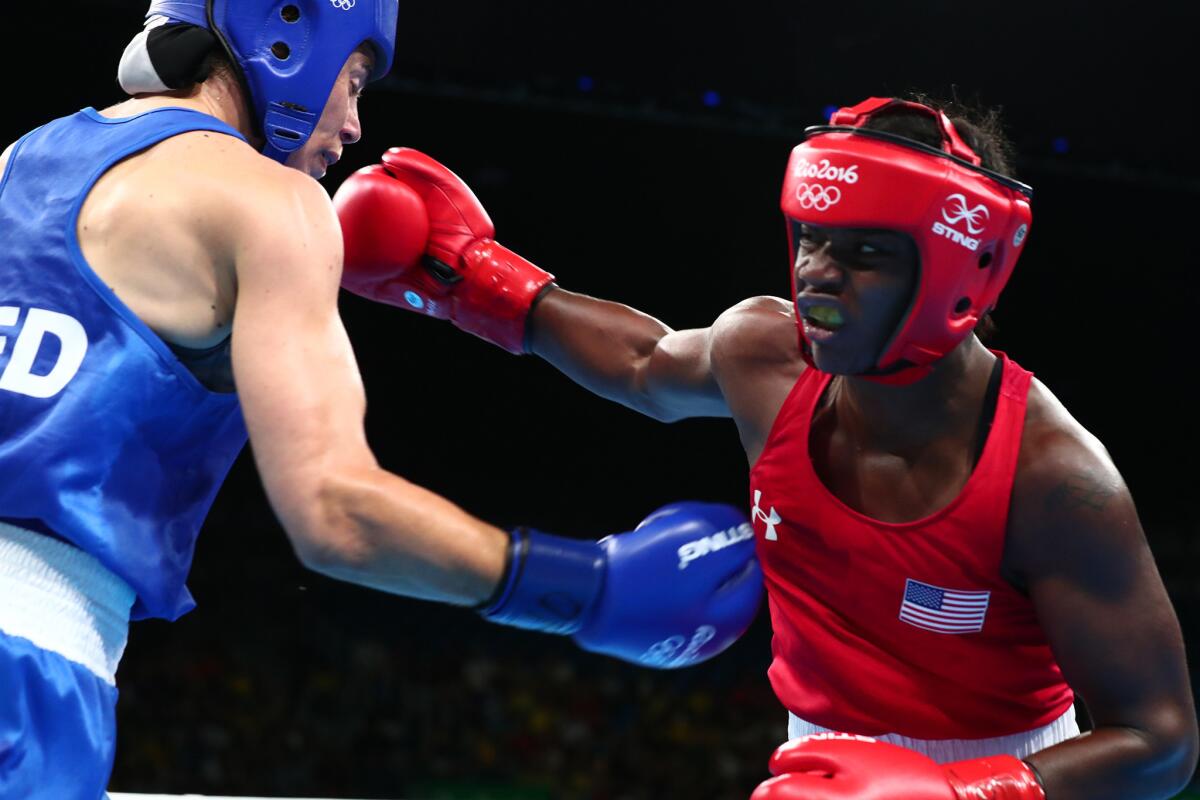 "I have been through a lot in my life," said Shields, who combines a punishing punch with an infectious spirit. "But I want to inspire. I want to give people just a little bit of hope because I was one of those kids who didn't have any hope.
"And when I had just a little bit, look how far I've been able to come. Your life is based on your decisions. I decided I wanted to be great."
Shields' gold was the third medal won by American boxers in Rio, after Shakur Stevenson's silver in the men's bantamweight division and Nico Hernandez's bronze in the men's light-flyweight competition. That made these Games the best for a U.S. team since 2000.
"From a group of young kids, it's fantastic," said U.S. Coach Billy Walsh, who was hired last winter to salvage a program that was floundering. "It just shows that if we can keep these guys for an Olympic cycle of four years, we could be one of the best teams in the world."
But Stevenson is expected to turn pro before the end of the summer. Shields, meanwhile, is weighing her options.
"I don't know what I'm going to do. I haven't let myself think past today," she said. "I cannot believe I just did this."
kevin.baxter@latimes.com
Get the latest on L.A.'s teams in the daily Sports Report newsletter.
You may occasionally receive promotional content from the Los Angeles Times.