Rio Games: Even the best swimmers need lifeguard protection, plus it's the law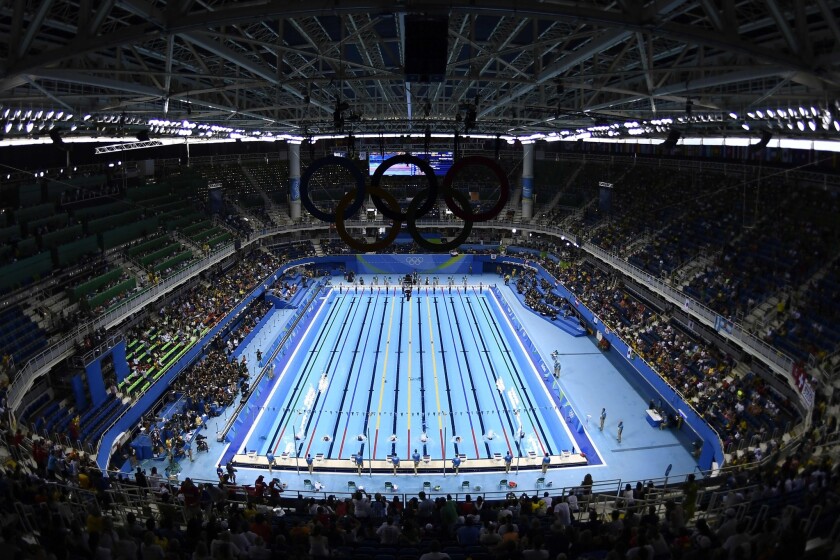 Reporting from Rio de Janeiro —
The warm-up pool at the Olympic Aquatics Stadium was busy the day before competition officially started. Swimmers from different countries buzzed around the deck, hopping in and out of the pool every few seconds.
It looked like a community pool on a sizzling summer day right down to lifeguards patrolling the action.
That's right, lifeguards, even for the world's best swimmers. And they have the full get-up too — shorts, sandals, whistles around their neck, life preservers slung around their shoulders.
The four who watched over the practice session were natives of Rio de Janeiro, or Cariocas. "It's an amazing experience," said Fernando Pereira through a translator. "It's amazing this event is in Brazil and it's a really nice competition for our country."
On Now
Final steel beam placed in new Rams stadium construction
On Now
Carlos Balderas of the USA Olympic Boxing team
On Now
On Now
Video: Rams open training camp in Irvine
On Now
Rams receiver Tavon Auston, "We in Cali"
On Now
Behind the scenes: Creating Olympians' portraits
On Now
Rams training camp from a St. Louis perspective
On Now
Rams Trumaine Johnson back home in California
On Now
Kanoa Igarashi: Huntington Beach is the first Asian-American surfer to qualify for the World Surf League's Samsung Galaxy Championship Tour.
On Now
Gary Klein and Lindsey Thiry recap Rams training camp Day 2
The lifeguards are among the few at the swimming venue who can be on the deck with the athletes and coaches during practices and they are there during the competitions as well. For those at the aquatics stadium this day, their favorites to watch were Brazilian medalist Thiago Pereira and U.S. swimmer Michael Phelps.
Their days are broken into two shifts, morning and night, and they will usually linger even after their shifts are over.
"We are supposed to stay here with them when working and a then lot of people they stay here to watch after [their shift]," Pereira said. "Besides their coaches, we are here the most with the athletes."
It may seem like a trivial matter to have lifeguards around the best swimmers in the world. Surely, not much could go wrong around this caliber of athletes, but it's a precaution the Olympics have taken for most water events and one required under Brazilian law.
Eight lifeguards are responsible for swimming at the aquatics center. They went through a rigorous application process that included three interviews.
"It's a big responsibility for these events, these Olympic Games and our country," said Carlos Nascimento, one of the lifeguards. "It's great to stay here with the athletes."
The lifeguards aren't as busy as they might be at a local pool where they might have to tell kids not to run on the pool deck. They might advise athletes to watch out for puddles near the water, but that is about it.
"You stay together at the pool and we talk to the athletes, not to do this or that," said Josue Dos Santos.
As the lifeguards finished their lunch and headed for a break, different kinds of lifeguards took over watch of the pool — two Brazilian soldiers wearing camouflage with red berets and handguns. They now ran the pool.
But during some of the most important moments in the Olympics, those regular lifeguards are the actual keepers of the water.
Twitter: @ChristopherHine
---
Get the latest on L.A.'s teams in the daily Sports Report newsletter.
You may occasionally receive promotional content from the Los Angeles Times.