Column: Figure skater Nathan Chen predicted his Olympic future at the age of 10
Even at 10 years old Nathan Chen had the focus and certainty of a champion.
As the newly crowned winner of the 2010 U.S. novice men's figure skating title, the Salt Lake City native was invited to join members of the Vancouver-bound Olympic team in skating at a post-competition gala. Skating to "Peter and the Wolf," the precocious, 4-foot-5 Chen reeled off a series of difficult jumps with the charm of a seasoned performer. Which he was, in a way, thanks to his remarkable skills at gymnastics, piano, ballet, and the rec-room hockey games he played against his two older brothers.
So when TV personality Andrea Joyce asked him afterward when viewers could expect to see him in the Olympics, Chen was prepared. "Twenty-18," he said on cue and with confidence.
Chen smiled when he was reminded of that prediction after he won his second straight U.S. men's senior title and, with it, a berth on the Pyeongchang Olympic figure skating team for the upcoming Winter Games.
"I do remember saying that as a little kid. It was more centered on the fact that I'd be age-eligible for 2018," he said. "Obviously, that was my goal and that's what I wanted, but I honestly didn't really think it would be attainable. I thought 2022 would be more in my sights since 2018 was so close.
"It's crazy how fast time flies and how things progress. I'm super blessed to have the opportunity to compete at these events and prove that I deserve an open spot in 2018."
Chen, who trains at The Rinks-Lakewood Ice and lives in Long Beach, resoundingly earned his Olympic spot. Despite losing training time to illness before the U.S. competition, he landed two quadruple jumps in his short program and five in his long program, which matched the record he set last year for most quads in a program and kept him undefeated this season. His jumping proficiency is a formidable weapon, putting him in position to be the only American singles skater to take home a medal.
Of the other men, 17-year-old Vincent Zhou has the jumps but lacks artistry and experience, while 28-year-old Adam Rippon — who finished fourth at the U.S. competition but got a Pyeongchang berth because he had a better resume than runner-up Ross Miner over the past year — has the artistry but can't compete quad-for-quad with the world's elite.
No one in the women's delegation of Bradie Tennell, Mirai Nagasu and Karen Chen is expected to win a medal, though Nagasu might become a factor if she can land a high-scoring triple axel jump. The pairs event is a lost cause, ice dance might produce a bronze medal and a team medal is a possibility, but Chen alone is a top contender for individual hardware. This season he has beaten world and Olympic champion Yuzuru Hanyu of Japan, who recently resumed practice after an ankle injury, as well as 2017 world runner-up Shoma Uno, also of Japan, and Russians Dmitri Aliev and Mikhail Kolyada, who finished second and third, respectively, at the European championships.
Chen said he doesn't follow what his rivals are doing and instead immerses himself in his own task. It will be a big one. Zhou, whose approach for Pyeongchang is to gain experience for a medal run in 2022, sees the enormous burden Chen carries. "I don't feel the same pressure that I would if I were expected to medal," Zhou said. "I can't imagine the pressure on Nathan. Absolutely insane."
Chen, who's modest enough to still marvel at seeing his image on Corn Flakes boxes, seems to be handling the stress well. He lives near the beach and finds the shore a good place to escape the daily grind, but he truly enjoys practices. He and Rippon, as well as U.S women's Olympic alternates Ashley Wagner and Mariah Bell, often are on the ice at the same time with coach Rafael Arutunian, a unique setup. Elite-level competitors usually practice at separate sessions, but these skaters thrive on being together.
"I've seen drama happen between a lot of other groups, especially when they're that close in competition, but we've never had anything like that. Never had any bad situations occur," Chen said. "We've always been very positive and definitely helped motivate each other."
Chen recalled he began trying quadruple jumps when he was 11 or 12 and became discouraged when things didn't go well. "I would fall really, really hard and I kind of got scared of it. I didn't even really want to attempt it," he said. But he knew he'd need a quad to be competitive, and he wanted to do a quadruple toe loop like those done by Olympic champions Evgeny Plushenko and Alexei Yagudin. He began landing them regularly when he was 14 or 15. Now, doing them is largely muscle memory.
He's in the air for only about three-quarters of a second and lands with enough force to jar his joints but it's still nirvana to him. "If the jump is perfect, you come out and you feel like you took a three-pointer in basketball or doing the perfect thing in whatever your sport is," he said. "You just get that adrenaline rush, a sense of satisfaction, like you want to do it again and again."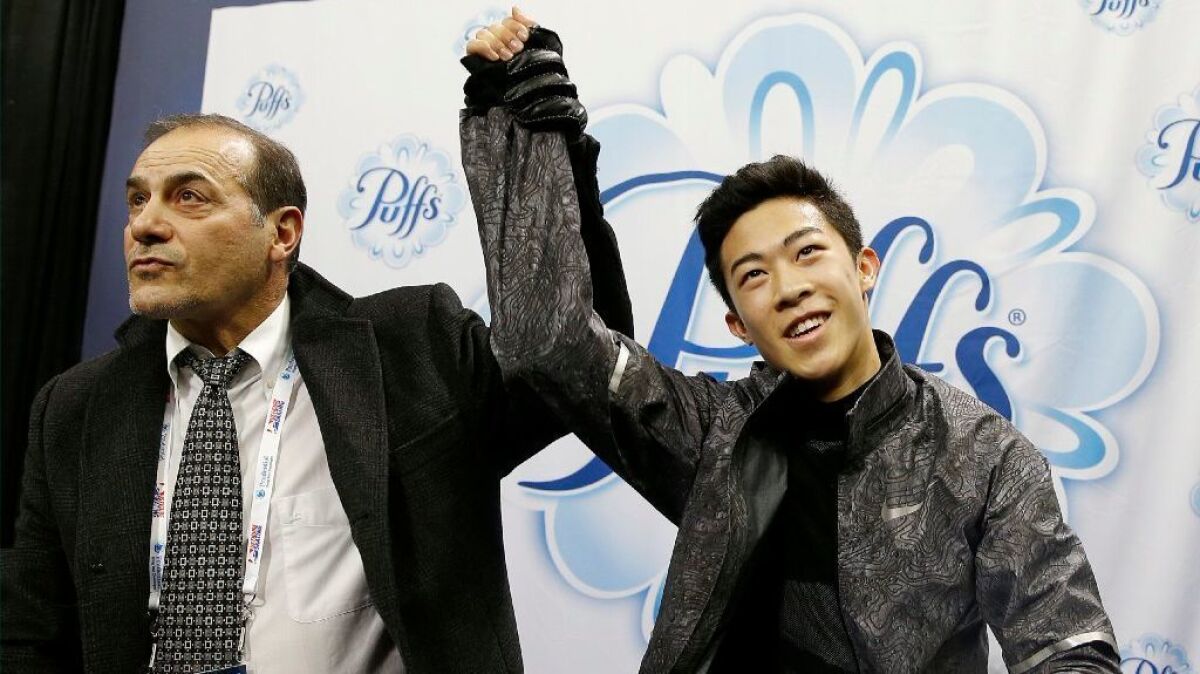 Getting the level of his artistry closer to the extraordinarily high level of his jumps is his biggest challenge. Don't put it past him, though. That 10-year-old who predicted he'd compete in the 2018 Olympics lives on in his soul and his resolve.
"I've been working on it a lot, trying to find the artistic balance, trying to find purpose in my movement, combined with the jumps," he said. "It's very difficult to combine the two, but at the same time I believe that given a little bit more time, I think we will find that balance."
Follow Helene Elliott on Twitter @helenenothelen
Get the latest on L.A.'s teams in the daily Sports Report newsletter.
You may occasionally receive promotional content from the Los Angeles Times.