Shaun White saves best for last to win third halfpipe gold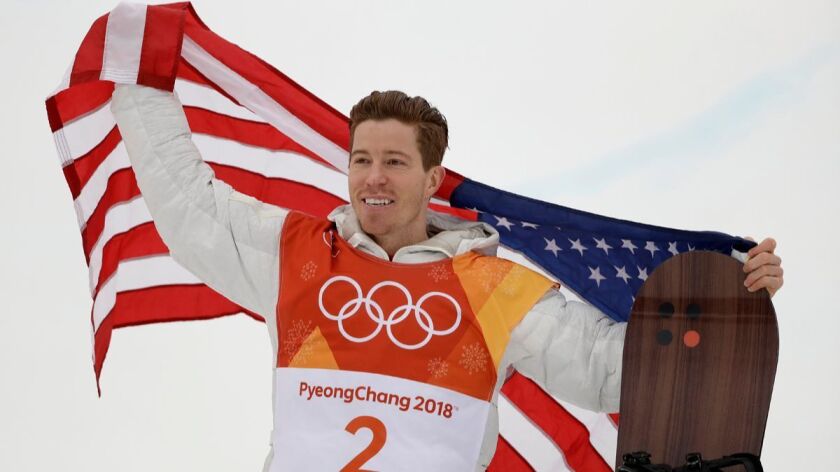 Reporting from Bongpyeong-myeun, South Korea —
One of the eateries in this tiny hamlet in the Taebaek Mountains serves hamburgers. One is called the Shaun White.
Its namesake tried one. "It was a magical moment," he said.
Not quite as magical as what happened just up the hill in Phoenix Snow Park on Wednesday in the snowboard halfpipe final at the Winter Olympics.
It wasn't that White won the gold medal; he has done that twice before. It was where, when, why. And How.
"I had to dig deep for this one," White said.
American snowboarder Jake Pates exhaled and tried to put into words what he just witnessed: "He's a psycho. He's really, really, really good, man. And he can turn it on when he has to, land it when it means something. I think the dude thrives on pressure, honestly. History shows that dude does good when it's turned up."
Here's how much it got turned up:
White scored 94.25 on his first of three runs to take an early lead, only for Japan's Ayumu Hirano to do what only he has in snowboarding history and land back-to-back 1440s (four revolutions) for a 95.25. White, figuring he needed to match Hirano, tried back-to-back 1440s in his second run and couldn't hang on to the landing.
That left him with one dramatic run, the last of the competition, and his fate swirling with the snow: Do something he never had, or settle for silver.
"Some people are gamers, some aren't," said White's coach, J.J. Thomas, the 2002 halfpipe bronze medalist. "He's a relentless competitor. That's what it takes. He almost needs the pressure to perform."
I had to dig deep for this one. Getting that score at the end was so overwhelming. I was crippled with joy
Shaun White
White spent the moments before the final run blissfully riding loops on the chairlift, chatting with snowboard cross athletes practicing on the adjacent course, not obsessing about the stakes.
"Anything to distract from this imminent, pressure-cooker situation," said White, who became the 100th American gold medalist at the Winter Olympics. "I don't know. I sat there, looked down at the pipe and kind of said to myself: 'I know you got this. It's what you've done your whole life and career.'
"I dropped in and let all of those cares and worries go away, and truly believed in myself. I knew I had it in me to do it. And I did it."
White tore off his goggles and screamed when he got to the bottom of the halfpipe, then turned expectantly to the scoreboard and waited.
"An eternity," White said.
His scores from the international panel of six judges: 99, 98, 98, 98, 96, 97. The high and low are thrown out, leaving him with an average of 97.75. Hirano was second, Australia's Scotty James third. Americans Ben Ferguson, Chase Josey and Pates were fourth, sixth and eighth.
"Overwhelmed," White said. "I was crippled with joy."
After winning gold in 2006 and 2010, White finished fourth in 2014 at Sochi after bombing his final run — and that, as much as anything else, was responsible for what happened at Phoenix Snow Park four years later. He questioned his purpose, his fire, his future at age 31 in a sport of teenagers accelerating its progress at a frightening pace.
The answer came not in words but tears, hugging his parents and bawling on their shoulders as the announcement of his score echoed across the mountain.
"It means the world to me to come back to find the love and passion of the sport again," White said. "It was a déjà vu situation from Sochi: Standing there, needing to land a run to win the Olympics, and I just couldn't get it. I couldn't do it. I was defeated before I dropped in, in my mind.
"I'm so thankful that I got to stand there again, and know who I am and know what I can do, and do that run. It's a rarity that you get these opportunities to redeem yourself in your life and your career, and I took advantage of it."
The 1440 wasn't something White and Thomas cooked up at the top of the pipe here. They've been quietly working on it since last summer, correctly predicting the arc of their rapidly changing sport, only to be derailed by a horrific crash practicing it in New Zealand last October. White was airlifted to a local hospital and received 62 stitches in his face after he slammed it into the lip of the pipe and tore off a chunk of his nose.
That was the least of his problems. After surgery his lungs began filling with blood and White spent five days in intensive care.
And, he freely admits, nearly quit.
He wouldn't drop into a halfpipe again until late November and he wouldn't land the fateful 1440 again in practice until last month. He and Thomas weren't sure they would even try back-to-back 1440s here, hoping White's big first run would hold up.
Hirano became the first person to land back-to-back 1440s at the X Games a few weeks ago, and did it again on his second run here.
"In a way, that made it easier," Thomas said. "We knew what we had to do."
"He's there to win, he always was," said Roger White, his father. "Back when he was a little kid, we used to go on vacation and then there'd a contest and he'd say, 'Maybe I can do that.' And he'd end up doing a contest. That's just how he's always been."
It also helped that while taking loops on the chairlift he missed the second run of Japan's 16-year-old Yuto Totsuka, who landed hard on the pipe's edge after soaring nearly 20 feet above it. Totsuka, the World Cup points leader this season, lay on his back at the bottom of the pipe for several minutes while medics skied down and loaded him onto an orange sled. The extent of his injuries wasn't immediately known.
White typically doesn't watch the rest of the competition for that reason. Too easy to get spooked.
"I heard somebody crashed," White said. "I didn't really stop to take a gander. It's one those things that happens. You see it happen from time to time, and you have to kind of shake it off and know who you are, know what you're capable of and know what your strengths are.
"I hope he's OK."
---
Get the latest on L.A.'s teams in the daily Sports Report newsletter.
You may occasionally receive promotional content from the Los Angeles Times.