Shaun White contemplating both winter and summer Olympic future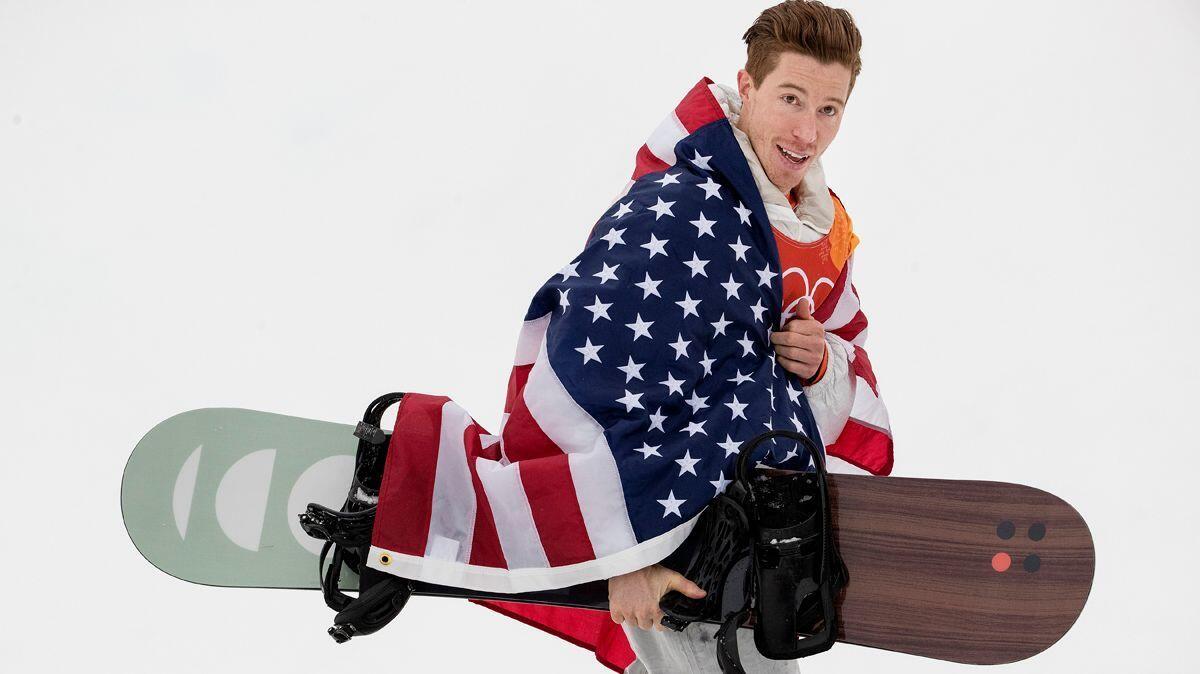 Reporting from Bongpyeong-myeun, South Korea —
The cab double cork 1440, the trick that won Shaun White the gold medal at these Olympics and nearly killed him four months earlier, requires snowboarders to gain enough acceleration up the 22-foot halfpipe wall so they can fly off the lip and complete two head-over-heels inverted spins while performing two 360-degree rotations.
It requires speed. It requires strength. It requires savvy. But beyond that, it requires perfect timing to land squarely on your board racing back down the wall of icy snow.
White, as much as anyone then, should understand the concept of a safe, clean exit.
The trick was first landed by Switzerland's Iouri Podladtchikov, who nicknamed it the YOLO flip. That's an acronym for: You Only Live Once.
And that should tell White something about the direction of his sport, and about the direction of his career. Skateboarding, finally, has been added to the Summer Olympics, and he has talked openly about competing in 2020 in Tokyo. He has options.
"I assumed at some point in my lifetime, skateboarding would get in the Olympics," White, 31, said a few hours after winning his third halfpipe gold in spectacular fashion, nailing back-to-back double cork 1440s on his final run. "I'm just happy it's come at a time where I feel physically and mentally capable of actually competing and pursing that goal and dream.
"I'll have to make a hard decision at that point, to be at the top of the game in snowboarding and then decide all of a sudden to let my competitors have two years of practice on me while I pursue skateboarding, and then try to come back for the China Olympics (in 2022). Because that's something still on my radar. It's a big decision."
It shouldn't be.
There are the obvious reasons. He was a skateboarder before a snowboarder, a regular at San Diego and North County skate parks, noticed and mentored by the legendary Tony Hawk at age 9. The first person to win medals at both Winter and Summer X Games. The only person to win a Winter and Summer Dew Cup.
And there's this legacy-enticing morsel: Only 136 people have ever competed in a Winter and Summer Olympics. Only five have medaled in both. Only one, Eddie Eagan in boxing in 1920 and four-man bobsled in 1932, has golds from both.
The real reason, though, is none of the above. The real reason is YOLO.
Not the flip. The mentality.
Snowboard's halfpipe is accelerating at a frightening rate, imbibed by its soaring popularity, oblivious to the place it is heading. Even White admits: "With progression there's going to be consequences, and unfortunately it can come in the form of something like Kevin Pearce."
Pearce is a former snowboarder from Vermont who crashed on the halfpipe in Park City, Utah, a few months before the 2010 Olympics. His head slammed into the icy wall, knocking him unconscious and condemning him to a hospital bed for a month followed by four more at a Denver rehab clinic specializing in traumatic brain injuries.
Pearce was attempting a basic cab double cork, without the two 360-degree spins.
The winning run at halfpipe's Olympic debut in 1998, by Switzerland's Gian Simmen, featured nothing harder than 720s, or two revolutions. By 2002, Ross Powers won with a frontside 900 (2½). In 2006, White did a pair of 1080s (three). In 2010, he unveiled his trademark double McTwist 1260 (3½).
In 2014, Podladtchikov – iPod for short – spun four times above the pipe with the YOLO 1440.
In 2018, White connected back-to-back double cork 1440s to edge Japan's Ayumu Hirano, who two weeks earlier became the first person to land a pair of 1440s and did it again in his second run at the Olympics.
Podladtchikov wasn't there to defend his title because, a few minutes before Hirano made history at the X Games last month, he face-planted on a landing and lay motionless in the snow for 10 minutes before medics felt it safe to transport him to the hospital. He flew to Korea, tried to practice, and withdrew.
"Participating in the Olympic Games," he said in a statement, "would pose a great risk to my health … I can say for sure (it) is in no way safe and responsible."
Then, in the second run of the final, Japan's Yuto Totsuka smashed onto the edge of the lip after soaring 16 feet above it, violently pitched forward and slid lifelessly to the bottom of the pipe. He was loaded into an orange sled and whisked off the mountain as an eerie silence engulfed the crowd at Phoenix Snow Park. (He reportedly suffered a hip injury but escaped with no broken bones.)
Hirano, who would win silver, lacerated his liver and tore knee ligaments in a hellacious crash last March that left him bed-ridden for a month. White himself crashed while training the 1440 last fall in New Zealand and needed 62 stitches (not to mention the five days in ICU after his lungs began filling with blood).
"You get up and learn from it, you know," said White, who admits he doesn't watch the rest of the competition so he won't get spooked. "You move on. You continue, or you don't. It's a risk that we take. There are so many risks in life. I always laugh and say driving to the mountains is probably the most dangerous thing we do, and we do it every single day and we assume that risk. For me and the other riders, you push the envelope of what's possible."
The scoring system doesn't help, either. In 1998, the final combined the scores of both runs. But that was viewed as promoting a conservative approach, not wanting to risk a fall and low score, and subsequent Olympics counted only your best of two runs. In 2018, you got three.
The message is clear: Go for it.
YOLO.
J.J. Thomas, a 2002 bronze medalist and White's coach, was asked if he thought they would go for a fourth gold in 2022 in Beijing.
"Who knows, who knows," Thomas said. "We have to decompress. We have to talk about it. I know what he's going to say, though: 'Man, that was actually kind of easy. I can see myself doing that in four years.'"
Totsuka is 16. Ayumu is 19. Ten of the 12 finalists here were 23 or under, when risk and judgment and wisdom are distorted by the invincibility of youth.
White would be 35 in Beijing.
American Jake Pates finished eighth. He's 19, too, and tried gazing into the future of a sport that is changing like mountain weather. Three weeks ago, no one had ever landed back-to-back 1440s in competition. Now two men had.
As he spoke, dark clouds ominously gathered in the peaks above.
"The level is insane," Pates said. "To do those tricks, those dudes are absolutely psycho even trying them. But if that's the way it's going, that's kind of what you've got to do to stay in there."
Skateboards and sushi never sounded so good.
Get the latest on L.A.'s teams in the daily Sports Report newsletter.
You may occasionally receive promotional content from the Los Angeles Times.