South Korea's obsession with speedskating isn't hard to miss
Reporting from Gangneung, South Korea —
If you want to understand South Korea's obsession with short track speedskating, why a civilized nation of 51 million is absolutely bonkers about roller derby on ice, watch a soccer game.
It is from the 2002 World Cup that South Korea hosted. Ahn Jung-hwan scores on a header in the 78th minute to tie the United States 1-1, then races to the corner flag to celebrate. And lifts one leg while swinging the opposite arm, like a speedskater, while his jubilant teammates join in.
It was an ode to what might be South Korea's real national sport, to what happened four months earlier in Salt Lake City at the 2002 Winter Olympics.
South Korean star Kim Dong-sung crossed the line first in short track's 1,500 meters ahead of Apolo Anton Ohno and began his victory lap with a Korean flag. Then there was an announcement. Kim had been disqualified for "cross tracking," illegally cutting off Ohno, on the final lap. Ohno got the gold instead. Kim dropped the flag onto the ice and stormed off.
Within minutes, the U.S. Olympic Committee's website received so many incendiary emails from South Koreans that its server crashed for nine hours.
The Korean Olympic Committee filed an appeal with the international Court of Arbitration for Sport claiming the "improper influence of public pressure … when Mr. Ohno failed to overtake Mr. Kim caused (Australian referee Jim Hewish) to make an arbitrary decision." It threatened to boycott the closing ceremony. There were reports of a bomb threat to the Australian Embassy in Seoul.
The appeal was denied, the Koreans attended the closing ceremony and the Australian Embassy never blew up.
But still …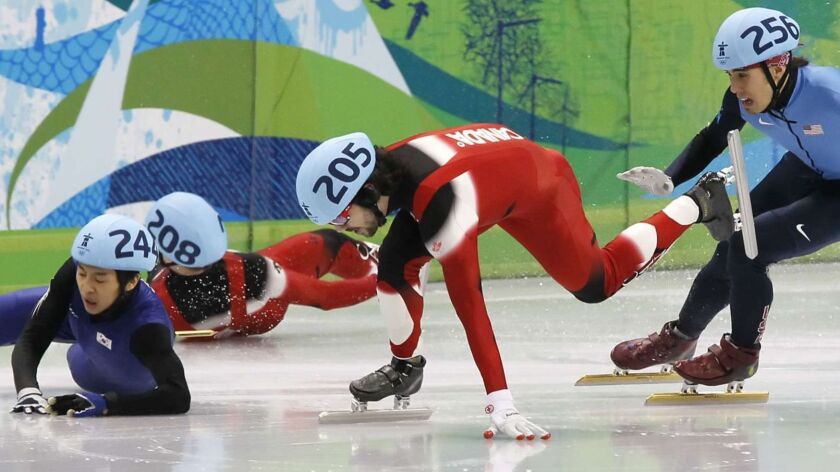 "This," veteran U.S. short track speedskater J.R. Celski says, "is their sport."
Gangneung Ice Arena has been half-full for the Olympic figure skating competition, held in the morning to accommodate American TV given the time difference.
The same 12,000-seat venue is used for short track at night. It's packed.
The day after the opening ceremony, South Korean President Moon Jae-in held a historic meeting with the sister of North Korean leader Kim Jong Un at the Presidential Blue House in Seoul, then rushed across the country — it takes 2 1/2 hours by high-speed train — so he wouldn't miss the opening night of short track even though the program consisted of endless preliminary heats and only one medal race (which South Korea, of course, won).
Guus Hiddink, the Dutch coach of South Korea's 2002 World Cup team and still an A-list celebrity in this country, was there as well. Dynamic Duo, a wildly popular South Korean hip-hop group, sang a medley of hits between races.
"Usually when you're in Asia, the crowds are not very loud. They're pretty tame," U.S. speedskater Jessica Smith-Kooreman says. "Not here."
"Madness," teammate Thomas Hong says. "It's deafening."
You have to wonder: If the International Olympic Committee hadn't added short track to the Winter Games in 1992, would South Korea have ever bid to host them?
Before 1992, South Korea had participated in 10 Winter Games and won zero medals. It won four in short track's debut, then six in both 1994 and 1998.
South Korea now has 28 gold and 56 total medals. Twenty-six and 53 are in some type of speedskating, mostly short track. It wasn't until 2010 that it won a medal in something else: Yuna Kim's figure skating gold in Vancouver.
It didn't happen by accident. The South Korean government, recognizing the low center of gravity needed to navigate short track's tight corners matched its populace's physique, dumped resources into the sport after the IOC voted it in. Winning bred popularity, and now kids in Seoul can choose between dozens of short track youth clubs — with hard-driving coaches and short track tiger moms.
Members of the national team are rock stars, walking through a gantlet of fans as they exit the arena. World Cup events are televised live and draw huge ratings. On nights of Olympic competition, there's a pregame show like you might see on NFL weekends in the United States.
The crowds are loud and knowledgeable, quieting to a whisper and refraining from flash photos at the start, then exploding in a wall of noise for any race involving a South Korean.
The most dramatic moment on opening night came in the semifinal heat of the women's 3,000-meter relay. The South Koreans slipped midway through the race and crashed into the padded barriers surrounding the track, falling a half-lap behind.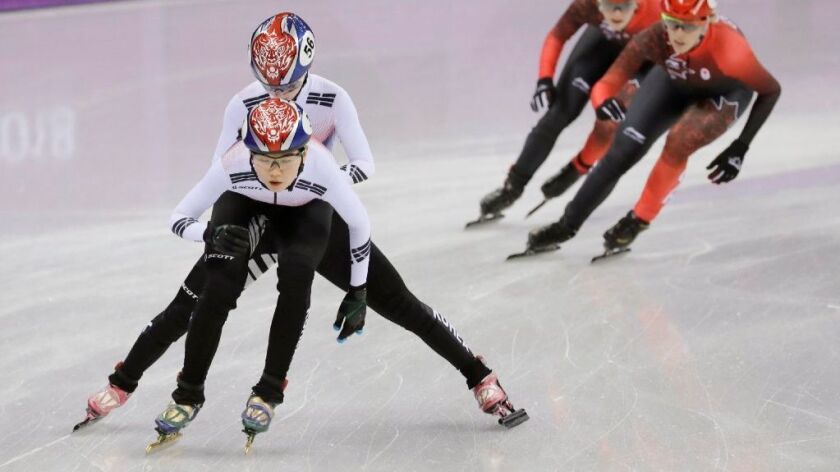 But they worked their way onto the back of the lead pack, then passed into third, then second, then first. Athletes from other countries couldn't see them coming, but they knew — each pass was accompanied by a thunderous roar.
They won, of course, and broke the Olympic record.
But the delicate balance between passion and obsession tipped on short track's second night, when South Korea's Choi Min-jeong crossed the line in second in the women's 500 but was disqualified for interfering with Canada's Kim Boutin. Gangneung Ice Arena went silent, and fans hastily exited before the victory ceremony.
Soon, images were flying across cyberspace showing Boutin contacting Choi, not the other way around. Soon, Boutin's social media accounts were under siege.
"If I find you, you will die," one comment said.
"Retire, and I hope you have a hard life," another said.
Another simply had a row of knife emojis.
Ohno, commentating for NBC, knows the feeling. After his controversial gold in 2002, a media poll found that he was the second most hated person in Korea, after Osama bin Laden. A company sold toilet paper with his likeness on it. There was a video game where you could shoot Ohno in the head.
It didn't help that Ohno's father is from Japan, which occupied South Korea from 1910 to 1945. Or that late-night TV host Jay Leno suggested in his opening monologue the next night that Kim Dong-sung, after losing to Ohno, "went home and kicked the dog. And then he ate him."
The following year, the U.S. team withdrew from a World Cup race in Korea citing security concerns. The Americans did compete at one in 2005, needing a phalanx of 100 riot police to escort them out of Incheon International Airport.
South Korea would get payback in future Olympics and World Cups, winning six (of a possible eight) gold and 10 total short track medals in 2006. But the sweetest revenge came in June 2002, after a South Korean goal against the United States in the World Cup.
In the final dramatic moments before the Olympic cauldron was lit last week at the opening ceremony, the torch was passed between famous Korean athletes. Most had achieved Olympic glory, including several short track speedskaters.
And then, emerging from the shadows, carrying the sacred flame on a frigid night at the Winter Games, was a soccer player who never competed in an Olympics: Ahn Jung-hwan.
The crowd roared. He wasn't out of place at all.
---
Get the latest on L.A.'s teams in the daily Sports Report newsletter.
You may occasionally receive promotional content from the Los Angeles Times.