Column: At weightlifting World Championships, integrity of the sport is on the line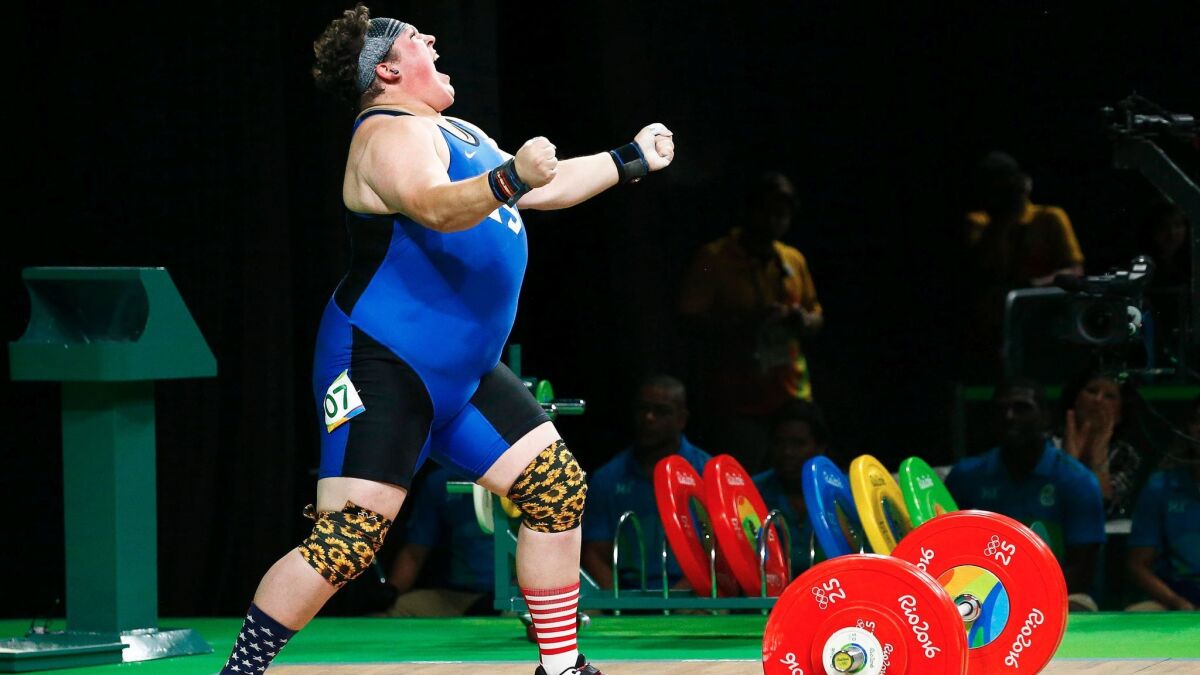 There is much more at stake than titles for the weightlifters competing at the World Championships this week at the Anaheim Convention Center.
The sport's integrity and its success at eliminating rampant doping are on the line as the International Olympic Committee considers whether to exclude weightlifting from the 2024 Paris Games. Nine nations whose athletes were found to have committed three or more doping violations in retesting of samples from the 2008 and 2012 Olympics were banned from competing at these world championships, which run through Tuesday. That means no Russia, which had its weightlifters banned from the 2016 Rio Games, or China, Kazakhstan, Armenia, Turkey, Moldova, Ukraine, Belarus or Azerbaijan. The IOC warned the International Weightlifting Federation this year that it must institute and enforce tougher rules against doping and bring national federations into line or risk Olympic elimination, and that the IWF must demonstrate progress on that front by December.
Here it is, early December, with an IOC executive board meeting scheduled next week and three executive board members and some general members expected to attend this competition to gauge weightlifting's progress in fighting the drug scourge that has produced 50 positive tests from the Beijing and London Olympics. The U.S. and international weightlifting federations have increased the number of tests performed on athletes, allowed for tougher suspensions and offered more anti-drug education. But will that be enough to end decades of doping?
Let's hope it's enough for the sake of those who are clean. Let's especially hope so for the sake of youngsters such as Americans CJ Cummings and Harrison Maurus, youth world champions and contenders to end a 20-year medal drought for U.S. men at the world championships.
Maurus, a 17-year-old high school senior from Auburn, Wash., acknowledged he's concerned that weightlifting's Olympic future is in jeopardy because of those doping violations. "It makes me happy that they're finally doing something about all the positive drug tests that are coming back and catching dirty athletes and making sure the sport is even and fair, but it is frustrating that we all have to face repercussions for something that countries that use have been tried for," said Maurus, who competes in the 77kg class. "It's one of the fundamental sports in the Olympics. To take it out would be like removing part of the Olympics."
Cummings, also 17 and a high school senior in Beaufort, S.C., welcomes the banning of drug cheats. "It would make it a lot better for the people who are not doping to have a legitimate shot to medal, because people who were doping tend to win it all," he said. "It levels the playing field for the people who are being clean athletes."
Frequent unannounced drug tests don't bother him. "It's good. The more I do it, the more it will help everyone," said Cummings, who began Olympic lifting to get stronger for football and has become a weightlifting prodigy. "It makes them train clean."
And let's hope the crackdown on doping is successful for athletes such as college hockey player-turned weightlifter Caitlin Hogan of Long Beach, who won three medals at the last Pan Am championships and was to compete Thursday night, and Jessica Lucero of Irvine, a three-time national champion who holds U.S. records in the snatch lift, clean and jerk, and total lift in the 58kg class but is competing this week in the 63kg class.
Before this competition the last U.S. woman to win a medal at the world championships was Cheryl Haworth, in 2005. Sarah Robles of Desert Hot Springs, who returned from a two-year drug suspension to win a bronze medal in Rio, is a favorite in the +90kg class (bodyweight of at least 198.4 pounds). Mattie Rogers (69kg class) also is a medal contender.
"I'm just hoping to represent and show what the human body can do without any supplementation of drugs or any of that. I think that's the whole basis of the sport—to see how much the human body can lift," said Hogan, who competes in the 53kg class and owns a gym in Long Beach called Gym No. 4. "It's frustrating because a lot of the records we're chasing and trying to beat come from those people who have doped in the past. But there's nothing we can really do about that except keep taking these measures to make sure that the sport stays clean and keep having these contests that have a lot of drug testing to make sure that people stay clean. It's nice knowing that people are getting a slap on the wrist for it and getting medals taken away because there's a lot of athletes who are clean and aren't doing any drugs that suffer from it."
Kevin Farley, director of communications, membership and digital marketing for USA Weightlifting, is hopeful the IOC will recognize that the U.S. and international federations have taken stern anti-drug measures. "It's very important that the IOC understands that we take this very seriously. The message is loud and clear," he said. "We're the 'fortius' of the Olympic Games motto of 'faster, stronger, higher.' We really want to maintain that in the Olympics."
Follow Helene Elliott on Twitter @helenenothelen
Get the latest on L.A.'s teams in the daily Sports Report newsletter.
You may occasionally receive promotional content from the Los Angeles Times.