Column:: Russian blessing: Teenagers Zagitova and Medvedeva are on top of the world in figure skating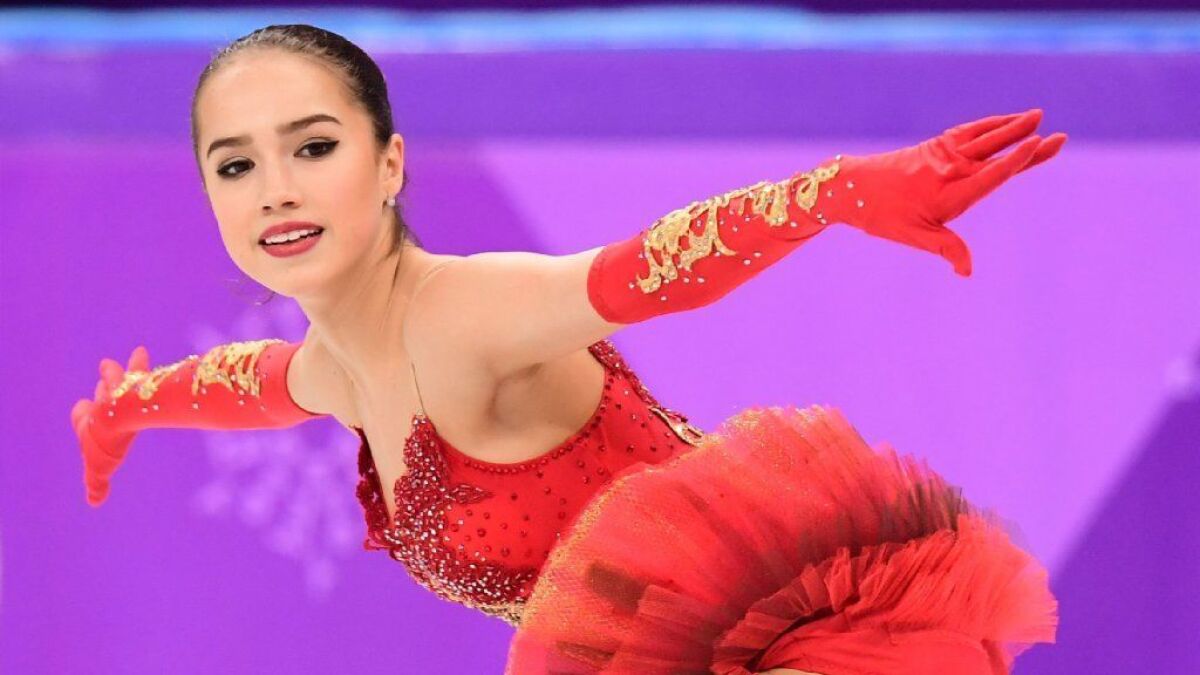 Reporting from PYEONGCHANG, South Korea —
Alina Zagitova and Evgenia Medvedeva were in a class by themselves, performing at a level so far above the rest of the women's figure skating field that there were really two competitions at Gangneung Ice Arena on Friday.
The first competition was to determine whether 15-year-old Zagitova or her friend and training partner, the 18-year-old Medvedeva, would glide off with gold. The second was for bronze and the ability to say they had lived an Olympic dream. Americans Mirai Nagasu of Arcadia, Bradie Tennell and Karen Chen were never in the first competition and lost the second badly, citing the adverse effects of fatigue and pressure. This was the third straight Olympics in which U.S. women didn't win a singles medal; the last was Sasha Cohen's silver at the 2006 Turin Games.
Zagitova, who saves her jumps for the second half of her program in order to gain bonus points, reserved her best leap for the moment she bounded up to the top step of the podium to receive her gold medal, the first gold medal won in Pyeongchang by a member of the Olympic Athletes From Russia. Although her free-skate performance to "Don Quixote" lacked its usual verve , her jumps were impressive once she got around to doing them. She earned the same score as Medvedeva did for a moving "Anna Karenina" routine, 156.65 points.
Boosted by the edge she had gained with a world-record score in her short program, Zagitova finished with 239.57 points, just ahead of the assertive Medvedeva's 238.26. Kaetlyn Osmond of Canada, skating with speed and precision, deservedly won bronze with 231.02 points.
"I won. Honestly, my hands are shaking, because I haven't understood yet that I am an Olympic champion," said Zagitova, who won the 2017 world junior title. "I was very nervous today. I was more calm in the short program, because I understood I had no room for error and I have to skate clean. There was a lot of pressure on me and Zhenia [Medvedeva]. All fans were waiting for us athletes from Russia to be on top."
Medvedeva, the 2017 world champion, missed two months of training after she fractured her foot in November. She said that had no impact on her runnerup finish here. "I felt today in my program really like Anna Karenina in the movie. I put everything out there that I had, I left everything on the ice," she said. "I have no regrets."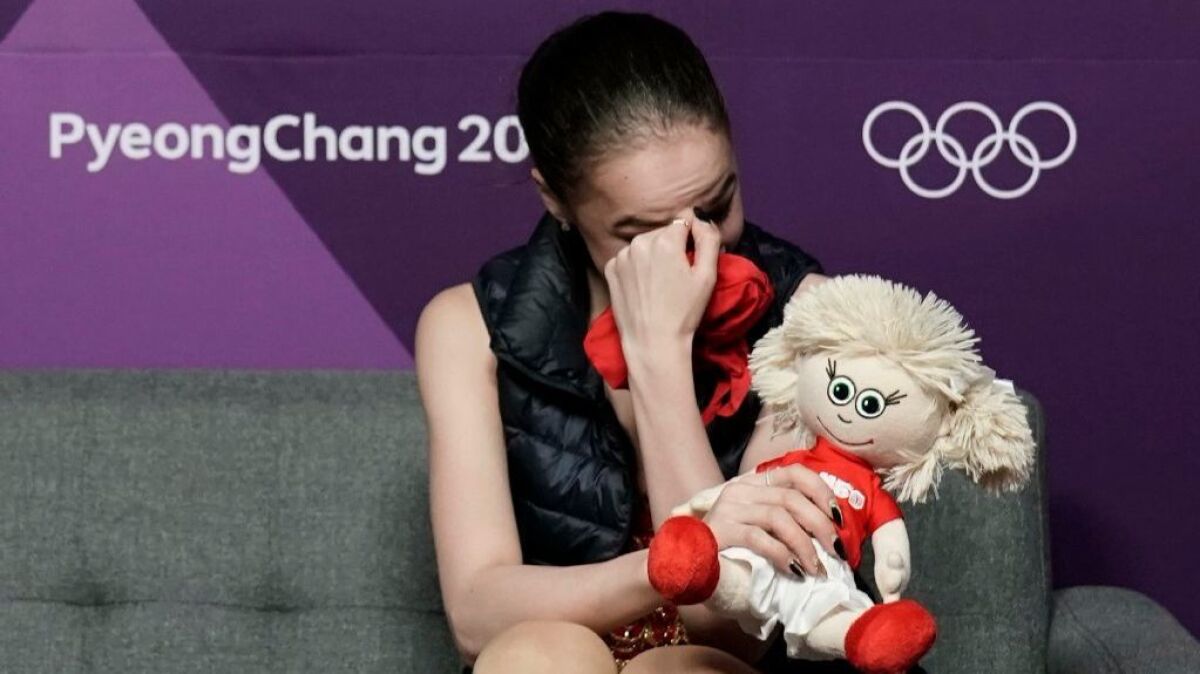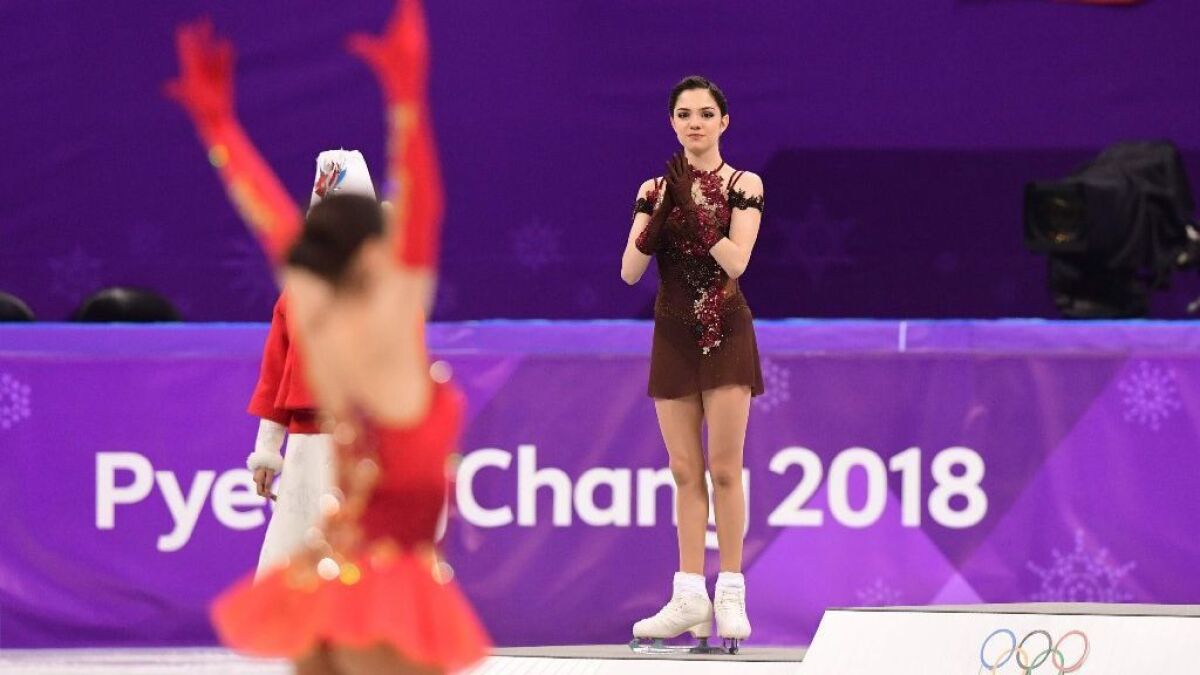 The Americans couldn't say the same thing.
Nagasu landed a landmark triple axel jump in the U.S. team's bronze-medal effort but fell on that jump in her short program during the individual event and lost her slim medal hopes. She bailed out on the point-producing jump in her shaky long program Friday.
"Although I got zero points for my attempt at the triple axel, in my mind, I went for it," said Nagasu, whose 10th-place finish with 186.54 points put her one place behind U.S. champion Tennell (192.35) and one place ahead of Chen (185.65).
Nailing it on the ice is where it counts, though, and the U.S. figure skating contingent will leave with the meager haul of the team bronze medal and Maia and Alex Shibutani's ice dancing bronze.
"I saved the team event, with Adam [Rippon] and the Shibutanis," said Nagasu, a two-time Olympian. "We were about to lose our medals, so today I put my medal in my pocket. Here she is," Nagasu said, holding the heavy medal up for display. "And I said, 'Mirai, you've done your job already. This is all just icing.'"
She already has her next job lined up, or so she hopes. "I would like to be on 'Dancing With the Stars' because I want to be a star," she said. "I made history here by landing the first triple axel for a U.S. lady and third at the Olympics."
But she might have done more. Adding an individual medal — or at least following Nathan Chen's example by making a noble run at the top three — would have made for a more satisfying ending.
Karen Chen, 18, had problems with her skate boot while here. On Friday she under-rotated one jump, fell on a triple loop, and stepped out of a triple salchow to earn 119.75 points for her "Tango Jalousie" program. "I'm extremely disappointed. I'm not going to lie. I've trained myself to skate better than that and to not be able to deliver is a huge letdown for myself and everyone who supported me," Chen said. "There is a lot of pressure on Bradie and I, this is our first time at the Olympics."
Tennell, 20, stumbled once and put her hand down once, earning 128.34 points. "Today was OK. Obviously, it wasn't the way I wanted to skate," she said. "It wasn't that perfect Olympic program, but I'm really happy for getting out there and pulling myself together."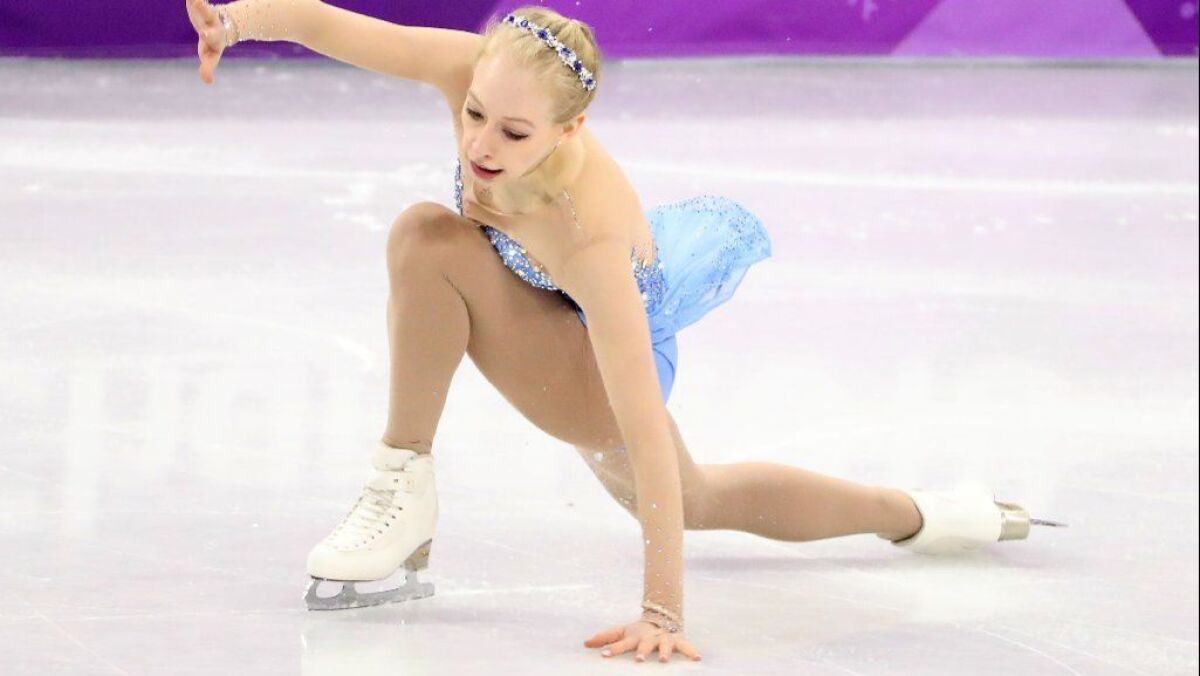 Zagitova and Medvedeva had no such problems. The gap between them and the American women is dauntingly wide. "I think anything's possible with hard work and determination," Tennell said. "The rest of the world just has to catch up."
If only it were that easy. It surely didn't seem that way Friday.
Follow Helene Elliott on Twitter @helenenothelen
---
Get the latest on L.A.'s teams in the daily Sports Report newsletter.
You may occasionally receive promotional content from the Los Angeles Times.