London Olympics: Roger Federer on why he won't be Swiss flag bearer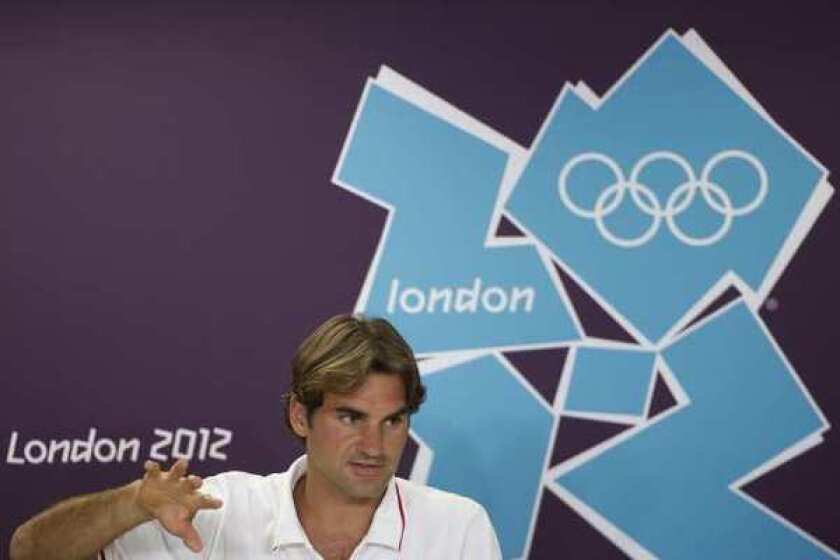 LONDON — Roger Federer's uncanny instinct of doing the right thing at the right time is not limited to the tennis court.
The 17-time Grand Slam singles champion did some serious thinking about the honor of carrying the flag for Switzerland during the opening ceremony Friday night at the Olympics. He's done it twice before, four years ago in Beijing and in Greece in 2004. And that's why he decided not to do it again.
"I never expected it, in the first place, when I started playing tennis that I would ever carry the flag into the Olympic Stadium for an Olympic Games," Federer said at a packed news conference here Thursday. "So for me that was a surprise and a huge honor in my life to be able to represent Switzerland.... I felt like maybe I could enter the history books by doing it a third time.
"It would have been amazing. And there's no denying that I would have loved to do it. I just felt it was important to give someone else a chance, particularly in Switzerland. We do believe other people should also have chances. That's why I told Swiss Olympic [officials] I think they should choose someone else.
"They then chose my [doubles] partner Stan Wawrinka, and I think it's a great, great honor for him. Because I could not have won Olympic gold without him."
The duo won the doubles gold in Beijing, defeating Swedes Thomas Johansson and Simon Aspelin in the final.
The Olympics have long held a special place in Federer's heart. He met his wife, Mirka, at the Olympics in Sydney in 2000, and he went to some events that year, including swimming. Those were the days long before he became a global icon.
"Of course, I've become very famous over the last eight years or so, so times have also changed," he said. "Things are not as simple as they were."
Federer won Wimbledon for the seventh time earlier this month and he is staying out by the club, rather than the Athletes Village because of logistical concerns, namely traffic. He admitted that it will "feel a bit funny," wearing a red shirt at Wimbledon instead of the usual white.
The Wimbledon victory, coupled with Rafael Nadal's withdrawal, places the 30-year-old Federer back in the role of favorite at these Olympics.
Federer said he plays better as the favorite but talked about the key difference between Wimbledon and the Olympics.
"Here, we play five matches, best of three [sets], and only the final is best of five," he said. "That puts the margins closer to each other. If it would have been best of three, in Wimbledon, I would have lost in the third round because I was down two sets to love.
"A bad five minutes or a bad couple of points can cost you the tournament."
ALSO:
Michael Phelps is ready to retire
USOC fires back at Olympic political ad
---
Get the latest on L.A.'s teams in the daily Sports Report newsletter.
You may occasionally receive promotional content from the Los Angeles Times.