Russia banned from Olympics and other global sports for 4 years over doping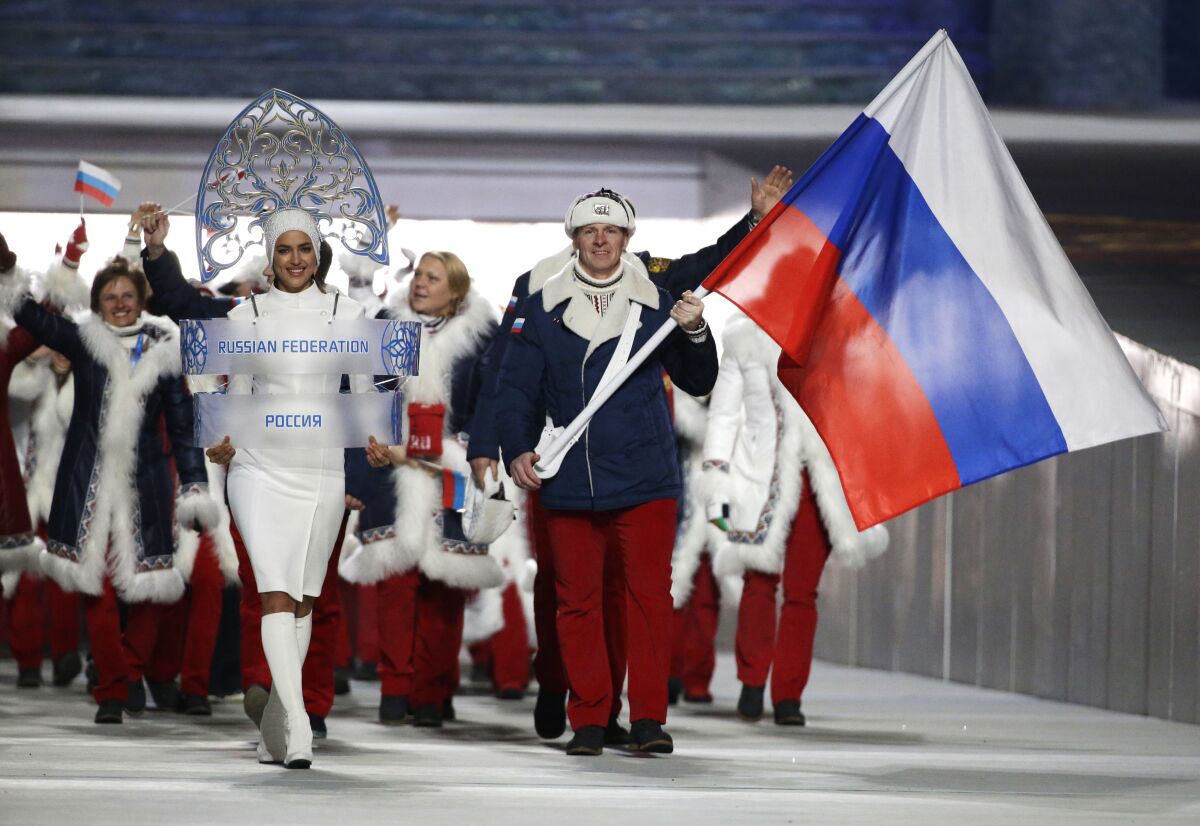 A decision to ban Russia from the 2020 Tokyo Olympics and other major sporting events over the next four years has drawn immediate, angry reaction from critics who insist the punishment is not severe enough.
The World Anti-Doping Agency (WADA) announced the sanction on Monday, the latest development in a long-running scandal that has seen Russian athletes, coaches and officials caught in an orchestrated doping scheme.
Though Russia cannot participate as a nation — its name, flag and anthem barred — WADA ruled that individual athletes may compete as "neutrals" if they can persuade authorities they have not cheated.
The penalty extends as far as the 2022 Winter Olympics in Beijing and is similar to one that was instituted at the 2018 Winter Games at Pyeongchang, South Korea. The International Olympic Committee voiced its support, but others were infuriated.
"To allow Russia to escape a complete ban is yet another devastating blow to clean athletes," said Travis T. Tygart, head of the U.S. Anti-Doping Agency, adding: "Here we go again. WADA says one thing and does something entirely different."
In Russia, where leaders have traditionally viewed sports as a national showcase, Prime Minister Dmitry Medvedev dismissed the ban as "a continuation of the anti-Russian hysteria that has already grown chronic," according to a report from the Tass state news agency.
The scandal dates back to allegations from the 2014 Winter Olympics in Sochi. Though media reports and a WADA investigation subsequently detailed a state-run doping program, Russia was allowed to compete on a limited basis at the 2016 Summer Games in Rio de Janeiro.
Paradise High's football team propped up an entire community in the wake of the devastating Camp fire. But the Bobcats couldn't ride their emotions to a championship.
At the Winter Games two years later, the nation was banned, but 168 Russians participated as "Olympic athletes from Russia," marching into the opening ceremony under a neutral flag. None of this stopped President Vladimir Putin from lauding a gold-medal performance by the men's hockey team.
"This success is a wonderful tribute to the Russian ice hockey school and a great example for our younger athletes," Putin said.
Many in the Olympic movement — including some within WADA — saw excluding all Russian athletes from Tokyo and Beijing as a logical next step.
"A blanket ban can make the Russian leadership realize the seriousness of the mess they have created — for themselves and for their athletes," said Linda Hofstad Helleland, a Norwegian politician and WADA vice president.
Whereas previous sanctions were triggered by doping evidence, the latest penalty emerged from Russia's "road map" for full reinstatement to the Olympics, a process that focused on RUSADA, the national anti-doping agency.
RUSADA had delayed handing over data from a Moscow testing lab where samples were manipulated to protect athletes from being caught. WADA grew suspicious about the files that eventually arrived.
Authorities concluded that data had been removed or altered. In some cases, system messages were fabricated to thwart investigators and newly created files were back-dated to appear as if they originated in 2015.
"Russia was afforded every opportunity to get its house in order," WADA President Craig Reedie said. "It chose instead to continue in its stance of deception and denial."
The four-year sanctions announced Monday reach beyond participation in the Olympics and world championships.
Starting pitcher Stephen Strasburg re-signed with the Washington Nationals on Monday, barely more than a month after he led them to a World Series title.
Russia may not host any major sporting events. Its government officials cannot attend events or serve on the boards of international sports committees.
The ruling sparked questions about whether the Russian team will be allowed to participate under its national flag in qualifying matches for the 2022 World Cup in Qatar. FIFA officials are reportedly consulting with authorities.
In the meantime, Russia is expected to file an appeal with the international Court of Arbitration for Sport. And WADA officials are left to defend their choice.
"While being tough on the authorities, this recommendation avoids punishing the innocent and instead stands up for the rights of clean athletes everywhere," said Jonathan Taylor, head of a WADA committee that recommended the sanctions.
Russian athletes can apply for eligibility in the upcoming Olympics if they have no positive doping tests on record and have not been implicated in previous WADA investigations.
Scores of athletes whose data was manipulated by the Moscow lab will not be considered. Taylor suggested the "Olympic athlete from Russia" moniker might be scrapped for Tokyo.
"No, they are neutral athletes, which means not representatives of any country," he said.
The change in semantics probably won't appease athletes and officials who spoke out against the decision. Greta Neimanas, a U.S. Paralympic cyclist and member of WADA's athlete committee, confirmed that she and eight of her colleagues supported harsher penalties.
"The [Russian] government has betrayed their own athletes with constant cheating and deception," Neimanas posted on social media. "For the next generation to have a chance at a healthy and safe future, meaningful change must occur."
---
Get the latest on L.A.'s teams in the daily Sports Report newsletter.
You may occasionally receive promotional content from the Los Angeles Times.