Examining Rams' biggest offseason moves: How they landed Marcus Peters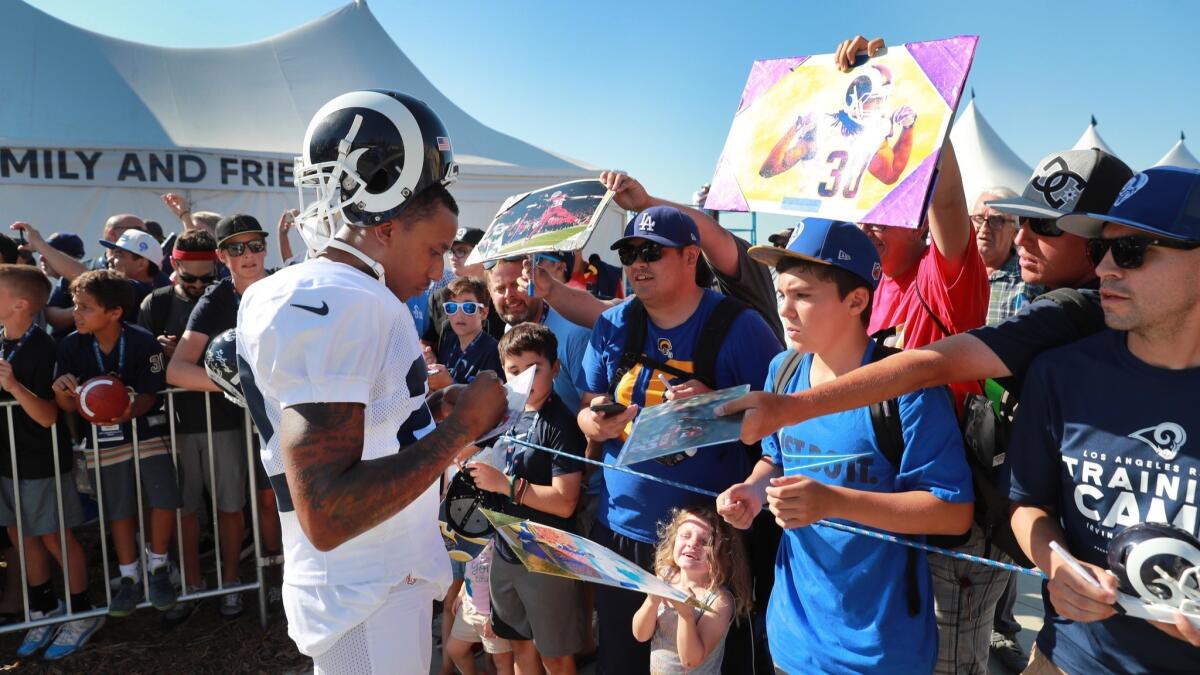 First in a four-part series
After a flurry of offseason moves, the Rams begin the season with a remade roster that features newcomers in cornerbacks Marcus Peters and Aqib Talib, defensive lineman Ndamukong Suh and receiver Brandin Cooks. Here is the behind-the-scenes story of how each was acquired, in the voices of the people involved. Part 1: Peters.
Feb. 24, Rams acquire Marcus Peters from the Kansas City Chiefs for a fourth-round draft pick in 2018 and a second-round pick in 2019. The trade could not become official until March 14.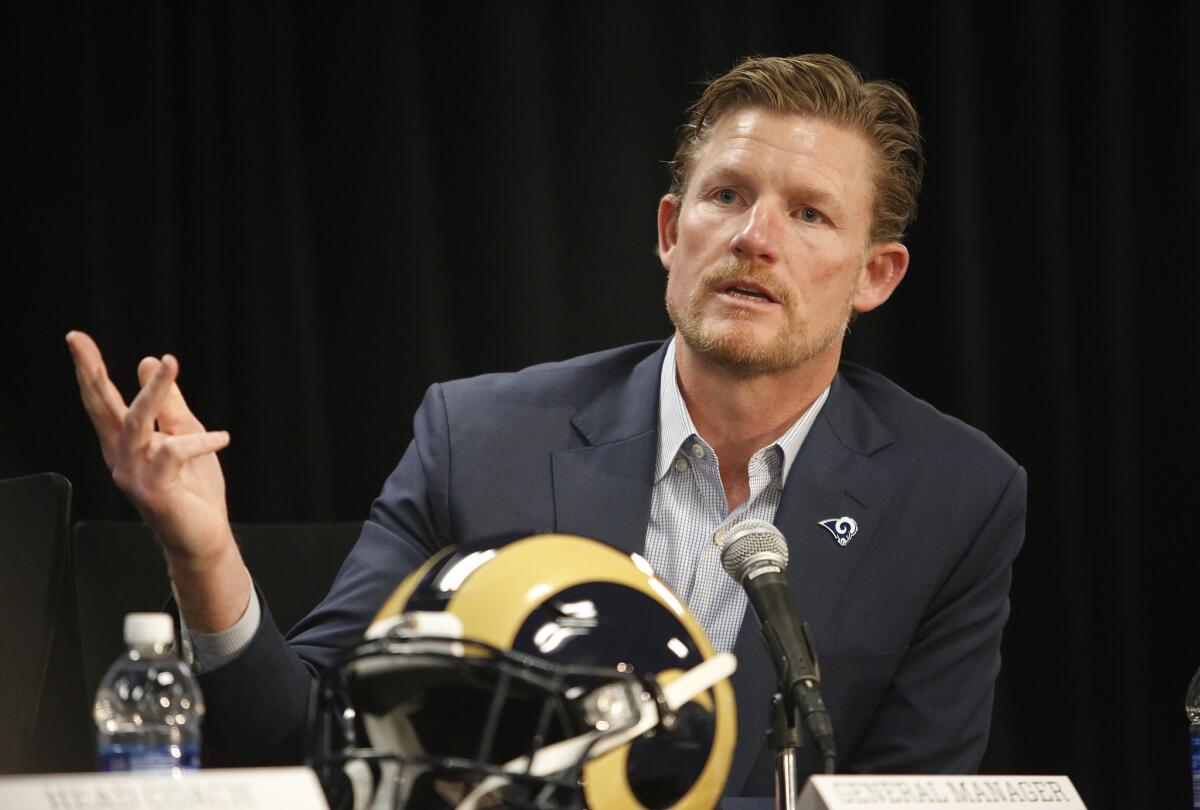 General manager Les Snead: The first call came in and I remember I was working out at the facility in our weight room. I saw Brett Veach, their GM, pops up, so I let it go to voicemail and called him back on the way home. ... They say, 'We think it's going to be best for us to move him. Are you in the mix?'
Coach Sean McVay: Les calls me, he says, 'Why don't you and the defensive staff take a look and see if you'd be interested in Marcus Peters.'
Defensive coordinator Wade Phillips: Sean comes in to my office and says, 'Hey, we got a chance to get this guy.' I said, 'Well, yeah.' This time of year a lot of those things come up. Even Odell Beckham came up.
Vice-president football & business administration Tony Pastoors: The first question you have to answer in any trade is, why? Why are they willing to trade this guy? It doesn't matter who the player is, it's, OK, why? And it could be a scheme change, a regime change. ... Sometimes it's pretty simple and sometimes it's more complicated. … Sean is huge on culture. You saw it firsthand: 2016 and 2017 felt a lot different. Not just wins and losses, just the vibe around our building, how our players were. And so I think one of the biggest things we all thought with any offseason move we were considering was, 'Don't mess that up. We got a good thing going. Let's continue to add to it and supplement but let's not mess that up.'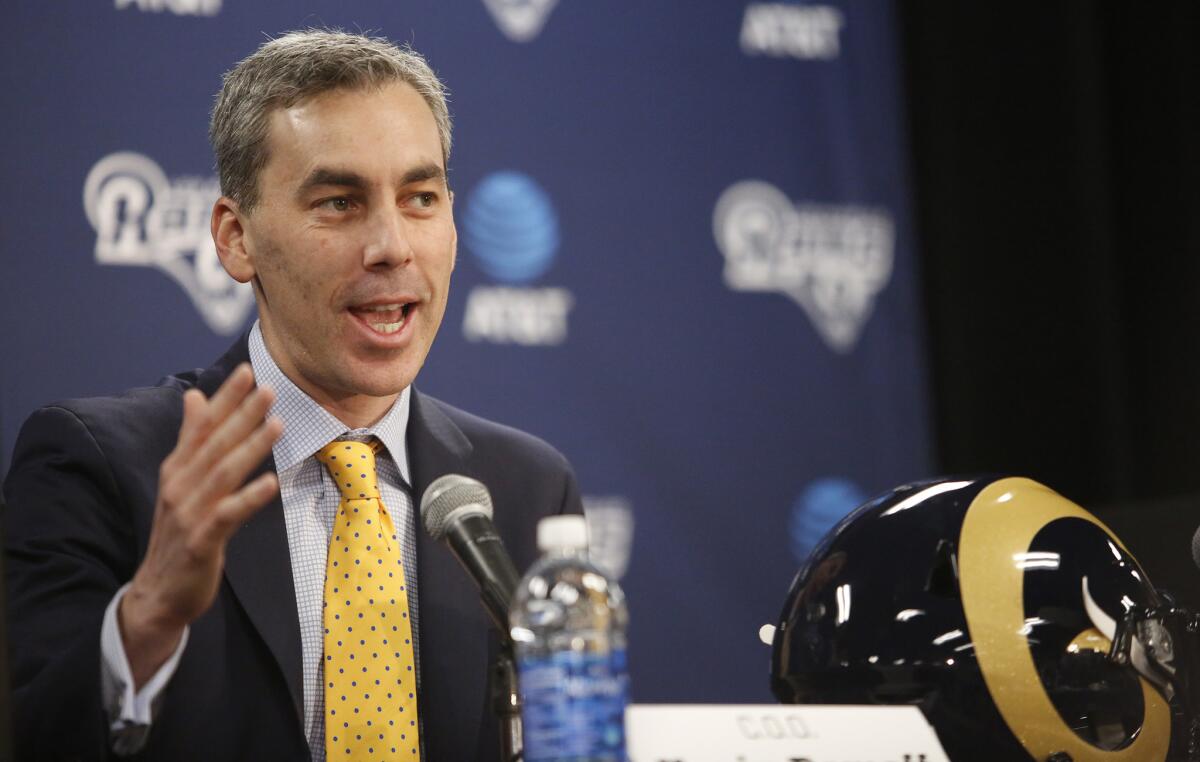 Executive vice-president for football operations Kevin Demoff: You realize, for two years at $10 million, certainly it fit very well into where you're able to add a very talented player at a cost that would not affect our ability to keep our core intact.
Snead: You ultimately get permission to talk to their agent. 'Hey, are you thinking of holding out?' You clear all that up and you do your vetting, and you feel like, 'You know what? This is an opportunity for us to get a corner that has skill set, and if Wade had his druthers, we'd take that type of skill set.'
Phillips: I still went ahead and looked at him because I would go back and say, 'Hey, I'm not sure about that,' if I thought he wasn't going to be the kind of player I thought he was going to be.
McVay: You see a really smart football player show up on tape that affects the game from a cornerback spot, which is really rare. … We were all in agreement as a staff. You say, 'Hey, let's go get this guy' and basically, 'Let's go get it done, Les.'
Kevin Demoff: On Thursday night … I got a call from Les when I landed in Boston [for the Sloan Sports Analytics Conference at MIT]. He's in Hawaii. He says, 'Hey, this may happen tomorrow, it may happen in two weeks.'
McVay: I called [soon-to-be free agent cornerback] Trumaine [Johnson]. … You say, 'I don't know if something is going to happen but there's potential that we're getting ready to acquire a high-profile corner.' If I'm going to sit there and look you in the eye and preach clear and open and honest communication, I want to at least make sure that I'm following through with my end of the bargain.
Former Rams cornerback Trumaine Johnson: He just wanted me to stay in the loop with everything. He respected me as a player on and off the field and as a person also and I appreciate him for that.
Kara Snead (GM Snead's wife): We're in Maui. We were zip-lining one day, we're off in the trees somewhere and the next day we're snorkeling, and he was laughing. He's like, 'I probably look like I'm playing hard to get.'
McVay: It was a lot of back and forth. Les and I probably talked, called each other, back and forth probably 10 to 15 times over a 12-hour period.
Les Snead: I went to bed that Friday night knowing that we're going to talk to Kansas City on Saturday morning and they were maybe going to talk to other teams as well. But I knew there was going to be some sort of resolution. 'OK, look, you're on Central time. We're in Hawaii. I don't even know what time zone that is, so basically I said, 'I'll get up as early as you need me to for the 7 a.m. Hawaii call.'
Kara Snead: We would be in the lobby and in our pajamas drinking coffee. He's on the phone trying to work through the trade.
Pastoors: They were very straightforward in what their compensation should be. It really wasn't too far off from what we viewed.
Les Snead: When [Veach] finally gets to me at 7 a.m. it's down to, if we're still in there, only a few i's to dot and t's to cross.
Demoff: Les called and said, 'Hey, it's done.' I was watching another panel [at the conference]. I think it was when President Obama was about to go to talk that I got the call.
Marcus Peters: You get the calls because family is going to watch all the unnecessary sportswriting and all that other stuff and you hear it. But you don't know it's real till you get call from your agent.
Pastoors: I don't want to say you're a little nervous but you're maybe slightly uneasy until you actually know this thing is done and the paperwork is in and Marcus shows up for his physical and [Rams director of sports medicine and performance] Reggie Scott gives you one of these [thumbs up]. … and Marcus shows up for a press conference. Then you feel good about it all. That's when you go, 'OK, I feel really good now.' You're excited until then but you just need to make sure this all goes through and the league actually approves the trade.
Peters: When it was done I was happy to come home [to California]. I wasn't worried about nothing else.
Kara Snead: That's the way it goes. You get vacation time and you're going through the biggest trades of the season.
Les Snead: You have the coffee, the open air and the scenery in Hawaii. I don't know if there's a better place to make a trade.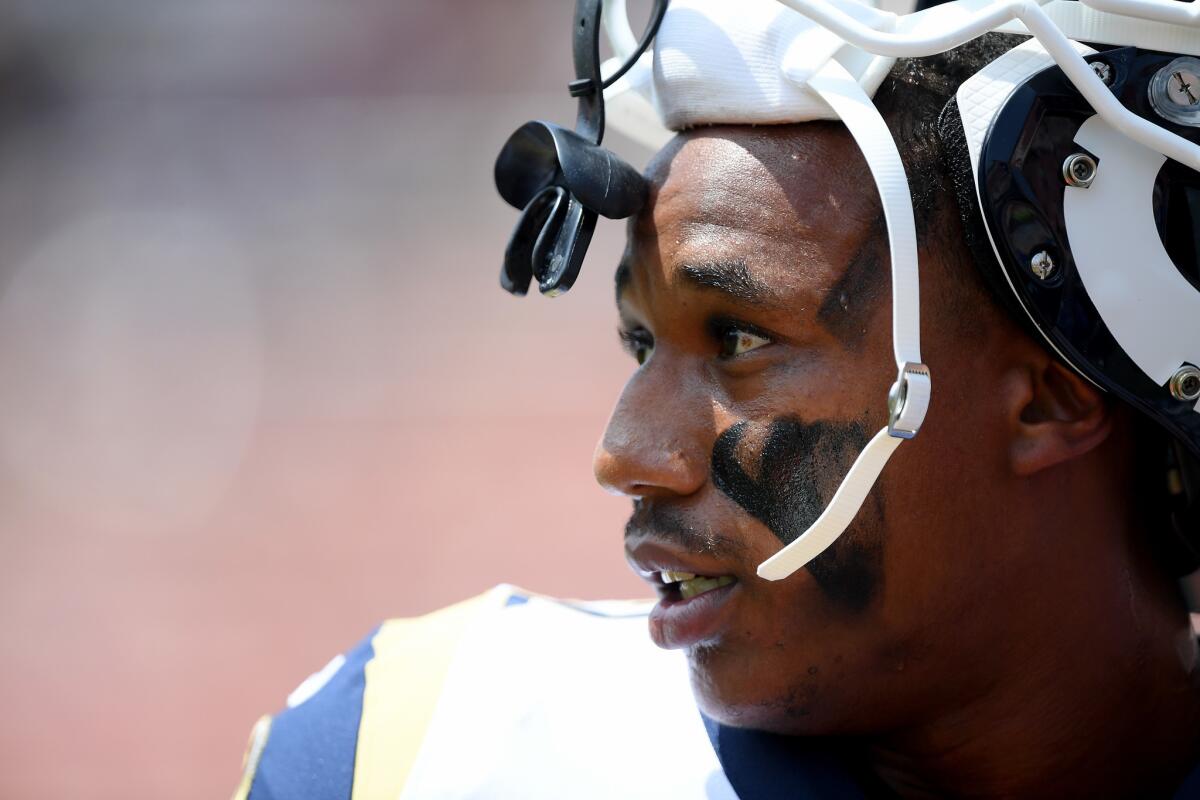 Follow Gary Klein on Twitter @latimesklein
Get our high school sports newsletter
Prep Rally is devoted to the SoCal high school sports experience, bringing you scores, stories and a behind-the-scenes look at what makes prep sports so popular.
You may occasionally receive promotional content from the Los Angeles Times.