USC has only one (plausible) path to the Pac-12 championship game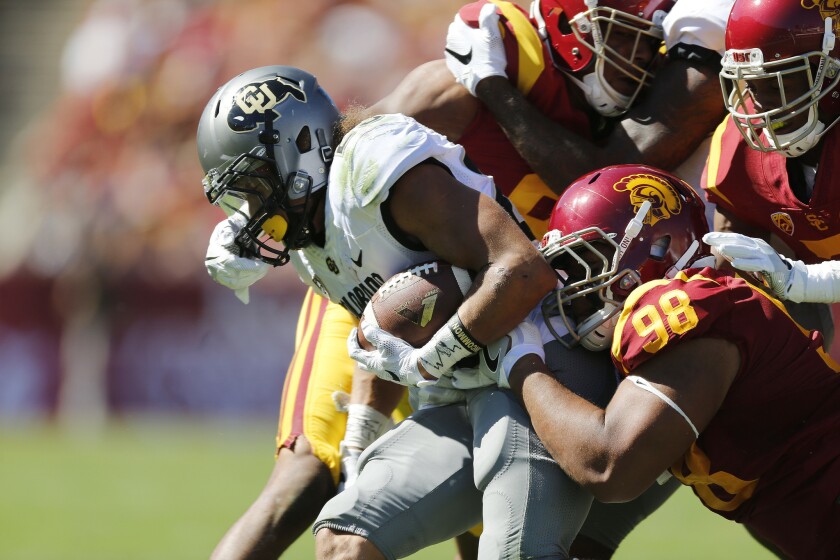 USC fans were faced with the awkward proposition of cheering for a UCLA victory over Colorado on Thursday night Despite USC's head-to-head win in October, Colorado sits atop the Pac-12 South Division standings.
Now that Colorado has escaped, 20-10, where does that leave USC in the Pac-12 South race?
Effectively, USC needs to win its final four games — barring an unlikely scenario in which Utah and Colorado each lose their next two games.
But USC needs help: Colorado and Utah must also lose a game — to any team on their schedule.
The Trojans' path to the Pac-12 championship game is rather simple because the three-way tie-breaking scenarios are rather simple. Utah advances, no matter if it's tied at 7-2 or 6-3. (What about 5-4? Let's not go there.)
Why does Utah advance? Because Utah has two losses already, a three-way tie at 7-2 only happens if Utah defeats Colorado. In this case, Utah has the head-to-head tiebreaker against both teams.
In a three-way tie at 6-3, Utah owns the same tiebreaker if it defeats Colorado. If Colorado wins, the only way it finishes 6-3 is by losing to Washington State and Arizona. The Arizona loss would make Colorado's Pac-12 South record the worst of the three contending teams, eliminating Colorado and advancing Utah on the strength of its head-to-head tiebreaker with USC.
Confused? Don't be. For USC, the road map is simple: Win out, Colorado loses, Utah loses.
Follow Zach Helfand on Twitter @zhelfand
---
Get the latest on L.A.'s teams in the daily Sports Report newsletter.
You may occasionally receive promotional content from the Los Angeles Times.