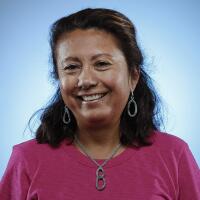 Amanda Covarrubias
Amanda Covarrubias is the former Central Coast reporter for the Los Angeles Times. Before that assignment, she worked for The Times' L.A. Now blog, where she edited stories on the trials and tribulations of Justin Bieber, Lindsay Lohan and Chris Brown, as well as non-celebrity California news like wildfires, crimes and shark attacks. She was part of the team that won the 2004 Pulitzer Prize for breaking news reporting, and the team that was named a finalist for the 2015 Pulitzer Prize for breaking news reporting of the Isla Vista shootings. She left The Times in 2015.

Latest From This Author
The vehicle that officials say was used to pilfer water from a Ventura County water district's fire hydrant was a white water tender truck, not a red Ferrari driven by a mustachioed man in a Detroit Tigers baseball cap and a Hawaiian shirt.

First came the rain garden, where bees buzz around the lavender and sage.

Craggy, dome-shaped Morro Rock rises 576 feet above the shore, an attractive site for climbers and a sacred one for two Native American tribes.

California's last remaining nuclear power plant can safely withstand earthquakes, tsunamis and flooding, according to documents submitted by the owner of the Diablo Canyon plant to the federal Nuclear Regulatory Commission.

California's four-year drought created the statewide mantra: "Conserve, conserve, conserve."

It was dark early Tuesday morning when Jose Alejandro Sanchez-Ramirez drove his truck along a narrow road that parallels train tracks in the farmlands of Oxnard.

Keana Grey was heading to jury duty in Los Angeles before dawn Tuesday, sitting in the lower deck of the second Metrolink car from the front, when she felt the train shake.

Keana Grey was in the front seat of the lower deck of the second car from the front when the Metrolink train shook.

Elliot Rodger planned his deadly rampage in Isla Vista for nearly two years, stockpiling guns and ammunition and visiting local target ranges.

After Rabbi Lisa Hochberg-Miller learned a homeless man had been set on fire while sleeping on a Ventura beach, she used her daughter's poster paint to make two signs.