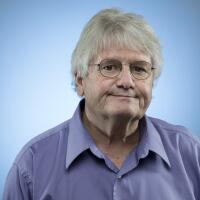 Bob Pool
Bob Pool retired in 2014 from the Los Angeles Times, where he had been a general assignment reporter on the Metro staff since 1983. While newsgathering, he's been shot at (the gunman told sheriff's deputies it was "a warning shot"), sued (the case was thrown out) and assaulted (a firefighter pulled the attacker off). He also spent one month of December as a mall Santa for a holiday series. A Los Angeles-area resident since 1958, he has a journalism degree from San Fernando Valley State College (now CSUN).
Pretzels, peanuts and a sky-blue Crayola: A flight attendant's arts and aircraft movement in 9/11 days.

Three weeks after fleeing Hurricane Katrina, one New Orleans evacuee took up a new home Saturday — next to an alligator-infested park lake in Harbor City.

He walked into Los Angeles a bigger-than-life figure and built a legacy with his own hands and imagination on the edge of the Arroyo Seco.

The booze flowed freely during Prohibition in the basement speakeasy at the Rosslyn Hotel annex in downtown Los Angeles.

Sarah Cheiker had lived in the small bungalow in the Fairfax district for decades, first with her mom and then by herself.

An Egyptian teenager who refused to return home following an international high school science fair staged five months ago has filed for U.S. political asylum.