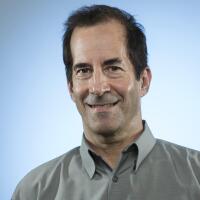 Jeff Gottlieb
Former Los Angeles Times staff writer Jeff Gottlieb shared the Pulitzer Prize for public service in 2011 for uncovering corruption in Bell. He also received the George Polk and the Selden Ring awards, among others. He previously won a Polk award while working at the San Jose Mercury News for uncovering Stanford's questionable spending of federal funds. He received a bachelor's in sociology from Pitzer College in Claremont and a master's in journalism from Columbia University.
It sits on a bluff above one of the best surfing spots in the world, with a view that can reach 60 miles to San Clemente Island on a clear day.

A longtime volunteer at a Catholic church in Manhattan Beach has filed suit against the Archdiocese of Los Angeles alleging that a priest sexually molested her while she was arranging flowers in preparation for Sunday Mass.

Two people were killed Thursday and two others were seriously injured when their car spun out of control during a street race in Wilmington and crashed into a passenger van, according to Los Angeles police.

Seven years after the Mormon Church led followers on a campaign to outlaw gay marriage in California, church leaders on Tuesday announced their support for job, housing and public accommodation protections for gays and lesbians everywhere.

Marcus Borg, the theologian and writer who became one of the best known New Testament scholars to challenge the literal view of the biblical Jesus and to question the supernatural acts associated with his life, died Wednesday at his home in Portland, Ore.

He wandered beyond the edge of Christendom into a rugged land of "infidels" he sought to convert.

When Minu Kaur Singh walks down the street with her husband and children, she hears the comments as people pass by.

The Lindbergh beacon, the revolving light atop City Hall that was turned on for the first time by President Calvin Coolidge in 1928, was lighted again Wednesday night in time for Christmas.

A gunman robbed a Pico Rivera pet shop of an undetermined amount of cash Wednesday and stole two English bulldog puppies worth $2,500 each, according to the Sheriff's Department.

Uri Herscher remembers the day 55 years ago when he heard the rabbi at an Oakland synagogue telling the biblical story of the binding of Isaac.